Maisie Williams' Feminist AF Take On 'GoT' Will Defo Have You Saying, Same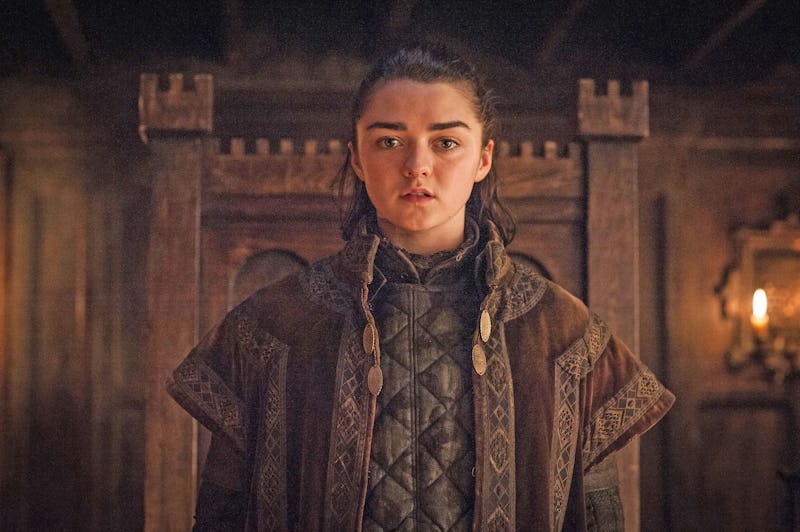 HBO/Kobal/Shutterstock
When it comes to Maisie Williams, I am truly torn. I can't decide whether her Game of Thrones character, Arya Stark, is the ultimate badass or whether she serves all of the girl power vibes simply by being herself on screen. As George R. R. Martins' series comes to a close, the actress has had a few things to say about the characters, and seriously, her Maisie William's feminist take on Game Of Thrones Season 8 will have you saying, Same.
Whilst winter might be coming, so is the rise of the GoT women. Speaking to Elle Magazine, Williams said: "For me, [Game of Thrones] is a medieval world in which women don't have a lot of rights, and yet they still prevail. But I do think that as the seasons have gone on it's become more and more amazing for women. And this final season is going to be incredible."
Be still my beating, feminist heart — as if I wasn't excited enough already.I wonder what could be in store for Season 8. Although the cast and crew are being ridiculously tight-lipped for the time being, I have a feeling that Daenerys, Arya, Cersei, and Sansa are going to be kicking butt.
Whilst Season 1 of Game of Thrones was immensely popular, it received a hell of a lot of backlash. I remember debating with friends whether it was too sexy, or misogynistic, or even abusive. It left me with the funny feeling in your tummy when you're not sure how you're supposed to feel about something.
However, as the series has gone on there is no denying it, Arya Stark is a feminist icon. From the moment she picked up her sword and sought justice for women who have been beaten, raped, and murdered by powerful men, she earned a place in my heart.
Speaking to Elle magazine, Williams added: "It just feels great, being on set with all these girls. They're all ruling, you know, they're all back on top — it's pretty impressive." Yassss girl.
What Game of Thrones has managed to do so well, where shows of a similar genre seem to have fallen, is it has completely negotiated creating well-rounded, powerful, sometimes slightly evil, female characters. They are not the damsel in distress or the evil witch, and they're not just there to spice the show up a bit. Rather than being the wives, sisters, and servants of powerful men, they are the ones running the world. They're not secondary to any of the male characters. The GoT women are lead characters in their own right.
And it isn't just Williams' character who is having her moment, centre stage. Gone are the days when Sansa Stark (Sophie Turner) was the quiet, naive sister, concerned with marrying evil Geoffrey. She's calling out everyone on their wrongdoings now and is fighting back.
Meanwhile, Cersei Lannister (Lena Headey), who once stood in the shadow of Jamie, has taken centre stage. And as for Daenerys (Emilia Clarke), well, being the mother of dragons, I really don't think I need to say any more about that.
By the sound of things, the sisterhood on set is pretty dreamy too. Williams told Elle: "Sophie is my best friend. Who gets to be on set with their best friend? Me! We lift each other up."
How is she so wise?
In my opinion, representation is so important. For years, little boys have had the opportunity to see their heroes slaying dragons, saving people, and beating the bad guy as their doting love interest waits for them at home. And, is it just me or is it so often the case that the bigger the budget, the safer directors and producers play it?
However, to me, it's pretty obvious that Game of Thrones is the exception to this rule. Game of Thrones have produced the female characters that this 23-year-old way back when. I just hope that once this series finishes next year, other TV shows and even films follow suit.