'X-Men' Fans Will Love These 'New Mutant Clues In Maisie Williams' Photos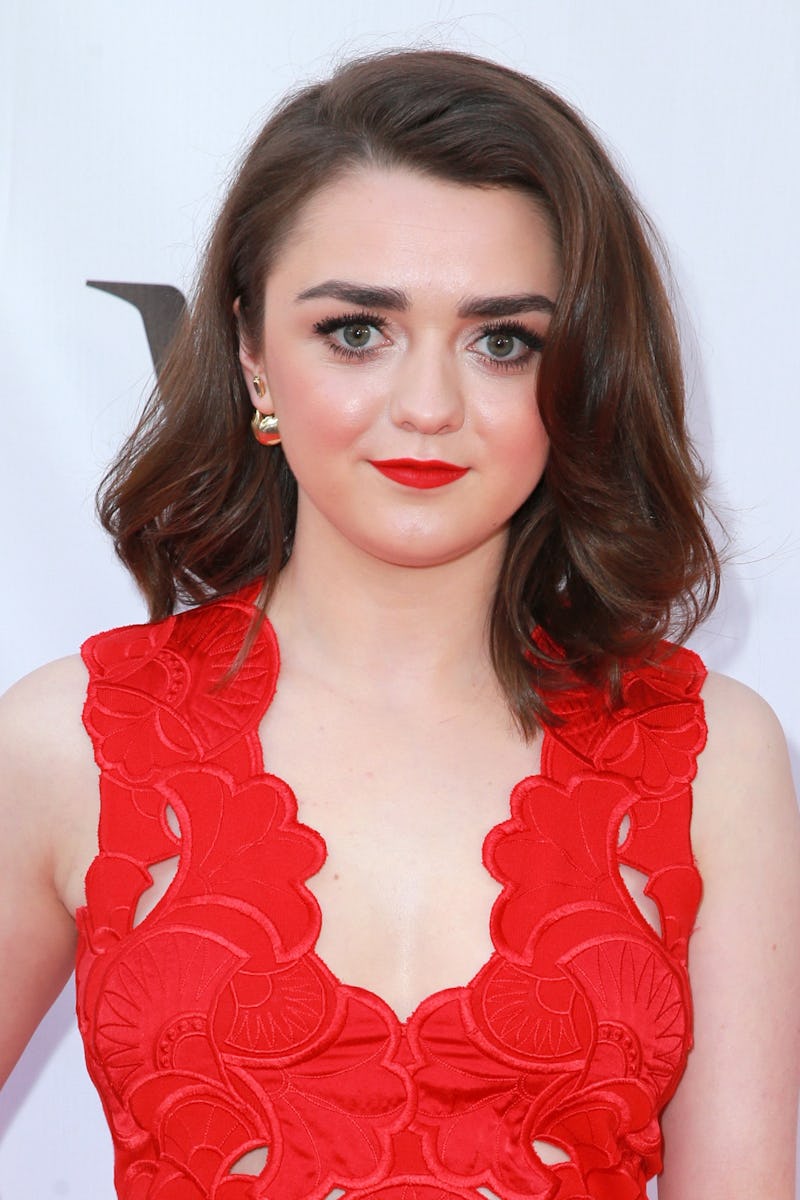 Rich Fury/Getty Images Entertainment/Getty Images
Good news, fans of Marvel: In 2018, we'll have an all-new X-Men spinoff in theaters. According to social media, Maisie Williams and the cast of X-Men spinoff New Mutants have wrapped production and their photos from the final day on set will make you so excited for the movie to be released. Details of New Mutants are being kept tightly under wraps. The New Mutants storyline isn't as well-known to audiences as previous X-Men adaptations that made the jump to the silver screen.
"Thas a wrap," wrote Williams on Instagram, accompanied by mysterious emojis and the hashtag #NewMutants. Williams plays Wolfsbane in the movie, and fellow rising stars Charlie Heaton, Anya Taylor-Joy, and Blu Hunt portray Cannonball, Magik, and Dani Moonstar, respectively. An unnamed source told Entertainment Weekly that New Mutants will center on five mutants—presumably the four listed above, plus Henry Zaga's Sunspot—who are "held in a secret facility against their will."
Numerous members of the cast posted photos from the wrap party on Instagram. Even Director Josh Boone posted a few, and it's hard not to dig around for clues. Williams posted a series of beachside photos on Instagram, and she's holding up what may be end up being the poster for The New Mutants on a card.
Of course, it could also be a ticket to the wrap party. Or an invite for a scavenger hunt? It's hard to say! Since she's playing Wolfsbane in New Mutants, her "Now you see me, now you see me over here" approach to photography is probably just a fun visual gag. It's hard to believe she'd be able to turn into a werewolf, and an actual wolf, and replicate herself.
In May 2017, director Josh Boone clarified his plan for the film to EW, and it sounded...dark. "We are making a full-fledged horror movie set within the X-Men universe," Boone said, "There are no costumes. There are no supervillains. We're trying to do something very, very different." So, while the exact trajectory of the film is unclear, we know two things: It will be Dark, and it will be Emotional. As it's set in the early 1980s, perhaps there's the possibility of it meeting the timeline kickstarted by X-Men: First Class. That might be too much to hope for, though.
Above, we can see the director posing with actress Blu Hunt at the wrap party. On his clapboard, we can see the same logo from Williams' Instagram prop. It has a very 1980s sci-fi B-movie feel, which could be a nod to the film's style. It may also just be era-appropriate; with so few clues, it's hard not to go nuts guessing about the film.
A source explained to EW that the film's mutants "have to battle the dangers of their powers," and are ultimately "trying to save themselves" rather than the world surrounding them. The wording of "save themselves" is intentionally vague: Is this an immediate, physical danger? Is it a metaphysical saving, where emotions and self-worth are at stake? These are the things the studio would prefer not to answer just yet, it would seem.
Here's a set photo from actor Henry Zaga, that just to adds to the mystery.
High top Chuck Taylor All Stars are a nonspecific shoe, sure. They could be from any decade. But is this particular pair part of a costume, or were they autographed by the cast post-wrap, like a movie yearbook?
Just to be absolutely clear, one can presume the X-Men spinoff New Mutants is set in the timeline proposed by 2011's X-Men: First Class. While a part of the rebooted X-Men world, it is not a part of the other Marvel Cinematic Universe, which includes X-Men Quicksilver and Scarlet Witch with a more traditional backstory. What we do know about it sounds good to us, and we can't wait to see what other tricked-out teens the big screen brings us in 2018.