Make A Courthouse Wedding Feel Special With These 6 Tips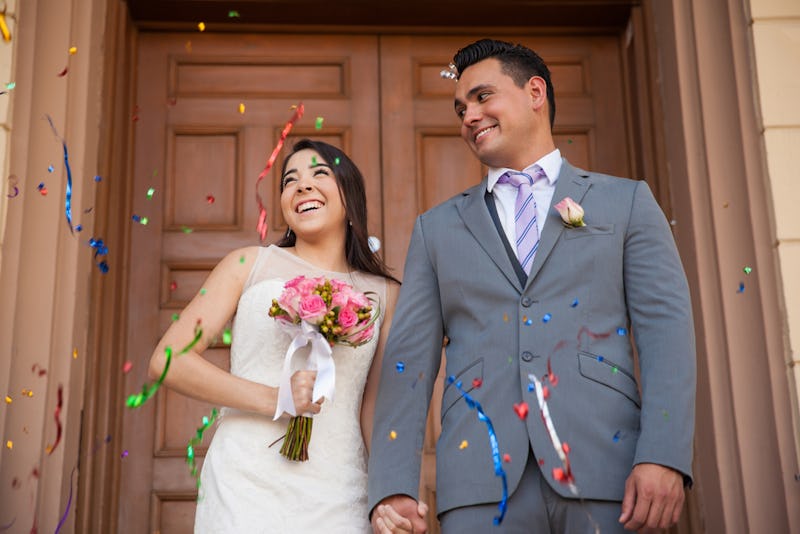 antoniodiaz/Shutterstock
When we imagine weddings, we think of dreamy locations, Instagram props, being surrounded by tons of flowers, all while being surrounded by hundreds of the people we love in honor of the one we love. However, this scene is unfortunately just a dream for many couples.
Reports show that the average American wedding costs about $34,000, and depending on where in the country you live, that number can fluctuate up or down exponentially. It's no wonder that as weddings become more expensive than some mortgages, couples are deciding to pare down and go the simpler route with courthouse nuptials. Yes, it can be a little daunting to take something so personal and shrink it down to the bare bones minimum, but the great thing about courthouse weddings is that it's entirely up to you to add the touches that will make it feel special.
Despite the business-like affair of a courthouse wedding, there is still room to allow for little personal details to shine through, and here you'll find six of the easiest — and still wonderfully memorable — ways to do just that.
Don't Skimp On The Music
Just because you're forfeiting the brass band doesn't mean you don't get to have good music. Add a personal touch and play music that holds sentimental value to you with a sleek and portable Bluetooth speaker (compatible with most smartphones) as you walk down the aisle.
Capture The Moments
Scaling down from a big wedding usually leaves more pointed finances for the things that are most important. You're always going to want to look at images from your big day, but to make things fun, hand out some instant cameras to friends and family in attendance for some candid shoot-and-print keepsakes from your special day. Throw it back to the days of old and have fun memories to last a lifetime.
Monogrammed Keepsakes
If you're anything like me, weddings make you cry. Stay prepared to wipe away the evidence of your joy with some monogrammed handkerchiefs. The best part is that you can keep them and pass them on for generations to come.
Create New Heirlooms
City Hall weddings are notoriously quick — understandably so when there's more than a few couples tying the knot during business hours. Sadly, that often leaves little room for the sentimentality of personalized vows. If you're not able to read yours during the ceremony, try a double-pane photo frame to preserve your special affirmations of one another for years to come.
Remember To Thank Your Guests
Don't forget to acknowledge the people who took the time and were able to show up for you on your big day. Intimate weddings call for intimate gifts. Think keepsakes! Cool wine stoppers like this are a great option. Coupled with a personalized note, it's a memorable and thoughtful gift for your attendees.
Cheers To You!
You made it! No muss, no fuss, and you're both on the other side of forever with each other. Clink together in celebration with these gold calligraphy embossed champagne flutes. These are great keepsakes that you can bust out during important milestones and anniversaries.