Malala Bravely Called Out A Fellow Nobel Laureate For Her Silence On The Rohingya Crisis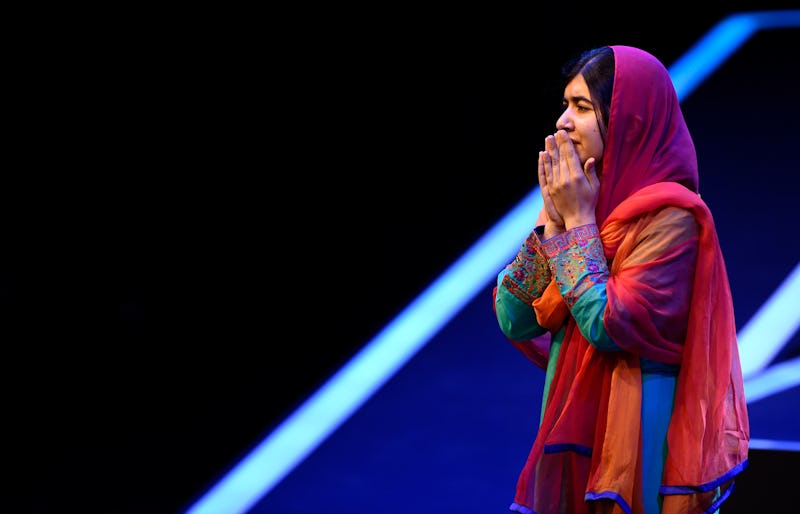 ALFREDO ESTRELLA/AFP/Getty Images
Refugees around the world have been making the news periodically over the last several years, but it's easy to forget that the news cycle doesn't always cover all of the groups of people in need. With a statement on Twitter, though, Nobel Laureate Malala Yousafzai has drawn attention to one of the world's "forgotten" populations. Malala spoke out on the Rohingya crisis in Myanmar, specifically calling for fellow Nobel Laureate Aung San Suu Kyi to do the same and reminding the world that something urgently needs to be done to help this Muslim minority group in Buddhist-majority Myanmar.
"I have repeatedly condemned this tragic and shameful treatment," the Pakistani activist said in a statement. "I am still waiting for my fellow Nobel Laureate Aung San Suu Kyi to do the same. The world is waiting and the Rohingya Muslims are waiting."
The Rohingya migrant crisis started decades ago, when the government of Myanmar started denying them rights, leading hundreds of thousands of people to leave the South Asian country in search of a better life. Although the Rohingya people have been living in what is now Myanmar since the 15th century, the government classifies them as illegal Bengali immigrants, which leaves them as a stateless people with highly restricted rights in their own country. Their situation worsened in 2012, when a group of Rohingya men were accused of raping a Buddhist woman. Buddhist nationalists in Myanmar then killed almost 300 Rohingya and displaced thousands of others, leaving over 120,000 Rohingya Muslims in internment refugee camps.
As if that wasn't bad enough, the situation has now worsened. Rohingya militants recently attacked police posts in the Rakhine state of Myanmar, the Rohingya's home state. That provoked a counteroffensive from the Burmese military, leading to almost 400 deaths. And to make matters worse, the U.N. and other foreign aid groups have had to mostly limit their work in the Rakhine state because of the violence and also because Burmese first state counsellor Aung San Suu Kyi published photos of World Food Programme supplies in an insurgent camp. Aid organizations such as Oxfam and Save The Children have reported that the Burmese government has limited their access to the country, leaving thousands of people with even less access to food than they had before.
Now Malala Yousafzai, who has made it her life's work so far to speak out on behalf of the world's most forgotten populations, is bringing her voice to the issue — again. Her statement, which she tweeted out on Sunday, covers multiple facets of the issue. She calls for the violence between the Rohingya and the Burmese army to stop, which is the most immediate problem at the moment. She also urged that the Rohingya be recognized as Burmese citizens and given full rights in their home country, which is one of the greatest underlying causes of the ongoing refugee crisis. She also calls for the help of Myanmar's neighboring countries, many of which have already taken in thousands of Rohingya refugees.
Finally, Malala's statement makes a plaintive plea to Burmese first state counsellor Aung San Suu Kyi to step in and help. Suu Kyi has already received international condemnation for her failure to effectively deal with the situation, including an open letter from her fellow Nobel Laureates. Malala signed that letter in late December 2016 when fellow Nobel Laureate Professor Muhammad Yunus released it, but now she's found it necessary to speak out again.
At the very least, Malala's continued pressure will bring a little bit more international attention to this ongoing crisis. Even as she prepares to start as a fresher at Oxford this fall, it's unlikely that she'll stop trying to work on this situation in whatever way she can.