Norway Is Demanding Equal Pay For Its Male & Female Football Players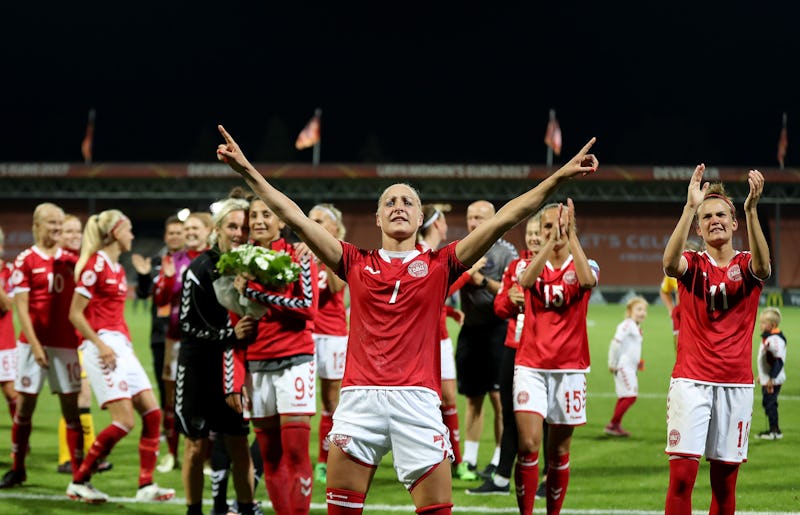 Maja Hitij/Getty Images Sport/Getty Images
In a move that will dramatically increase the amount paid to many of the country's female athletes, male and female international soccer players will soon earn equal pay in Norway. According to various reports, Norway's football association will almost double the amount it pays to its female national team, setting an equal amount of earnings for both teams. As a result, women who represent the country in international matches will be able to better focus on their sport.
The Norweigan football association will increase its renumeration pot — the amount of money collectively paid to the team — for its women's team from 3.1 million krone (almost $379,000) to 6 million krone (almost $751,000). To make the adjustment possible, the men's team will contribute its earnings from commercial appearances. Players' union leader Joachim Walltin reportedly celebrated the salary adjustment as the first of its kind.
"Norway is a country where equal standing is very important for us, so I think it is good for the country and for the sport," Walltin said. One reason it will be good for the sport? The increase in pay could legitimize women's soccer as a valuable commitment. "For the girls, it will certainly make a difference. Some of them are actually working and studying, as well as playing football, and it's hard to improve then," Walltin continued.
The news was widely celebrated on social media, as the debate over equal pay in athletics has taken hold in many countries around the world. Noting the gesture taken by her male counterparts, Caroline Graham Hansen, a member of Norway's women's national team, shared a photo of the men's team on Instagram with a grateful caption.
This was maybe a small thing for you to do for us. This will maybe not show in your monthly wages. This was maybe an obvious move for you to do! This though means everything for us! For our team! For our sport! But not at least for all the female athletes out there, who does the same work, same sport as men's do, but get paid less! For you to say that equal pay is how it should be, makes me wanna cry! Makes me [want to] hug you all! Thank you for making this step for female athletes. For showing equality and for helping us all, making it a bit easier, to chase our dreams. To make them come true!
In the U.S., Norway's revolutionary decision to pay its male and female national teams equally may renew the debate over equal pay for American teams. In 2016, members of the U.S. women's national soccer team filed a complaint with the Equal Employment Opportunity Commission to allege wage discrimination based on their gender. In the complaint, the women's national team players alleged that they were paid 40 percent less than their male counterparts, despite the team's undeniable success on the international stage.
In April, the team signed a new contract with the U.S. soccer federation that gave players a 30 percent raise in base pay and additional bonuses for individual games. According to Slate, the agreement did not go as far as equal pay, but it did vastly increase the opportunity for earnings. Depending on the team's performance, some players reportedly could make more than $300,000 a year under the new agreement.
The U.S. isn't the only country that could take a note from Norway's equal pay distribution. Last month, the Denmark women's soccer team went on strike over a pay dispute. There, the men's team offered to contribute to the women's salaries, but it doesn't appear that the Danish soccer organization has reached a new agreement. Countries around the world continue to face the issue of equal pay in sports and otherwise, but Norway's decision to level the playing field is a step in the right direction.