Michelle Obama Revealed How She & Barack Totally Embarrassed Malia On Prom Night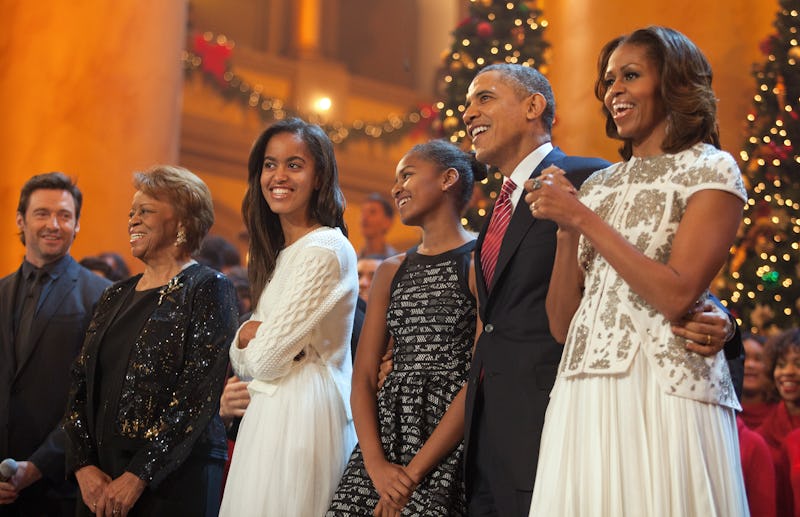 Pool/Getty Images News/Getty Images
Former First Lady Michelle Obama's new book Becoming was released on Tuesday, and it has offered unprecedented insight into she and her family's life, including a fresh look at the Obama parenting style. One such part of the book includes the story of embarrassing Malia Obama on her prom night, reportedly in the face of her request that her parents "be cool," according to excerpts shared by People.
Malia was 16 years old in the spring of 2015 when, Michelle writes, Malia shared that she had been asked to prom "by a boy she kind of liked."
"On the appointed evening, her date arrived in his car," Michelle wrote, according to People, "clearing security at the southeast gate of the White House, following the path up and around the South Lawn by which heads of state and other visiting dignitaries normally arrived, and then gamely — bravely — walking into the Dip Room dressed in a black suit." (The "Dip Room," for reference, is the White House Diplomatic Reception Room.)
Malia had asked her parents to "just be cool please, okay?," according to Michelle. But the way the former FLOTUS tells it, she and Barack may have come up a bit short.
"Her embarrassment [had] already [begun] to smolder as we rode the elevator downstairs," Michelle wrote. "I was barefoot, and Barack was in flip-flops. Malia wore a long black skirt and an elegant bare-shouldered top. She looked beautiful and about twenty-three years old."
Malia and her sister, Sasha, were not allowed to ride in cars with people who weren't Secret Service officials, according to People, but the Obamas reportedly made an exception for Malia's prom excursion. However, according to the excerpt, the first daughter certainly did not enjoy a night out without security, something Michelle wrote provided her and her husband a certain level of comfort.
"Barack and I shook the young man's hand, snapped a few pictures, and gave our daughter a hug before sending them on their way," Michelle wrote, per publicly published excerpts. "We took what was perhaps unfair comfort in the knowledge that Malia's security detail would basically ride the boy's bumper all the way to the restaurant where they were going for dinner before the dance and would remain on quiet duty throughout the night."
As is often the case with members of the first family, Michelle has long been relatively private about the inner-workings of her familial relationships, and especially so regarding their time living in the White House. But, several years removed from Obama's presidency, she appears to be opening up about what life was like as the first lady, if excerpts from her new book are any indication.
She has also been sharing tidbits in the ensuing book tour, which has led to the former FLOTUS participating in a number of public interviews. In a Good Morning America interview on Tuesday, for example, Michelle told Robin Roberts that she was "proud" of how her daughters handled having a father who was also the president, highlighting that she believed that they were incredibly well-adjusted.
"They have managed this situation with poise and grace," she said, "and they are normal and kind and smart and friendly and open."