Mar-a-Lago's Latest Health Violations Include Hot Dogs On The Floor & Spoiled Curry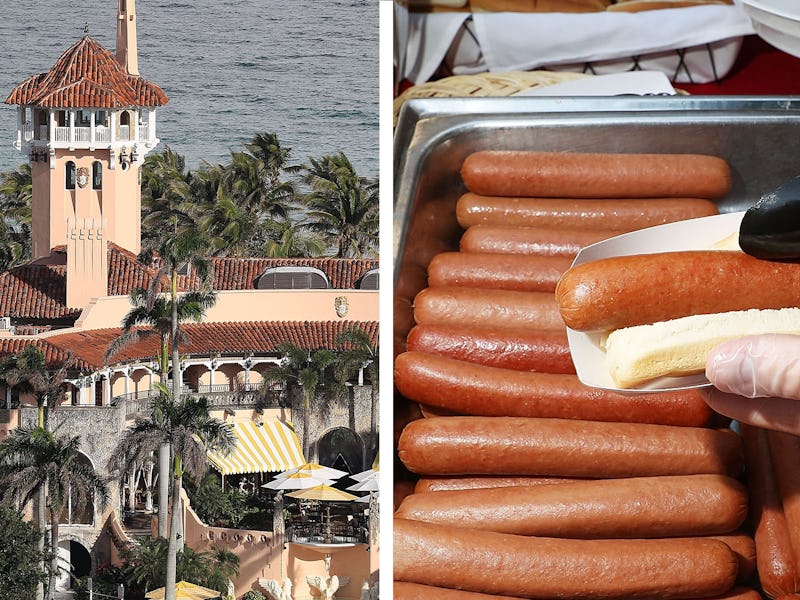 Joe Raedle/Getty Images News/Getty Images
Warm milk, outdated curry sauce, and cases of hot dogs stored on the ground sound like a scene out of a grimy late-night restaurant you visited after one too many beers rather than the kitchen of an exclusive club with a $200,000 membership fee. Nevertheless, The Miami Herald reports the main kitchens at Trump's Mar-a-Lago estate received 15 health code violations during a November inspection. The kitchens have reportedly been racking up violations for the past year.
An inspection of the two main kitchens at Trump's Palm Beach, Florida resort uncovered milk stored at eight degrees above a safe temperature, curry sauce that was dated Oct. 21, and cases of hot dogs sitting on the floor of the walk-in freezer, according to The Herald. Despite being slapped with more than a dozen violations, the newspaper reported that the kitchens did pass inspection.
On top of the potentially dangerous kitchen storage issues, inspectors reportedly found smoke detectors at the club weren't equipped with the required lights to warn the hearing impaired, as well as concrete missing from a staircase that they deemed an injury liability. Those issues were fixed before a second November evaluation, just days before the president arrived at the club for Thanksgiving, according to the report. It's unclear if the kitchen violations have been sorted out since as well.
Meeting Florida's health and safety standards has been a struggle for the resort since January 2017, when inspectors found 13 health violations in Mar-a-Lago's kitchens, including issues with raw fish and broken coolers. Unlike the more recent kitchen violations, inspectors classified those as "high priority" and ordered the club to immediately empty and repair its coolers, The Miami Herald reported at the time. The estate's kitchens were also cited for more minor offenses such as rusty shelves in a walk-in cooler and water that wasn't warm enough to properly sanitize workers' hands.
Mar-a-Lago's violations have spiked since Trump launched his presidential campaign. By The Herald's count, the south Florida resort received two violations in 2015, 11 in 2016, and 28 in 2017.
Though his schedule may be more packed as commander-in-chief, Trump hasn't stayed away from Mar-a-Lago since taking office. The president has spent a total of 49 days at the club in the past year, including most holidays accompanied by his family. His frequent visits aren't cheap, either. Each trip costs taxpayers at least $1 million in travel costs, Secret Service pay, and an increased local police presence.
While the nation's bills are adding up, Trump himself has continued profiting off the estate. The president's 2017 financial disclosure released by the U.S. Office of Government Ethics revealed he made $37 million from Mar-a-Lago between January 2016 and April 2017, compared to $30 million in 2016. Based on the past year's safety inspections, some of those earnings could go toward repairs.
The ongoing health code violations are especially puzzling considering the high price tag for a club membership. The initial fee doubled after the 2016 election to $200,000, with an additional $14,000 membership fee each year. Attending the resort's events also costs a pretty penny — a ticket to this year's New Year's Eve party cost $600 for members and $750 for non-members. The club's 500 members include Bill Koch (the brother of Charles and David Koch), Janet Weiner (CFO of Rockstar Energy Drink), and Bill Belichick (head coach of the New England Patriots).
Perhaps guests haven't noticed that their high-priced Florida club hasn't been storing food according to Florida's health standards, or maybe most guests don't dine at Mar-a-Lago's kitchens. Either way, a resort charging members thousands of dollars should be able to afford working coolers and fresh curry sauce.