Marco Rubio & Ivanka Trump Joke Over A Hug That Allegedly Failed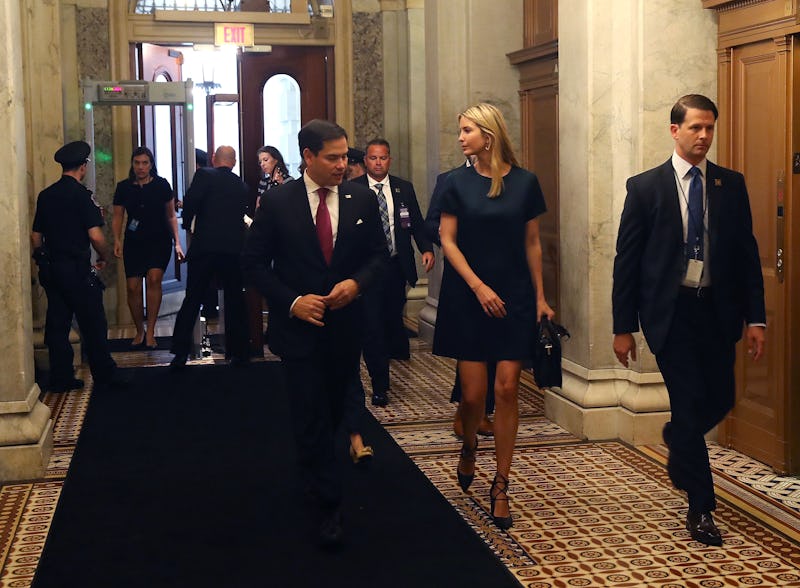 Mark Wilson/Getty Images News/Getty Images
Typically, meetings on Capitol Hill are no joking matter. But an encounter on Tuesday between Florida Sen. Marco Rubio and first daughter Ivanka Trump inspired a series of comedic tweets between the two public figures as the duo joked about an "alleged failed hug" that took place near the Senate chambers.
According to Rubio's official Twitter account, the Republican senator and the first daughter participated in a discussion on reforming taxes for working families. The meeting was described as "pro-family," and The Hill reported that the conversation included the topic of paid family leave. In the end, though, it wasn't the meeting's content that took center stage online.
Shortly after the meeting, Rubio tweeted that he was "investigating" claims on social media that he had an "alleged failed hug" with Ivanka. What unfolded next was a series of joking tweets that lasted about three hours as Rubio and Ivanka tweeted back and forth about the encounter. For her part, the first daughter quipped that she had "no comment," adding, "but I would have hugged him anyway." Ultimately, Rubio concluded that "no hug was even attempted and press covfefe of alleged failed hug is false." The use of the non-word "covfefe" appeared to harken back to a mistaken tweet sent out last month by the president.
Reactions to the Twitter exchange were mixed. Some social media users found the back-and-forth entertaining, while others used the opportunity to question Rubio about the Republicans' health care bill. GOP senators have taken weeks to reveal their health care proposal, and little insight has been shared on the plan's specifics.
On the topic of health care, Rubio himself has advocated against the closed-door meetings that many Americans criticized him for on Tuesday. On Sunday, for instance, he appeared on CBS' Face the Nation, where he said, "The Senate is not a place where you can just cook up something behind closed doors and rush it for a vote on the floor." According to Reuters, the Senate GOP's health care proposal could be revealed on Thursday.
The first daughter also faced mixed reactions to her part of Tuesday's Twitter exchange with Rubio. At one point, model and author Chrissy Teigen chimed in, with what appeared to be a sarcastic response. Teigen has long been known for criticizing President Trump on Twitter. Like many social media users, her response to Tuesday's "alleged failed hug" incident seemed less than excited about the joke. Maybe the White House will take this as a cue to be a bit more transparent about things like health care.