Margaret Atwood's Latest Achievement Is Definitely Well-Deserved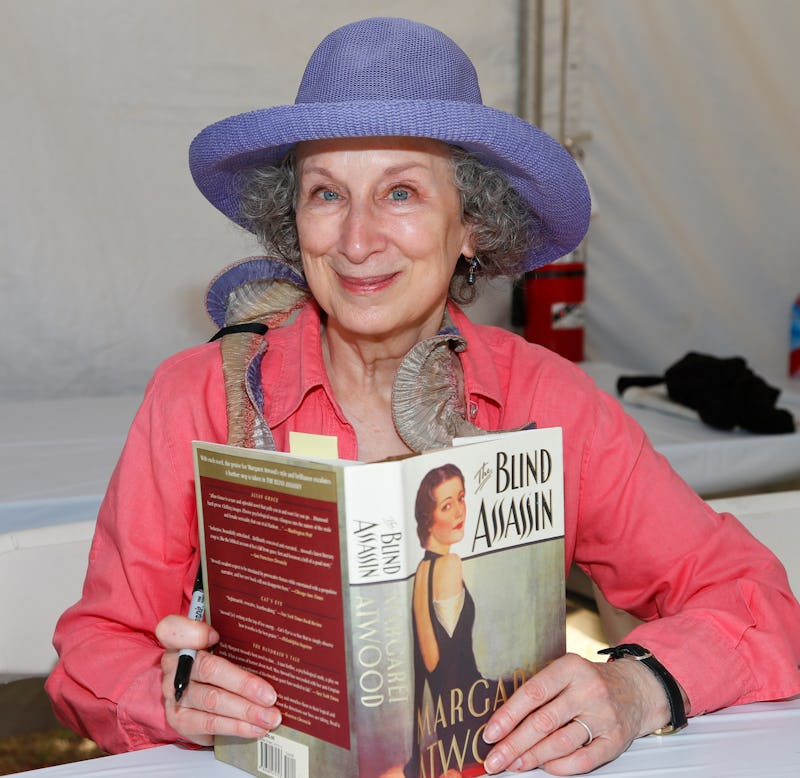 Imeh Akpanudosen/Getty Images Entertainment/Getty Images
2017 has already been a major year for Margaret Atwood and things are only getting better. With the massive popularity of the Hulu series based on her classic dystopian novel The Handmaid's Tale, Atwood has been in the spotlight as much, if not more, than ever. Those white hoods and red robes have not only become a symbol of entertainment and pop culture obsession for viewers, but one of resistance for plenty of women who are continuing to fight for women's rights. Atwood's books have been flying off the shelf all year, leading to tons of discussion both on and off social media, and generally been used as a jumping off point for crucial discussions of feminism and more.
So it seems only fitting that Atwood is set to be honored with an incredibly timely and much-deserved lifetime achievement award at the 27th Annual Literary Awards Festival. The awards are hosted by PEN Center USA, the West Coast center of PEN International, the world's oldest international literary and human rights organization. PEN Center USA's mission is to maintain interest in the written word, foster a vital literary culture, and defend freedom of expression both domestically and internationally—which all lovers of the written word can definitely get behind.
The esteemed panel of 2017 judges includes NEA, Guggenheim, Lannan, and USA Ford Fellows; Pulitzer Prize and Lambda Literary Award winners; and writers for The New York Times, Los Angeles Times, The Washington Post, Ebony, The Atlantic, The Guardian, and The Wall Street Journal, including poet Saeed Jones, YA author Kami Garcia, playwright Chelsea Sutton and other luminaries.
And lest you think that the awards would be far too highbrow and serious for your liking, the ceremony will be hosted by actor and comedian Nick Offerman of Parks & Recreation fame. For more information about The 27th Annual Literary Awards Festival visit pen.org and RSVP at EventBrite.