Margot Robbie's Oscars Dress Broke During The Awards Show — And She Fixed It Herself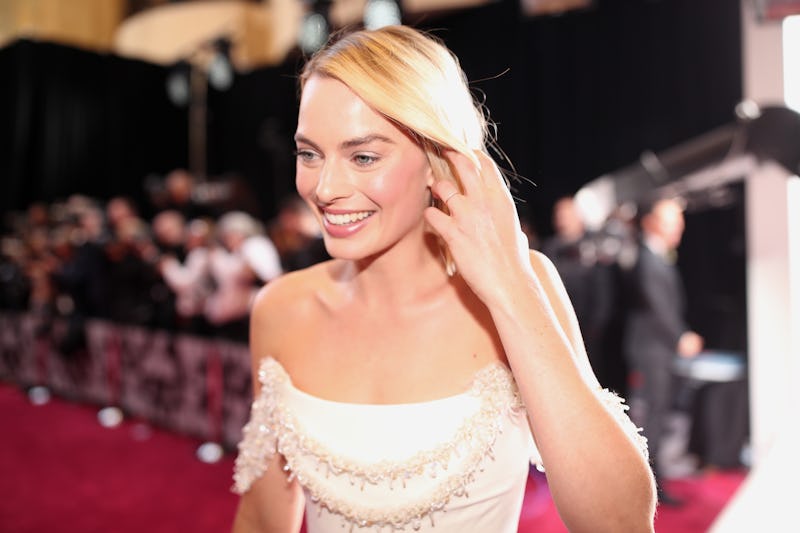 Christopher Polk/Getty Images Entertainment/Getty Images
There were a lot of girl power moments at the Oscars. Time's Up pins were seen, women came dressed in armor-like attire, and, heck, Emma Watson even wore a Times Up tattoo. But there's one that might have gone a bit unnoticed. After having a fashion mishap on the red carpet, Margot Robbie sewed her own Chanel dress back together. Because women can do anything.
We've all been there. You put on a great outfit and suddenly something goes incredible wrong. In Robbie's case, it was a fully beaded strap coming off of her Chanel Haute Couture gown. According to People Magazine, the sartorial slip-up happened after she had left the red carpet and got into the venue.
The moment that came after was the surprising part. Instead of letting her glam team come in and fix the broken strap, Robbie fixed it all by herself. Stars: They're just like us — minus the whole getting to wear Chanel thing.
The mishap likely came from all the beads weighing down the straps. The gown was all-white with dainty layering and draped beading across the top. Luckily, the couture gown only needed a little bit of extra thread.
"Oh, ain't got time for that!" she told People after she got the dress back together.
Luckily, the straps weren't actually holding up the dress. Although the moment wasn't caught on camera, people probably wouldn't have even noticed if it would have been. The beaded draping was more of embellishment than anything to support holding up the dress. Of course, no one wants a broken dress, either way.
According to InStyle, the 27-year-old's Chanel Couture gown over 600 hours to complete. The publication reports that the corsage and strap embroidery took a whopping 550 hours and the assembly of the dress took 130 hours. That's a whole lot of time to have a strap accidentally fall off.
"I never want the dress to feel like a costume," her stylist, KateYoung told InStyle. "The thing about having couture is that it's made for you and for your body. Even though it's fancy, it's comfortable and easy. And I wanted to reflect that. I didn't want her to look trussed up and bedazzled. I wanted her to look real and elegant."
The actress definitely looked elegant and the fashion mishap moment showed just how real the night was as well. Robbie showed just how savvy that she is by pulling out a needle and thread and fixed it herself. Because who needs a team when you can just pull out your own sewing skills instead. Plus it only took a few minutes and drew virtually no attention at all.
Although Robbie didn't get to grace the stage and accept an award for her role in movie I, Tonya, she did look absolutely stunning, with an in-tact dress, throughout the rest of the night. I guess she's got some pretty good sewing skills.
She slipped into another Chanel dress for the Oscars after-party, which was just as elegant and light. No wardrobe malfunctions were mentioned with the second outfit of the night. The straps were just as thin though. There's no mention of her carrying thread and needle in her bag, but you just never know.
When you're nominated for Best Actress at the Oscars, you can't let a little fashion mishap get you down. Robbie handled the moment like a total girl boss and deserves an award for that alone. There might not be an award for best dressed, because, let's be honest, every single person that walked the runway looked incredible, but it's moments like this that prove that make the awards shows a little more interesting.