Mariah Carey Declares Brunch Is Over & You Won't Know How To Feel About It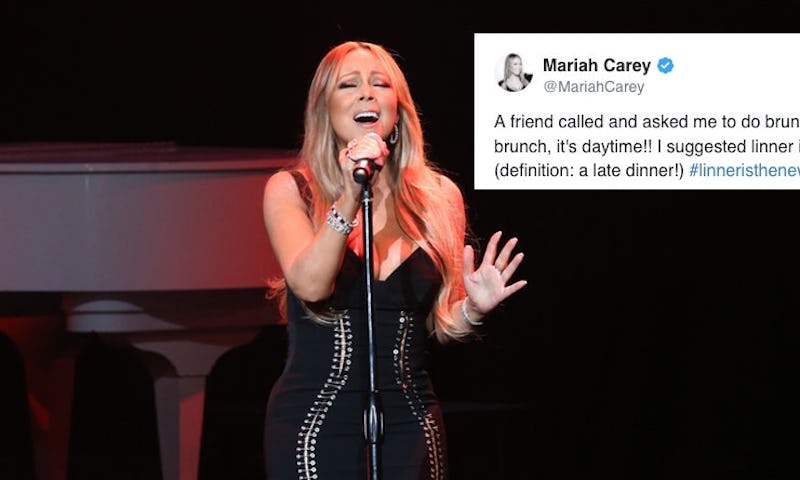 Tommaso Boddi/Getty Images Entertainment/Getty Images; Mariah Carey/Twitter
Legendary singer Mariah Carey has had a pretty great start to the year so far — she received praise for her New Year's Eve redemption performance, and now Carey is declaring she "doesn't do" brunch and receiving a surprising amount of support. The "Always Be My Baby" singer made the proclamation on Twitter in a message explaining how she told a friend that couldn't do brunch in the day time, but suggested "linner" instead.
Fans of the star quickly embraced Carey's recommendation and flooded Twitter with memes in response to her post. One of the best GIFs being shared is of Carey's ever-iconic quote where she shaded fellow singer and actor Jennifer Lopez in a way that will forever be remembered as next-level shade. "I don't know her," Carey famously said when asked about Lopez back in the early 2000s.
You see, in the old interview from which the GIF emerged, Carey is heard praising fellow performer Beyoncé. "I love Beyoncé," she said "Beyoncé is fabulous. She's a great singer. She's very sweet" But then when asked about Lopez, Carey shook her head, blinked, and said, "I don't know her." Years later, Carey again stirred the pot when she insisted she "still" didn't know her, while referring to Lopez during an interview with Andy Cohen. "I'm very forgetful," Carey explained. "I don't know her, what am I supposed to say? I'm not going to put on a thing, 'Oh, we're all Hollywood, let's all just pretend we're best friends because we're in that land.'"
OK, so now that you're familiar with the meme, let's flash forward to the present. On Jan. 6, Carey tweeted a message saying, "A friend called and asked me to do brunch. Come on.. I don't do brunch, it's daytime!" The "We Belong Together" singer then offered an alternative idea to her friend. "I suggested linner instead," she tweeted, "definition: a late dinner!"
The star ended her tweet with a hashtag announcing that linner was the new brunch, and fans of Carey embraced her declaration, using the now-iconic "I don't know her" GIF in reference to brunch being forgotten.
Oh, and Carey herself (or someone who runs the singer's social media accounts on her behalf) even liked the above tweet. And just for context, the star currently has only liked 925 posts ever. So it certainly seems as though she enjoys the reactions fans have had to her brunch proclamation.
Other followers of Carey expressed their agreement with the Precious actor without words, but other wordless animated GIFs of Carey.
Some users on Twitters had follow-up questions. Specifically, one fan asked, "Are we never going to see you at brunch again?"
People were pretty into Carey's linner tweet. Some claiming that the "queen" had "spoken," while others tweeted how "blessed" they felt by Carey's linner movement.
On the flip side, there were some skeptics who argued with some fans of Carey who insisted that the singer had coined the term "linner".
"Seinfeld used the word on his show back in the 90s," one user on Twitter pointed out. When you start going through all of the @ replies, there seems to be quite a debate among Lambs (hardcore fans of Carey) and non-stans about Carey's supposed invention of linner.
Although clearly the term "linner" has been used for years, possibly decades, on Saturday, it was definitely Carey who got everyone on Twitter talking about it. Also, if we want to get technical, according to Urban Dictionary, a linner had been traditionally known as a combination of the meals lunch and dinner.
In Carey's tweet, she referred to linner as a "late lunch," which is notably different, and somewhat new when compared to the lunch/dinner version of a linner. So who knows, maybe she is changing the meal conversation. Regardless, her fans are totally on her side.