Mariah Carey Is Making A New Year's Eve Comeback & Fans Are Already So Excited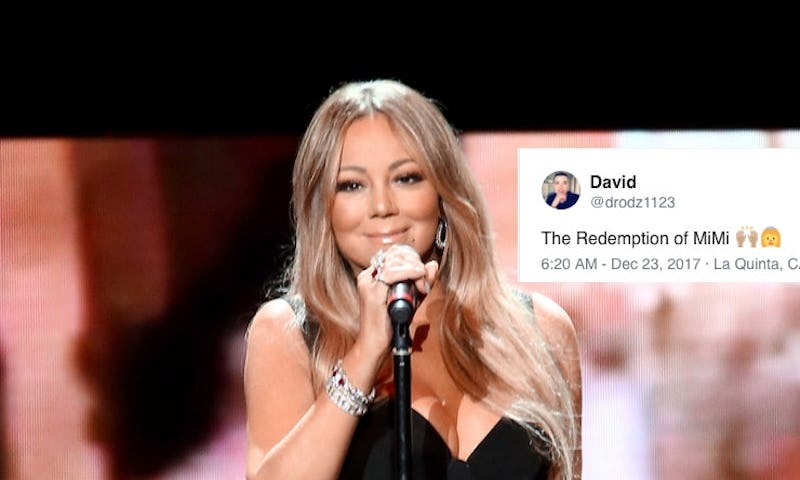 Tommaso Boddi/Getty Images Entertainment/Getty Images; drodz1123/Twitter
2017 got off to a pretty rocky start for Mariah Carey after her performance during Dick Clark's New Year's Rockin' Eve ended with her falling victim to some major technical difficulties. But it was announced on Friday that Mariah Carey is returning to New Year's Rockin' Eve this year, and there's a strong chance that the singer will be able to redeem herself this time around. And fans on Twitter already seem excited for that to happen.
Carey is set to headline the show, and this will mark her third time joining in on the fun since she first performed performed in 2005. The 47-year-old songstress confirmed the news by tweeting, "Take 2," alongside a promo poster for the performance regarding her return.
According to Us Weekly, Dick Clark Productions also released a joint statement with the "Fantasy" singer that reads:
"We can all agree that last year didn't go exactly as planned and we are thrilled to move forward together to provide America with an incredible night of music and celebration on 'Dick Clark's New Year's Rockin' Eve with Ryan Seacrest 2018.' See you in Times Square!"
The singer was invited to take the stage at New Year's Rockin' Eve last year, but Carey's performance took a turn for the awkward after she refused to sing throughout the majority of the set. She was set to perform a medley of her greatest hits, and she started off pretty strong before things fell flat due to production issues. During what was supposed to be her performance of "Emotions," Carey didn't sing. Instead, she walked around the stage doing her best to be a "good sport" after explaining to the crowd that she didn't do a song check for the track.
"We didn't have a check for this song, so I'll just say it went to No. 1 and that's what it is. We're missing some of this vocal, but it is what it is. I'm going to let the audience sing," she said on stage. She added shortly after, "We didn't have a sound check for this new year's, baby. Put these monitors on, please." Carey later ended up dancing alongside her background dancers.
At one point, Carey at least appeared to see a little bit of the humor in the situation, tweeting out a GIF of herself afterward, along with a note saying, "Sh*t happens."
But later on, after making several headlines for the mishap-filled show, Carey's reps cited "technical issues" as the reason that the performance went downhill. With that, the singer also issued an audio statement via Twitter airing out her frustrations and claiming that Dick Clark Productions used the performance as "an opportunity to humiliate me." She said,
"It's not practical for a singer to sing live and be able to hear themselves properly in the middle of Times Square with all the noise, the freezing cold, the smoke from the smoke machines, and thousands of people celebrating, especially when their ear monitors are not working properly."
Carey also announced that she'd be taking a short hiatus from social media following the entire debacle. But of course, things didn't exactly end there. Dick Clark Productions fired back at Carey's team, claiming that the singer's allegations were "absurd." The company said in a statement,
"In very rare instances there are of course technical errors that can occur with live television, however, an initial investigation has indicated that [Dick Clark Productions] had no involvement in the challenges associated with Ms. Carey's New Year's Eve performance. We want to be clear that we have the utmost respect for Ms. Carey as an artist and acknowledge her tremendous accomplishments in the industry."
Oy. In a nutshell, let's just say that Carey's last time performing at the event ended up being tarnished by a whole lot of drama and misunderstanding.
That being said, fans can only hope that when the diva returns to the New Year's Rockin' Eve stage for another round, that things go a lot more smoothly this time.