Mimi's "I Don't" Video Brings The Fire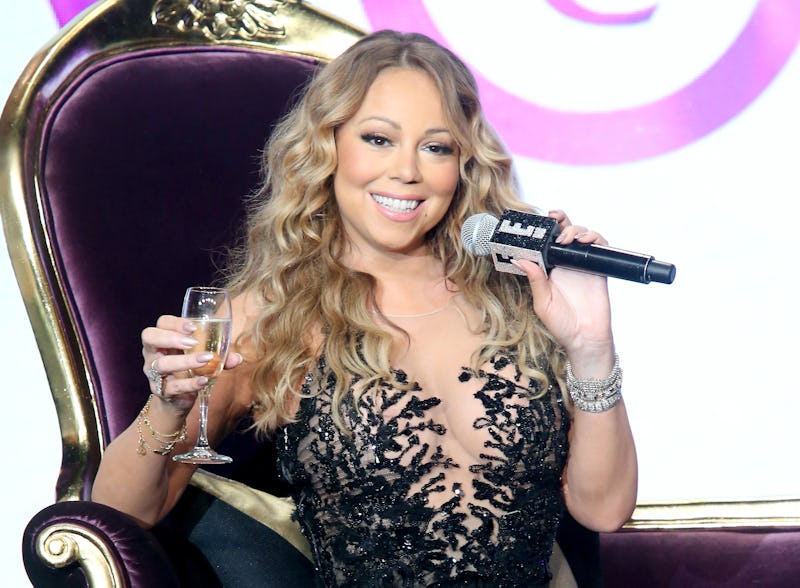 Frederick M. Brown/Getty Images Entertainment/Getty Images
Queen Mimi's directing music videos, torching dresses, and taking names, and I am thanking every last one of my lucky stars. Here are a few objective facts about the music video for Mariah Carey and YG's collaboration "I Don't": It debuted on Friday, the vid was helmed by Carey, and the breakup song that inspired the vid is a bonafide jam. Oh, and the video absolutely crushes. Frankly, I am not surprised. No one should be surprised. We're talking about Mariah "Works Out In High Heels" Carey, for Assistant Molly's sake. Of course, everything about the "I Don't" video goes above and beyond.
That being said, there is an element that really takes the (wedding) cake. And that element is an article of clothing. The "I Don't" video may be a sea of lingerie, bodycon dresses, and patent leather lace-up leotards, but only one look plays an integral role in the video. Enter: the wedding gown.
At the top of the vid, Mimi sprints out of a mansion and hops into the back of a parked convertible. She is clothed in a leather jacket, gloves, a veil, and a voluminous wedding dress. This is the first and last time we see the "Always Be My Baby" icon wearing the wedding dress: In a blink of an eye, Mimi is out of the gown and lounging in a corset. As she sings about someone who fed her "nothing but lies," she drapes herself across the tuffet of tulle as if it were a body pillow. A really expensive, really fancy body pillow. As the video trucks along, the gown's destiny appears to be sealed: It is something to nap on, not wear.
But then, things take a sharp turn: Mimi grabs the dress, drags it across a stone patio, and treats it like a bag of marshmallows on a camping trip. (A really expensive, really fancy bag of marshmallows.) No, I don't mean she accidentally leaves it out where bears and raccoons can get at it. I mean she roasts and toasts that sucker over an open flame.
As the fire consumes the gown, Mimi gives it the one bird salute. Like you do.
And then, she leaves the fire and the dress to battle it out. Like you do.
I don't think the dress wins. Nice knowing you, dress.
Want to see a wedding gown/body pillow turn into a pile of ash? You can watch the "I Don't" video below.
"I Don't"? More like "I Do Love 'I Don't.'"