'Warcross' Is A Virtual Reality YA Adventure You Won't Be Able To Put Down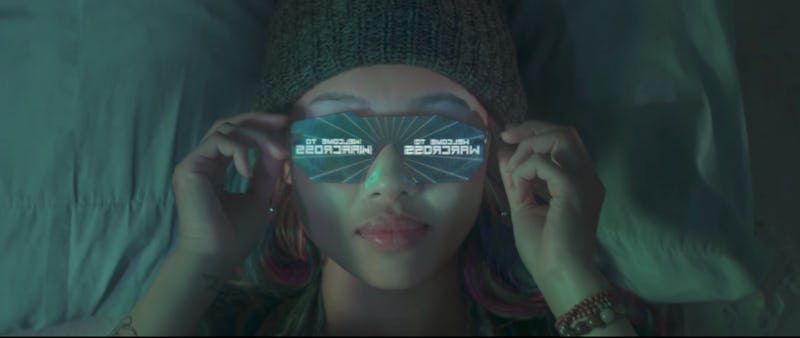 YouTube/Penguin Random House
Marie Lu's Warcross has proven to be one of the most highly anticipated young adult reads of the year... and for good reason. The diverse, female-led, YA answer to Ernest Cline's highly popular novel Ready Player One, Lu's book follows the world of Warcross, an online game that millions across the globe are obsessed with. This is not just any old online game... it's a way of life, especially for those eager to escape reality or make a hefty profit. Enter teenage hacker Emika Chen, a bounty hunter who tracks down people who bet illegally on the game.
But the bounty hunting world is a competitive one, and survival has not been easy. Needing to make some quick cash, Emika takes a risk and hacks into the opening game of the international Warcross Championships — only to accidentally glitch herself into the action and become an overnight sensation.
Convinced she's going to be arrested, Emika is shocked when instead she gets a call from the game's creator, the elusive young billionaire Hideo Tanaka, with an irresistible offer. He needs a spy on the inside of this year's tournament in order to uncover a security problem... and he wants Emika for the job. With no time to lose, Emika's whisked off to Tokyo and thrust into a world of fame and fortune that she's only dreamed of. But soon her investigation uncovers a sinister plot, with major consequences for the entire Warcross empire.
Warcross by Marie Lu, $12, Amazon
Sound like exactly the sort of sci-fi, dystopian, kickass heroine combination you have been desperate for, right? And just to get you even more excited for the book's release on Sept. 12, Bustle's got the super exciting and action-packed book trailer reveal below. You're definitely going to want to add this one to your fall TBR. Watch it below, and visit playwarcross.com for more details.