Tech Genius Mark Zuckerberg Left His Notes Open During His Congressional Hearing Break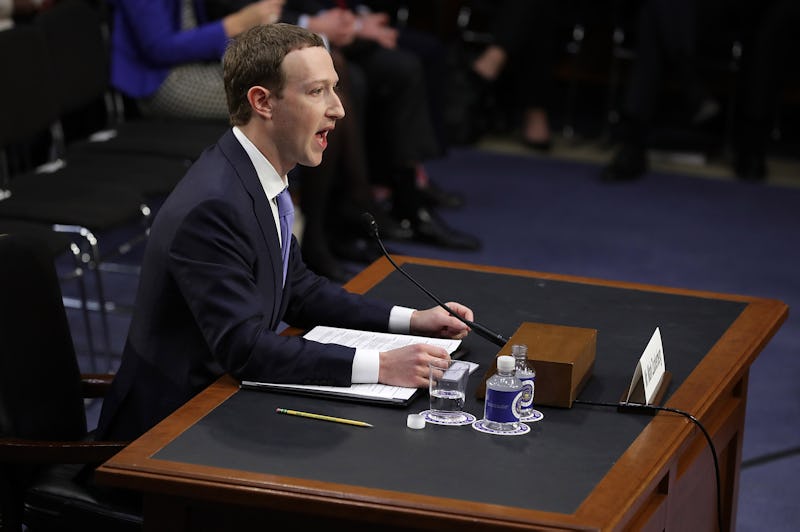 Chip Somodevilla/Getty Images News/Getty Images
On Tuesday, Facebook CEO Mark Zuckerberg headed to Congress to explain the social media network's role in the Cambridge Analytica data scandal. Sometime during the hearing, a break commenced, and Zuckerberg's notes for the congressional hearing were photographed laying wide open long after he stepped away from the desk positioned in front of a panel of senators
Speaking before front of the Senate Judiciary and Commerce Committees, Zuckerberg faced a wide range of questions regarding Facebook's mishandling of sensitive user data. That Facebook data was harvested by Cambridge Analytica, a political consulting firm that was hired by the Donald Trump campaign, reportedly to target people with customized political messages. The scandal raised more questions about the Trump campaign, as well as questions about what Facebook did — and did not do — to prevent that from happening.
Zuckerberg, who has been unusually accessible to the press during this scandal, came to Congress on Tuesday prepared. The founder and CEO of one of the largest and most dominant social media website was armed with notes for the answers he expected to give. Before going on break during the hearing, however, Zuckerberg appeared to forget to close his folder of notes, allowing a swarm of reporters and photographers a long look at what he wrote down.
Perhaps it was a momentary lapse in judgment, what with the intense pressure of a hearing that was broadcast live on social media. Many people immediately picked up on the fact that his folder of notes was lying on the desk, completely open and vulnerable to the press.
In what appeared to be the spirit of the social media commentary on the Zuckerberg's hearing, that moment — along with many other moments during his testimony — was relentlessly meme-d. Some likened it to when President Trump's written notes during his meeting with Parkland shooting survivors was spotted.
Others alluded to the criticism that Zuckerberg and other Facebook officials were profiting off of the website's lax user data privacy protections.
In the wake of the Cambridge Analytica scandal, many Facebook users have become vocally critical of the information that the website has about them, as well as how companies like Cambridge Analytica are able to use their data to its benefit. Many have quit Facebook completely or at least deleted its apps from their phones.
While Facebook officials and Zuckerberg have defended some of their means to the end goal of "connecting the world," during his congressional hearing on Tuesday, their failure to protect user privacy was one of the central discussions. When asked by Sen. Richard J. Durbin how he'd feel disclosing the location of his hotel or the names of people he messaged recently, Zuckerberg replied, "No. I would probably not choose to do that publicly here."
Durbin responded:
I think that may be what this is all about: Your right to privacy. The limits of your right to privacy. And how much you give away in modern America in the name of, quote, connecting people around the world.
At the heart of the congressional hearing, however, was how Facebook bungled the Cambridge Analytica scandal. While the social media platform has recently informed users about how they can find out if their data was compromised, critics still say top officials didn't done enough to prevent it in the first place.
On Tuesday, senators grilled Zuckerberg on whether he had known anything about how the firm had collected sensitive user data, if he knew other such incidents happening on the platform, and what he would do to prevent that from happening again. While he mostly kept a steady front of answering lawmakers' questions about Facebook, Zuckerberg's notes, if revealed, might provide a glimpse into the defense tactic that the platform and its top employees are taking.