M&S Are Under Fire For A "Sexist" Window Display Calling "Fancy Knickers" A Must-Have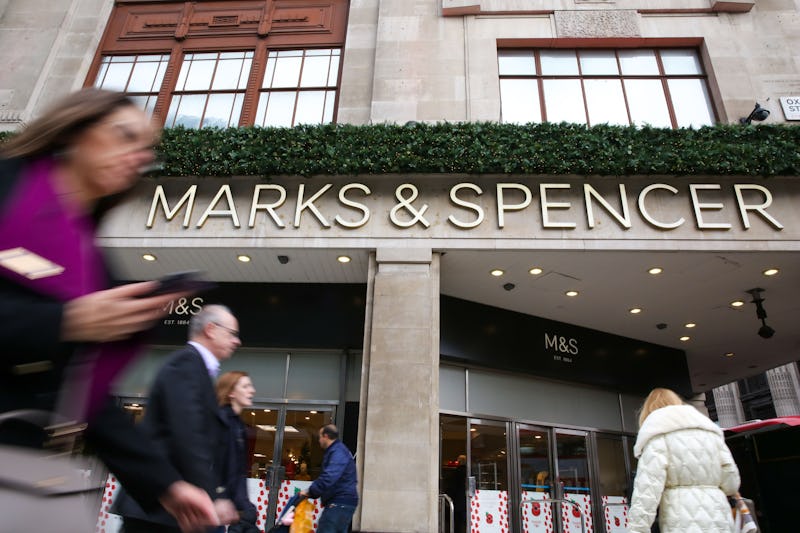 Dinendra Haria/Shutterstock
This week, retailer Marks & Spencer came under fire for a window display in a Nottingham store, which positioned a lingerie display branded "must-have fancy little knickers" next to a menswear display labelled "must-have outfits to impress." On social media, feminists criticised called Marks & Spencer's "sexist" window display, while a campaigner altered the window to read "must-have fancy little full human rights." But the retailer has defended the display, suggesting critics have taken it out of context and insisting any changes to the window won't be a response to criticism.
According to the Guardian, the controversy began when Fran Bailey, a Nottingham shopper, posted a photo of the shop window in a Facebook group called Feminist Friends Nottingham. "OK, M&S Nottingham, have we really not learned anything in the last 35 years?" Bailey wrote. "Or am I alone in finding this, their major window display, completely vomit inducing?"
Speaking to the Guardian, Bailey criticised the display's "normalisation of damaging gender stereotypes through the juxtaposition of images of women apparently obsessed with 'fancy little knickers' with images of fully clothed men being 'dressed to impress' in suits." She also called the "must-have" slogan "really crass," as "huge numbers of Britons are struggling with poverty."
Bailey said, "The problem is that we're so browbeaten by this sort of imagery that we don't even recognise what it is anymore. It's pandering to notions of gender that are so outdated that it's unbelievable that it's still being spouted out. I'm disgusted because I'd have thought that M&S was a grown-up store that knew better." She added, "I know M&S is not the worst offender by any means but this particular juxtaposition is just grotesque."
As the BBC reports, Marks & Spencer said in a statement, "We've highlighted one combination in our windows, which are part of a wider campaign that features a large variety of must-have Christmas moments, from David Gandy washing up in an M&S suit through to families snuggling up in our matching PJs." I've reached out to the retailer for additional comment and will update you as soon as I hear back.
Model David Gandy responded to the criticism on Twitter, saying men could also find "must have fancy knickers" at Marks & Spencer and linking to his own underwear range. When a Twitter user accused him of missing the point of the controversy, Gandy said he was "not missing the point at all. Just making fun of it, as many people are getting their knickers in a twist about it."
In a statement, M&S told the BBC that the window display would not be changed in response to the accusations of sexism, saying any alterations would be the result of routine updates. The nationwide ad campaign will also remain the same.
In a subsequent tweet, Gandy directly mocked Fran Bailey's original Facebook post, writing, "I'm outraged that M&S had me wearing 'must have fancy little washing up gloves' to do the washing up! Have we not learnt anything over the last 35 years. We all have dishwashers!" I've reached out to Gandy's reps for comment, but haven't yet received a response.