You Can Apply To Be A "Candy Connoisseur" At Mars This Summer To Explore New Flavor Combos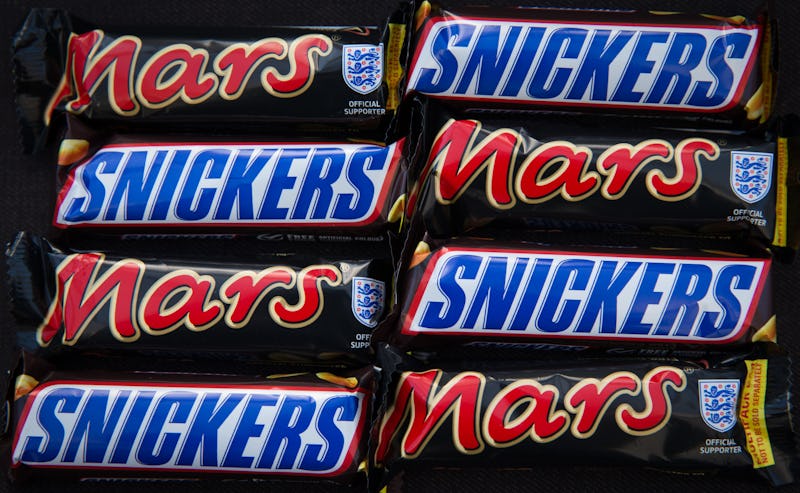 Matt Cardy/Getty Images News/Getty Images
When Sipsmith announced their "ginternship" opportunity, one of the voices in my head said, "Yup, nothing will ever top this." Well, I've officially been put in my place, because Mars is looking for a confectionery connoisseur intern, for what they're calling a once-in-a-lifetime opportunity, and I can't say I disagree. The job posting on their website spills all the delicious details.
You've probably heard of Mars Wrigley Confectionery — that little company that happens to be the world's biggest manufacturer of chocolate, gum, and mints. (Skittles? Dove? Snickers? Any of those ring a bell?) The company's growing, and they're looking to find that one special person for "the world's sweetest internship." It sounds like they took a page right out of Willy Wonka's book, because the internship entails spending your day surrounded by candy. I don't hate it.
In related news, the snozzberries taste like snozzberries! (That's my one and only Willy Wonka reference — I promise.)
According to the job posting, the ideal candidate is a candy lover and "intrinsic tastemaker," which sounds ~fancy~ and ~artistic~. If the idea of getting an internship makes your eyes roll back in your head with boredom like it does for me, I assure you this internship is different.
Some of the responsibilities include:
Learning about how the products are made
Helping manage brand communications
Interviewing leaders of the industry
"Sampling" their treats, or as I would more accurately describe it, eating everything in sight
They ask that applicants be interested in "treating yourself," which, coincidentally, is the name of my upcoming autobiography. You must be willing to try new flavors, and you have to know your way around the candy aisle.
I certainly know my way around the candy aisle. And the cookie aisle. And the chip aisle. I know all the aisles. Hire me!
The internship runs for eight to 12 weeks, AND it's paid (squee!), AND they'll give you a signing bonus of a year's worth of candy. A year! Put your dentist on speed dial and apply, because women's intuition tells me the competition is going to be pretty fierce.
Mars is calling this a "mutually rewarding experience," and, well, they're probably 135 percent right. Whereas most internships involve picking up coffee and scrubbing the inside of toilet bowls with a little brush (unpaid), this one involves eating candy and earning moolah for it.
Honestly, for an opportunity like that, I'd volunteer to scrub the inside of a toilet bowl just as a personal thank you.
Internships aren't what they used to be — clearly — and like it or not, they're important to your future. Fortunately, you're no longer limited to coffee runs and sorting mail. Sipsmith's ginternship and Mars' confectionery connoisseur opportunity are proof of that. Young people today are being offered a real chance at experiencing something unique and eye-opening, and sometimes, serious cash is involved. For instance, according to a 2017 article from CNBC, Facebook interns can make anywhere from $7,000 to $8,000 a month. For Google interns, it can be as high as $8,200 per month, for MBA students. FYI, this is more money than the average American makes, they note in another article.
It's not just the cash that's enticing, either. When you're talking about companies like Facebook and Google, you're not refreshing the pot of decaf. You're doing real work that makes a difference — and there's massive opportunity to be hired for a permanent position, afterward.
Internships used to be something we did to fluff up our resumes and look good to potential employers. Increasingly, it's becoming a real chance to gain substantial on-the-job experience, expand your horizons, and maybe even have some fun. Who knew this was even a thing?!
If candy is your jam and you're interested in interning for Mars, you can apply here. Bring your sweet tooth — you're going to need it.