Mary Kate & Ashley's Met Gala Looks Are Exactly What You've Been Waiting For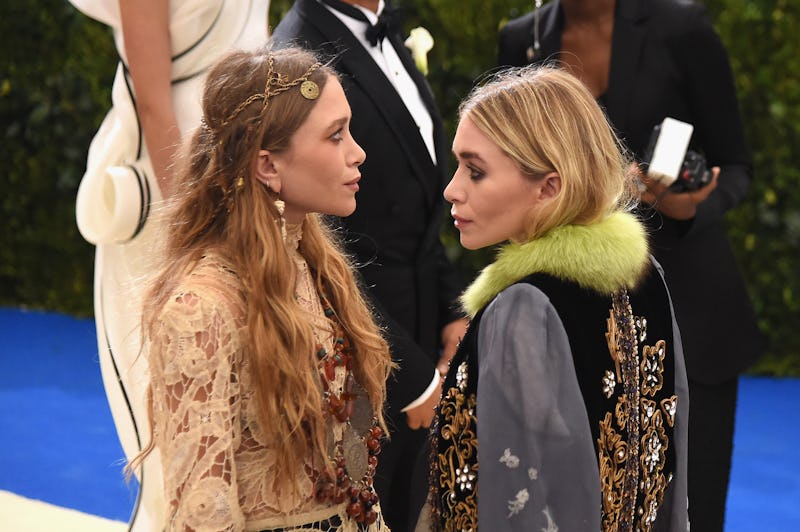 Nicholas Hunt/Getty Images Entertainment/Getty Images
When it comes to Mary Kate and Ashley Olsen, you can always count on the two sisters to bring their A-game when it comes to fashion. Which is why it is no surprise that Mary Kate and Ashley Olsen's 2018 Met Gala looks were so on point. This year's theme is set to be one of the gala's most controversial, entitled "Heavenly Bodies: Fashion and the Catholic Imagination." Co-chaired by Amal Clooney, Donatella Versace, and fashion's reigning star, Rihanna, this year marks the 70th anniversary of the iconic fashion fundraiser.
But the goal of the theme isn't to politicize or toe the line of offending, but rather to highlight the long-standing relationship between fashion and religion, and how the two have influenced each other for centuries. "Fashion and religion have long been intertwined, mutually inspiring and informing one another," head curator, Andrew Bolton, shared in a press release announcing the theme. "Although this relationship has been complex and sometimes contested, it has produced some of the most inventive and innovative creations in the history of fashion." The exhibit itself will showcase "material Christianity" — like a papal garb on loan from the Sistine Chapel sacristy — but also collections where fashion and Catholicism clashed.
Seeing how complex and layered the theme is, fashion lovers have been looking forward to see how the red carpet would interpret the tricky subject this year. And the Olsen twins nailed it.
The two sisters are the designers behind the fashion label The Row, which is an upscale brand that specializes in minimalist, free-flowing pieces. On theme with their brand's aesthetic, the two showed up to the Gala's red carpet wearing minimalist boho-chic like pieces.
Mary Kate was dressed in a friar-like dress in black, with silver embellishments that made you think of a rosary-like shape across the neckline.
Ashley went a different route, choosing to put on a more medieval inspired robe, which looked like a tapestry of gold, red, and black hues, which are very in-theme with the church. The texture was a brocade print, which gives it a Vatican-like quality. She is also wearing a heavy chain necklace with a studded ball ornament in the middle, which also looks like a reiteration of a rosary.
The E! News anchors judging the red carpet looks joked that the Olsens always dress in that way, where it's very baggy and bohemian influenced, so their look wasn't too far off from their comfort zone. But even if that's true, you have to admit that they nailed the theme. They look like glamorous 16th-century priests.
To compare this year's look to the rest of their Met Gala interpretations, check out their greatest red carpet hits below.