Mary Tyler Moore & Dick Van Dyke's Friendship IRL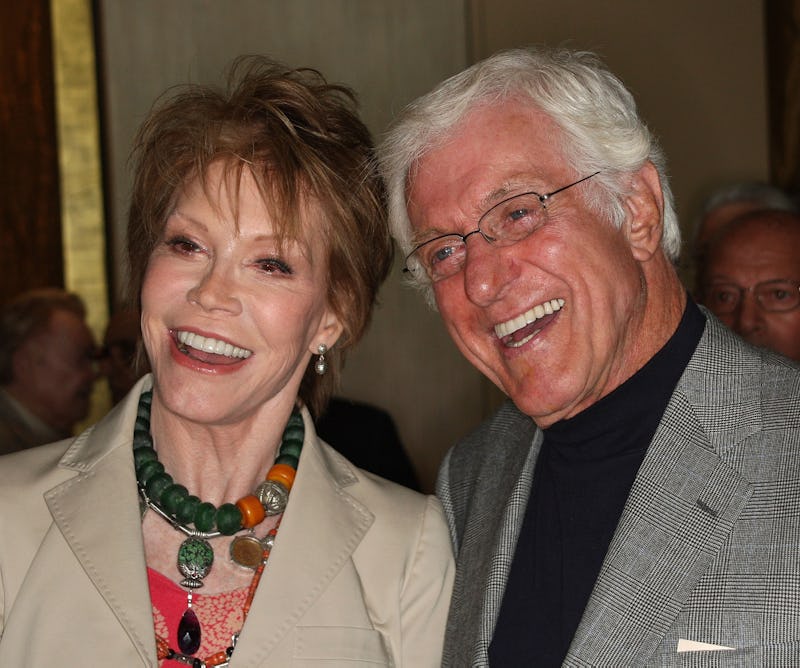 Frederick M. Brown/Getty Images Entertainment/Getty Images
Before Mary Tyler Moore was turning the world on with her smile, she was the headstrong wife of Dick Van Dyke. As Laura Petrie on The Dick Van Dyke Show, Moore was a capris-wearing force to be reckoned with, but what made this show so delightful was her relationship with her co-star Van Dyke. Their relationship was so realistic that many viewers believed the two were married in real life. With the news of Moore's passing at age 80, it's worth taking a look back at the bond these two had for over 50 years. What's immediately clear is that this was a friendship that wasn't just for TV.
When Moore and Van Dyke sat down with Larry King in 2003, they admitted that they immediately "clicked as real people," not just actors. Van Dyke said when he first met the Brooklyn-born Moore, she was a "very serious actress and sounded a bit like Katharine Hepburn." In the CNN clip, the two laugh as Moore admits this was, in fact, the case. The playful chemistry they had on the show is on full display.
"I loved him. I loved his kindness," Moore told King. "I loved his humor and his dance. Everything about him I loved and I connected to."
That love was reciprocated, even if Moore seemed uncomfortable saying it. When King asked if the two had a flirtation off screen, Moore said, "Oh, Larry" with a chuckle. Van Dyke, on the other hand, admitted, "We had a little crush on each other. I think, absolutely." He would go on to say a psychologist told him that the duo's penchant for breaking up during takes of the show was a sign of an attraction. "It's sexual tension," Moore joked. "And that's how you release it."
In 2016, Van Dyke would again talk about his crush on Moore during an episode of Oprah: Where Are They Now? But not before admitting that he thought Moore, who was 12 years his junior, was too young to play his wife. It ended up being her comedy prowess that convinced him. "We became like improv," he said. "You could just tell us a scene and we could make it up." All of this onscreen chemistry eventually leapt off-screen. "We had this, like a teenage crush on each other," he said. "It was fun."
What wasn't so fun for Van Dyke later in life was explaining a 1995 S&M themed photoshoot he did with Moore for Vanity Fair. When he appeared on Conan in 2014, he explained that he was told by Annie Leibovitz they were going to do a motorcycle-themed photo. "I'm not kidding," he said with a straight face. "I didn't get it until Mary jumped on my back with that whip." He admitted that he this photo is going to "haunt me to the end of my days."
One thing Van Dyke probably won't regret is being on hand to give his co-star the SAG Life Achievement Award in 2012. He even managed to steal a kiss from Moore. "MTM," he said. "There's probably not a person in the civilized world who doesn't know what that means."
While on the red carpet, Van Dyke once again talked about his love for his co-star, according to CBS News. "She was 23 and had never done comedy," he said of Moore signing up for the show. "I never saw somebody pick it up so fast. I still have a crush on her." Him and the rest of the world.