Mary Tyler Moore Might Be In The Hospital — UPDATE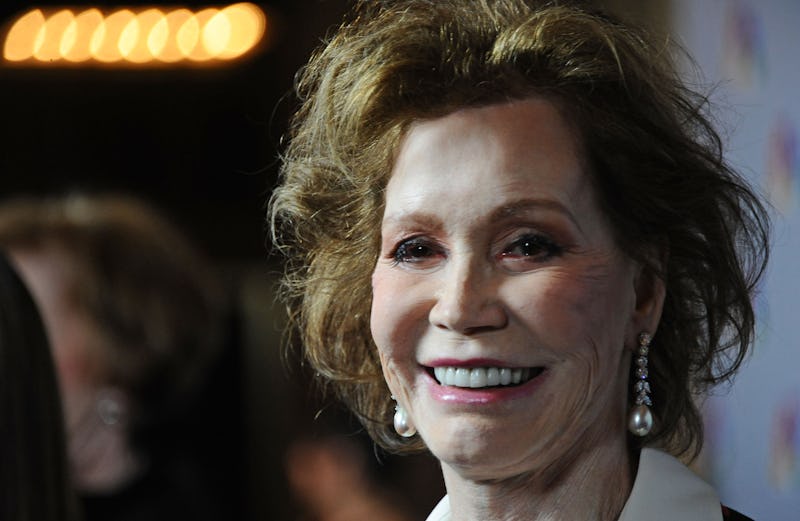 Angela Weiss/Getty Images Entertainment/Getty Images
I hate to be the bearer of bad news, but there are reports that Mary Tyler Moore has been hospitalized at a facility in Connecticut. Her condition is allegedly critical enough that she's been on respirator support for a week. According to TMZ, Moore's condition is beyond serious; they go as far as to call it "grave," claiming that family members are being encouraged to come and say their goodbyes at the Connecticut hospital bedside of the 80-year-old actress. Moore has long been fighting a battle with diabetes, and underwent brain surgery in 2011 to remove a benign tumor, but there's no word yet on whether her current condition is related to any of these ailments. Bustle has reached out to Moore's team for confirmation, but did not receive an immediate response.
Update: On Wednesday, Moore's publicist confirmed that the icon had passed away at the age of 80 in a statement to Bustle. "Today, beloved icon, Mary Tyler Moore, passed away at the age of 80 in the company of friends and her loving husband of over 33 years, Dr. S. Robert Levine," it reads. "A groundbreaking actress, producer, and passionate advocate for the Juvenile Diabetes Research Foundation, Mary will be remembered as a fearless visionary who turned the world on with her smile."
Earlier: In case you aren't as familiar with the classic icon that is Mary Tyler Moore as you ought to be, she made a name for herself in television classics like The Dick Van Dyke Show and the ground-breaking The Mary Tyler Moore Show. Both were wildly popular in their time, but The Mary Tyler Moore Show in particular was a trail-blazing effort, helmed as it was by an independent, unmarried, wise-cracking, capable woman all the way back in 1970. It ran for a remarkable seven seasons and was critically acclaimed, raking in Emmys for Outstanding Comedy Series three years in a row.
As dire as the rumors sound, I'm staying optimistic and sending all the good thoughts and well wishes I can muster, in hopes that she makes a full recovery.
Editor's Note: This article has been updated from its original version.