Inspiring Mary Tyler Moore Quotes To Live By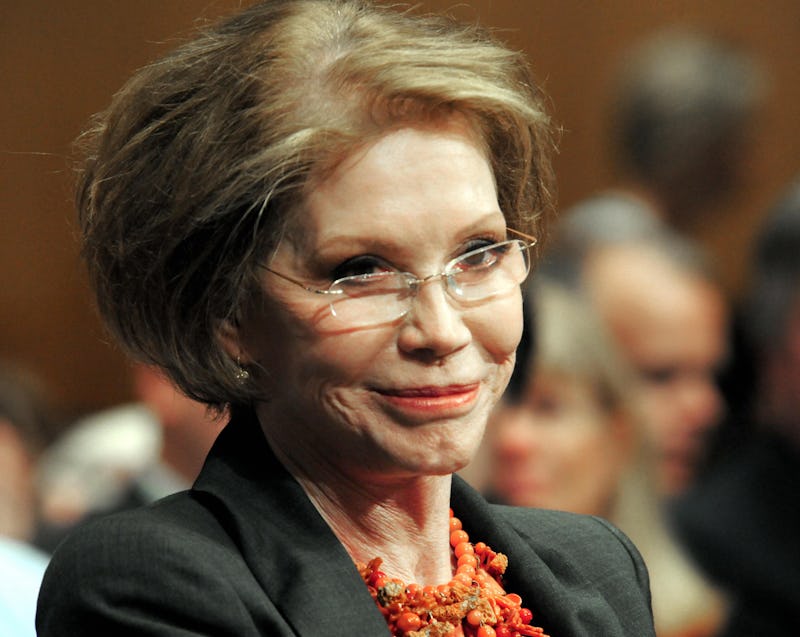 KAREN BLEIER/AFP/Getty Images
For a generation of women, Mary Tyler Moore represented feminism. She inspired pretty much every female comedian that you can think of. The groundbreaking actor, writer, and activist passed away at age 80 on Wednesday. To celebrate her legacy, here are some of the best Mary Tyler Moore quotes to put a smile on your face.
Moore is remembered for the The Mary Tyler Moore Show, The Dick Van Dyke Show, as well as films like Ordinary People (which earned her an Academy Award nomination and a Golden Globe award) and Thoroughly Modern Millie. She was inducted into the Television Hall of Fame in 1986, won a total of six Emmy awards in her lifetime, won a special Tony award in 1980 for Who's Life Is It Anyway?, and the Screen Actor's Guild Award for Lifetime achievement in 2011. That honor was presented to her by Dick Van Dyke himself.
She brought women who worked, women who made you laugh, and women who took charge to television. We are all indebted to her. Overall, she is remembered for her charm, talent, and just being a great person who had insight and advice about the world. These quotes are all excellent examples.
"Sometimes you have to get to know someone really well to realize you're really strangers."
"Take chances, make mistakes. That's how you grow. Pain nourishes your courage. You have to fail in order to practice being brave."
"You can't be brave if you've only had wonderful things happen to you."
"My grandfather once said, having watched me one entire afternoon, prancing and leaping and cavorting, 'This child will either end up on stage or in jail.' Fortunately, I took the easy route."
"You truly have to make the very best of what you've got. We all do."
This is a constant reminder.
"Whatever it is, it's OK because it's what it is. Don't be looking for perfection. Don't be short-tempered with yourself. And you'll be a whole lot nicer to be around with everyone else."
This one is especially important to remember, no matter what kind of day you're having. Moore was a subtle, positive person, and the world is better off for having her.