Mary Tyler Moore Devoted Her Life To Animal Rights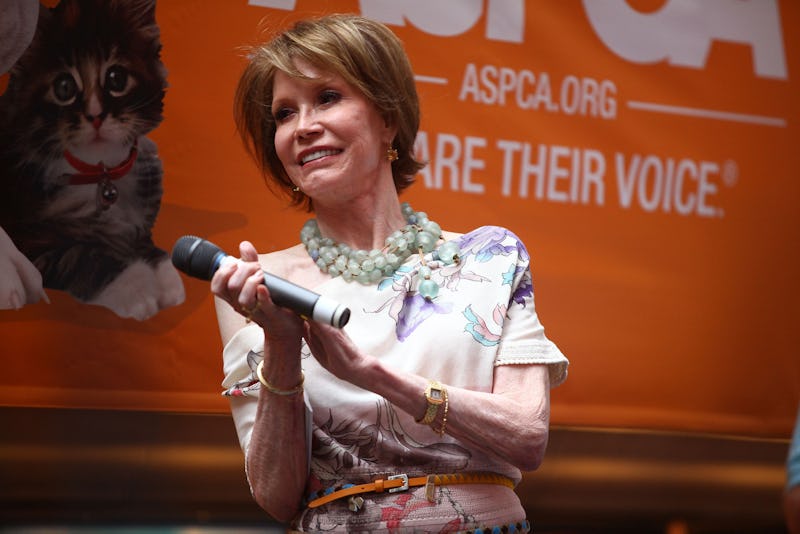 Astrid Stawiarz/Getty Images Entertainment/Getty Images
The causes people devote their lives to can tell you so much about who they truly are. Mary Tyler Moore was an animal rights activist and a children's health advocate, two passions that were as near to her heart as acting. When it came to protecting animals and advocating for their rights, Moore never backed down — even if it meant going toe-to-toe with Rush Limbaugh over the fate of a lobster named Spike.
There was no end to the depth of Moore's belief animals should be protected. Knowing cats, dogs, and lobsters cannot speak for themselves, Moore made it her mission to give them a voice and, in many cases, a home. Along with Bernadette Peters, the actor co-founded Broadway Barks, an organization devoted to finding forever homes for shelter pets. Her activism also extended to working closely with the ASPCA.
Moore's passion was so profound she reportedly became a vegetarian in an effort not to hurt a living thing. As amazing as she was on screen, Moore's humanity and deep love for animals is every bit as inspiring as her iconic characters. "I love them all!" she said in a 2002 Pet Press interview. "Even those animals for whom I have no particular feeling — like snakes or alligators or any of the creepy crawly fellows. I still care very much about them and would never tolerate inhumane treatment to them."
Throughout her life, Moore narrated an agricultural video advocating for farm animals, lobbied congress on behalf of animal rights, and fought to make all New York City shelters no-kill shelters. If there was a function devoted to raising money and awareness for animal rights, Moore was there. She personally adopted everything from shelter dogs to retired police horses, and famously fought her neighbors to ensure a hawk and his mate were not displaced from their home.
In an a particularly funny and poignant episode of Ellen DeGeneres' sitcom Ellen, Moore appeared to help Ellen liberate as many lobsters from a restaurant as possible. It was a nod to her fight for Spike, and an on-screen example of her unwavering devotion to animals in all their many forms. Moore's death is heartbreaking, not only for her fans, but for the countless animals she won't be here to save.
That's where you come in. If you would like to do something to honor Moore and her beautiful life, donate to an animal shelter — or maybe just for her, save a lobster.