Mary Tyler Moore's Charity Work Was So Important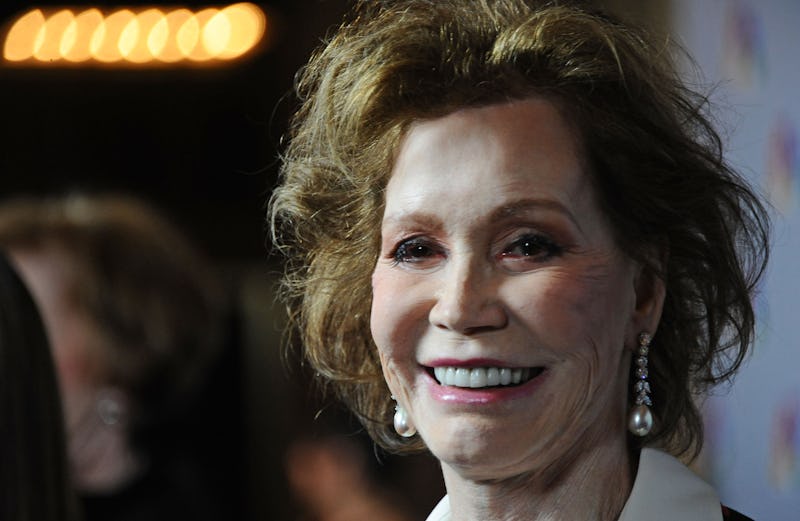 Angela Weiss/Getty Images Entertainment/Getty Images
Iconic actor and Hollywood legend Mary Tyler Moore has died at the age of 80, her rep confirmed to Bustle. Throughout her life, the star suffered from Type 1 Diabetes and other existing health conditions, although it's unclear if these contributed to her passing. Regardless, as the world mourns her death, it's important to remember Moore's charity work with the Juvenile Diabetes Research Foundations, and the other organizations she worked tirelessly to support.
Following the news of her death, Moore's longtime rep released the following statement to Bustle:
Today, beloved icon, Mary Tyler Moore, passed away at the age of 80 in the company of friends and her loving husband of over 33 years, Dr. S. Robert Levine. A groundbreaking actress, producer, and passionate advocate for the Juvenile Diabetes Research Foundation, Mary will be remembered as a fearless visionary who turned the world on with her smile.
Along with her husband Levine, Moore created the Excellence in Clinical Research Award with the Juvenile Diabetes Research Foundation (JDRF) to honor those who aided in research and education about the disease. Additionally, Moore was International Chairman of the Juvenile Diabetes Research Foundation International. As a sufferer of Type 1 Diabetes, Moore made it her life's mission to help children who were forced to battle diabetes each day of their young lives.
In an interview with Medline Plus, it was noted JDRF was known by many as "Mary's Foundation." Moore attended congressional hearings, filmed PSAs, and made public appearances specifically designed to raise awareness of the disease. "When I was first diagnosed, I debated about how up front I should be about my diabetes, and whether telling colleagues might hinder my work as an actor," Moore told Medline Plus in 2006. "But I also realized that if I did speak out, I might be able to help others better cope and manage their diabetes."
Moore's charitable work extended beyond the life-changing work she did with the JDRF. If her first passion was trying to make the lives of children with juvenile diabetes easier, her second passion was animals. Along with her friend and colleague Bernadette Peters, Moore co-founded Broadway Barks, a charity to promote pet ownership and help shelter animals find forever families. She was also advocate for animal right's, and worked with organizations like the ASPCA as well.
Throughout her life, Moore was constantly finding ways to give back. Whether it was being a trailblazer for women on-screen, or in making a difference in the lives of children and animals, Moore never stopped giving. Let her beautiful heart inspire you as you mourn the passing of a true Hollywood hero.