MA Attorney General Sees A Silver Lining In Trump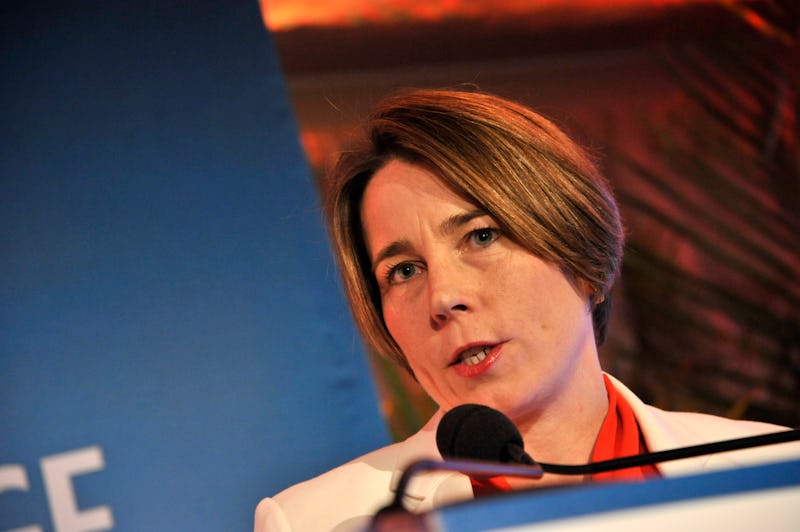 Kris Connor/Getty Images Entertainment/Getty Images
In just over a month, the Trump administration has already left a strong — and critics would say negative — mark on the country. Among the executive orders the 45th president has signed, there was the controversial — and currently halted thanks to federal judges — ban on travel targeting seven muslim-majority countries and the revocation of protections for transgender students, which were implemented just a few months ago. These are just two ramifications of the Trump presidency that has left many Americans despondent and concerned about the future of the country. However, Massachusetts Attorney General Maura Healey has found a silver lining.
In an interview with Bustle, Healey says she finds hope in a Trump presidency in the last place one might expect based on his record of misogynistic rhetoric: the empowerment of women.
Healey spoke at the Women's March in Boston, where she was joined by a number of other prominent Massachusetts leaders, including Sen. Elizabeth Warren. According to NBC Boston, some 175,000 marchers joined Healey and Warren in the protest. "You saw the numbers that turned out in Boston for the Women's March the day after the inauguration — and it was incredible, " Healey says. "I remember standing there speaking and looking out, and I'd never seen anything like that before. You couldn't even see the end of the crowd. It just went beyond where I could even see."
Healey tells Bustle that one of the most inspiring parts of her work in these early days of the Trump administration has been seeing how women have been leading the political charge.
"I've been holding these town halls around the state and people are coming out in droves, and so many women are coming out, so many women are expressing interest in running for office and getting involved politically — and that is a really great thing to see," Healey says.
And what Healey has observed in women is not limited to Massachusetts. As reported in Time magazine, the organization "She Should Run," which, according to its site, provides "thoughtful guidance and support to women and girls considering a future run for office," has already gotten north of 4,500 women to plan to run for political office since Trump was elected president. And it's just one of the number of groups that are encouraging women to get involved in government.
"We need more women in politics, we need more women running for office," Healey says. "And if that is going to be a positive outcome from this, I'm really glad to see that."