'Master Of None' Is Even More Important Post-Election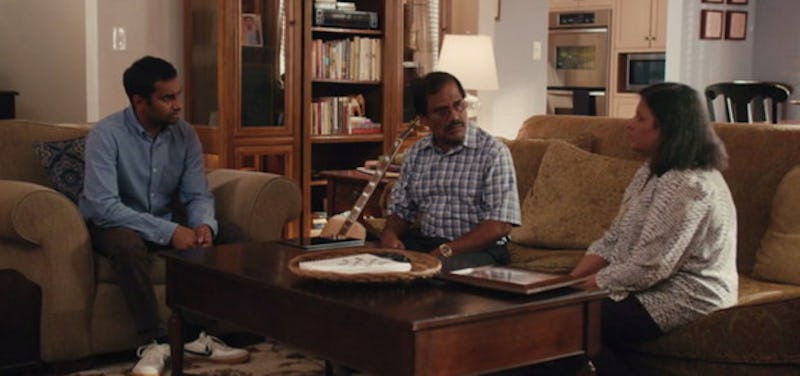 Netflix
When the first season of Aziz Ansari's Master of None premiered, it was immediately clear that it was a show the world needed. While it isn't the first series to portray single life in New York City, it is inclusive and comprehensive in a way that many of its TV predecessors were not. In addition to showing the ups and downs of dating, it tackles real world issues, like gender discrimination in workplaces, the complexities of the immigrant experience in America, and the casual racism people face everyday. In the current social and political climate, the show feels even more relevant than when it premiered. It's become clear the country is divided along cultural and ideological lines, and the show's "vision" of America, as Ansari puts it, provides an outlook that is much-needed today.
In a new interview with New York Magazine, Ansari discussed how the election impacted the show and the America that it represents. "Does seeing someone who looks like me starring in a show now mean something different than it did a year ago? Yeah, I would agree with that. But this show is not about, 'Oh, Aziz is back to give the finger to Trump,'" he told New York Magazine.
"Look, if there are kind of like these two visions of America, our show definitely takes place in the other America," he said in the interview. "I mean, there's one white guy around every now and then. Most of the time, you're following me, a brown guy, and I'm doing stuff that brown guys don't do in the other vision of America. I'm not just working in a convenience store serving white people sodas. I'm not part of a sleeper cell. I'm not giving my white friend dating advice and totally inept with women, like, 'Ooh, I've never seen a bra before!' This show is firmly rooted in the other path the country is headed toward."
While the Netflix comedy never shied away from tough topics, it's not really an explicitly political story. It primarily follows Dev, an actor and generally good dude, through his dating exploits. In the past, Ansari's own stand-up has been similarly apolitical; romance and food are some of the creator's favorite subjects. However, the show's first season did provide commentary on some key social issues and was widely recognized for it's cross-generational portrayal of Dev's family, as his parents were Indian-American immigrants.
Now, in a country where Donald Trump is president, it's clear that Ansari is wrestling with how the political world should affect his work. After the election, Ansari wrote an op-ed for the New York Times, describing his fear for his Muslim parent's safety. The day after the inauguration, he hosted Saturday Night Live. On such a significant day, being political was inevitable, and the comedian once again tackled the rampant Islamophobia in the United States. The next season of Master of None filmed in November, and it wouldn't be surprising if the show leaned more heavily into socio-political themes.
There's no denying that the show represents a more progressive country than the one it often feels like we're living in. By simply existing it subverts the harmful racial stereotypes that appear so often on TV, and unlike many other series about young life in New York (see Girls or it's ancestor Sex and the City), the city is, for once, seen through the eyes of non-white characters. In the interview with New York Magazine, show runners Ansari and Alan Yang emphasized that the diverse casting wasn't intentional; it's just an accurate portrait of their lives.
While the election has changed much about culture, it doesn't have to stop the progressive era of television. Many comedies popped up alongside and in the wake of Master of None that offer more in the way of representation and commentary, like Broad City and Insecure. These shows seem to usher in an era of TV that better represents young people living in America on television, and a more hopeful vision for the country as a whole.
Editor's Note: On Jan. 13, Ansari was accused of sexual misconduct by a woman who went on a date with him. Ansari has since responded to the claims, saying:
"In September of last year, I met a woman at a party. We exchanged numbers. We texted back and forth and eventually went on a date. We went out to dinner, and afterwards we ended up engaging in sexual activity, which by all indications was completely consensual.
The next day, I got a text from her saying that although 'it may have seemed okay,' upon further reflection, she felt uncomfortable. It was true that everything did seem okay to me, so when I heard that it was not the case for her, I was surprised and concerned. I took her words to heart and responded privately after taking the time to process what she had said.
I continue to support the movement that is happening in our culture. It is necessary and long overdue."