Matt Damon Finally Apologizes For His Sexual Assault Comments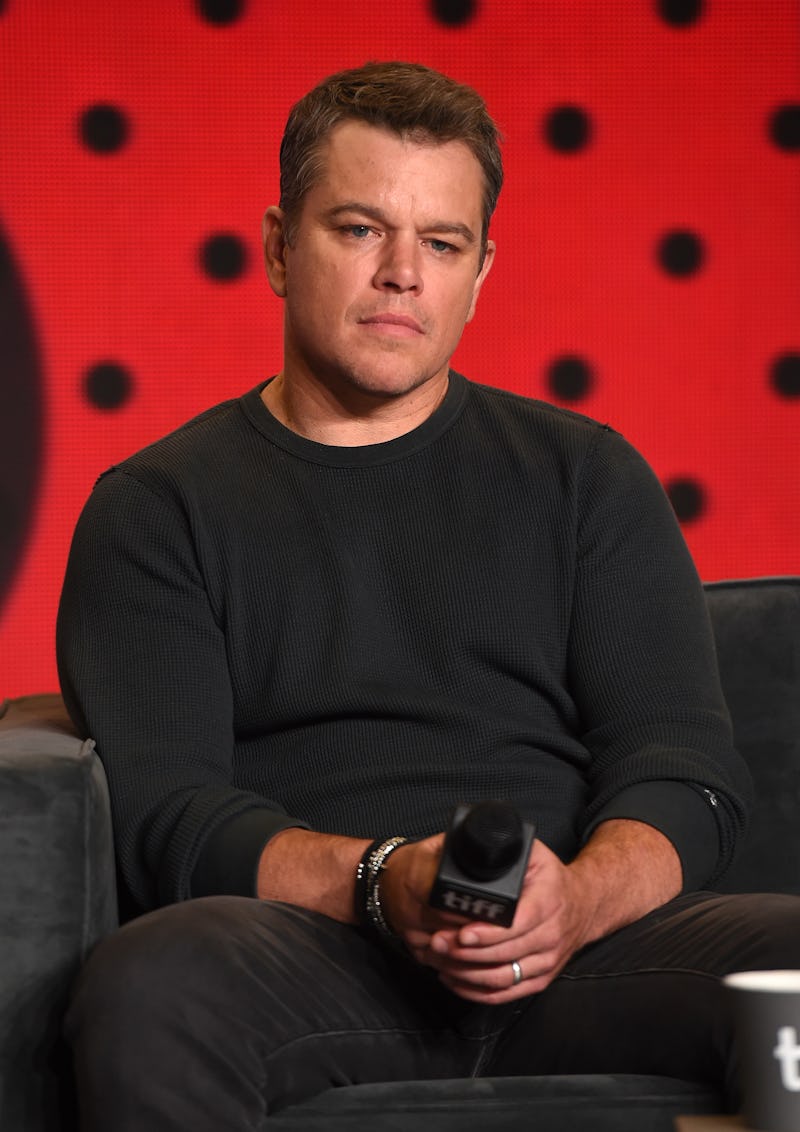 Kevin Winter/Getty Images Entertainment/Getty Images
During a Tuesday Today show appearance, Matt Damon issued an apology for the controversial remarks he made in December 2017 about the sexual misconduct allegations in Hollywood. After Kathie Lee Gifford asked the Downsizing star about what he's learned since the backlash he's faced, Damon answered, "Boy, I really wish I'd listened a lot more before I weighed in on this."
To that, Gifford said, "You're a good listener, Matt," but he didn't agree with her and the 47-year-old actor said,
"Not in this case. I think, ultimately, what it is for me is I don't want to further anybody's pain with anything that I do or say. So for that, I'm really sorry. This whole Time's Up [initiative], a lot of those women are my dear friends and I love them and respect them and support what they're doing and want to be a part of that change and go along for that ride, but I should get in the backseat and close my mouth for a while."
In December 2017, while appearing on ABC News' "Popcorn With Peter Travers", Damon discussed the sexual misconduct allegations against Harvey Weinstein (Weinstein's rep has repeatedly denied "any allegations of non-consensual sex") and other men in the entertainment industry. He began his conversation with Travers by saying, "I think we're in this watershed moment. I think it's great. I think it's wonderful that women are feeling empowered to tell their stories, and it's totally necessary." But, he didn't stop there.
Damon said he felt like there is a "spectrum of behavior" and then added, "And we're going to have to figure — you know, there's a difference between, you know, patting someone on the butt and rape or child molestation, right? Both of those behaviors need to be confronted and eradicated without question, but they shouldn't be conflated, right?" (At the time of these remarks and the backlash that followed, Bustle reached out to Damon's rep for comment, but didn't receive an immediate response.)
He dived even deeper with Travers regarding his thoughts and how the allegations should be handled, which you can read here. A few days after his ABC News interview, Damon told Business Insider the following about how men who aren't sexual predators should be talked about more:
"We're in this watershed moment, and it's great, but I think one thing that's not being talked about is there are a whole sh*tload of guys — the preponderance of men I've worked with — who don't do this kind of thing and whose lives aren't going to be affected."
As previously stated, he received a lot of backlash for his comments, including from his Good Will Hunting co-star, Minnie Driver. In addition to taking to Twitter, Driver told The Guardian last December, "I've realized that most men, good men, the men that I love, there is a cut-off in their ability to understand. They simply cannot understand what abuse is like on a daily level." She continued that men shouldn't be "dictating the terms" when it comes to sexual assault or harassment. Driver also said, "There is no hierarchy of abuse — that if a woman is raped [it] is much worse than if woman has a penis exposed to her that she didn't want or ask for … you cannot tell those women that one is supposed to feel worse than the other."
When it came to Damon, she came outright and added, "If good men like Matt Damon are thinking like that then we're in a lot of f*cking trouble. We need good intelligent men to say this is all bad across the board, condemn it all and start again."
Like Driver, Alyssa Milano also called out Damon on Twitter and posted, "There are different stages of cancer. Some more treatable than others. But it's still cancer. Sexual harassment, misconduct, assault and violence is a systemic disease. The tumor is being cut out right now with no anesthesia. Please send flowers."
As for his apology? Yes, Twitter users have opinions.
His Publicist Must Have Had Enough
He Better Take His Own Advice
He's Finally Being "Honest"
Ditto, Matt Damon
It's Too Late
His Apology Isn't Necessary
No More Men Need To Speak
Damon's original comments definitely deserved to be shut down and it's good that he can now recognize that. And after everything else that he's said about the allegations accusers have made against powerful men in Hollywood, Damon has finally said the right thing. But, really, he should've said the above and chose to just listen to the accusers, whose voices deserve to be heard right now, from the get-go.
If you or someone you know has been sexually assaulted, call the National Sexual Assault Telephone Hotline at 800-656-HOPE (4673) or visit online.rainn.org.