Alyssa Milano Educated Matt Damon About Sexual Assault In A Series Of Must-Read Tweets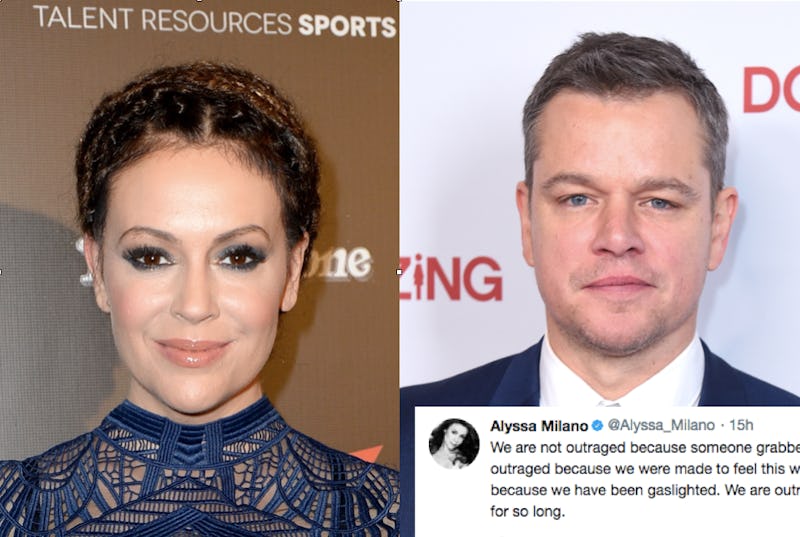 Gustavo Caballero/Getty Images Entertainment/Getty Images ; Michael Loccisano/Getty Images Entertainment/Getty Images; Alyssa_Milano/Twitter
Earlier in the week, actor Matt Damon's comments about Hollywood's sexual assault allegations caused quite a stir on social media. After the Downsizing star's words were widely criticized by fans all over Twitter on Thursday and Friday, Alyssa Milano tweeted an open letter to Damon to spread an important message about the issue that's currently rocking Hollywood. (Bustle reached out to Damon's rep for comment on Milano's tweets and the previous backlash, but did not receive an immediate response.)
During a recent appearance on ABC News' "Popcorn With Peter Travers," Damon raised some eyebrows when he spoke with the host about sexual assault allegations, saying that there's a "spectrum" of inappropriate behavior, and that sexual harassment and sexual assault "shouldn't be conflated." Damon said,
"There's a difference between, you know, patting someone on the butt and rape or child molestation, right? That's criminal behavior, and it needs to be dealt with that way. The other stuff is just kind of shameful and gross."
No more than 24 hours after Twitter was turned off by Damon's statements, Milano stepped in to educate him. "Dear Matt Damon, It's the micro that makes the macro," the 44-year-old Charmed alum started off a short thread on Friday. "We are in a 'culture of outrage' because the magnitude of rage is, in fact, overtly outrageous. And it is righteous."
She went on to let the actor know that she's experienced sexual abuse at every level of this "spectrum" he brought up to remind him that, in the end, "they all hurt." She wrote,
"I have been a victim of each component of the sexual assault spectrum of which you speak. They all hurt. And they are all connected to a patriarchy intertwined with normalized, accepted — even welcomed — misogyny. We are not outraged because someone grabbed our asses in a picture. We are outraged because we were made to feel this was normal. We are outraged because we have been gaslighted. We are outraged because we were silenced for so long."
Milano then made an analogy comparing varying degrees of assault to various stages of cancer. She wrote,
"There are different stages of cancer. Some more treatable than others. But it's still cancer. Sexual harassment, misconduct, assault and violence is a systemic disease. The tumor is being cut out right now with no anesthesia. Please send flowers. #MeToo"
Milano helped get the #MeToo hashtag, originally started by Tarana Burke, trending on Twitter back in October after dozens of women came forward and publicly accused film mogul Harvey Weinstein of sexual harassment. (Weinstein has denied all accusations of nonconsensual sex through a spokesperson.) The use of the hashtag resulted in thousands of women flooding Twitter with their own personal stories about sexual assault and harassment.
Not surprisingly, the actor is already being applauded by tons of women for sharing her message with Damon.
Her thread was quick to get the people talking, and her original tweet has already garnered 23,000 favorites and 8,000 retweets. At the moment, it's sitting on over 600 responses.
It certainly isn't hard to see why Damon's comments are problematic. Saying that sexual harassment isn't as bad as sexual assault doesn't make either of the two behaviors OK, and it dismisses the experiences of women who have been victims of either of the two, or, like Milano, both in the past. It also suggests that certain components on this "spectrum" are things that we should learn to accept instead of fighting back against.
Rather than speaking out and finding ways to make excuses for the men being publicly accused in these situations, Damon should listen to the allegations of these women and continue to applaud them for their bravery, as he did at one point during his interview.
If you or someone you know has been sexually assaulted, call the National Sexual Assault Telephone Hotline at 800-656-HOPE (4673) or visit online.rainn.org.