The True Story Behind This 'New Amsterdam' Doctor Will Make You Happy-Cry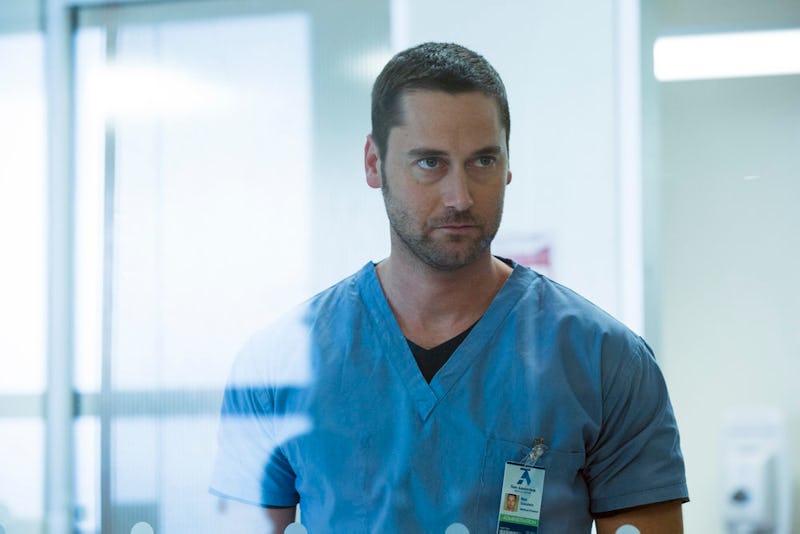 Francisco Roman/NBC
Fall TV season is finally here, and with it brings New Amsterdam, a new NBC drama following hotshot doctor Max Goodwin. As the new medical director of an underfunded hospital, he comes in swinging big, wanting to prioritize patient care in a system long driven by profits. It's a risky approach, and one that will inevitably lead to conflict, which is why viewers might be surprised to know Max Goodwin is based on a real person.
In real life, Dr. Eric Manheimer served for 15 years as the medical director of Manhattan's Bellevue Hospital — which, according to its website, is the oldest public hospital in the U.S. During his tenure, Manheimer aimed to reform hospital policies and provide better patient care, all while facing his own battle with throat cancer.
Thankfully, Manheimer beat the disease and wrote a 2012 memoir, Twelve Patients: Life and Death at Bellevue Hospital. Using the experience of 12 patients — including himself — he examines the broader social issues driving the healthcare system. Now, the book serves as the basis for New Amsterdam.
In an NBC preview, Ryan Eggold, who plays Goodwin, talked about Manheimer and how he changed Bellevue for good. "He really made a lot of changes for the better and kinda pushed back against the system and the institution of it and the bureaucracy of it all and tried to get back to really helping people and getting people to talk to people, to look at problems in different ways and to really ask the right questions and not just kind of churn patients out like a business," the actor shared.
Manheimer, who is also a producer for the series, said in another NBC sneak peek that New Amsterdam will focus less on his story and more on those of everyday patients — a departure from shows like, say, Grey's Anatomy, which tend to emphasize the salacious personal details of the doctors' lives. It seems like the kind of feel-good, change-the-world approach that will similarly bring both smiles and tears, but with a wider scope.
According to New Amsterdam's trailer, Goodwin joins the hospital as its fifth medical director in five years. And yet, he doesn't seem fazed by the daunting task of fixing a broken infrastructure: He immediately fires everyone in the cardiac surgical department and tells the remaining staff that anyone who puts billing above care will be terminated. That's... definitely one way to make a statement.
Dr. Goodwin then gives a rousing speech to the remaining staff about how they are "the system" with the power to make needed changes, and need to get back to what really matters – being doctors. He's charming, compassionate, and unbelievably hopeful about changing the world one person at a time.
First on the agenda? Oncology department lead Dr. Hana Sharpe (Freema Agyeman), who Goodwin confronts about spending more time practicing medicine and less time making TV appearances. The trailer also gives glimpses of the patients from this season, including an abused young teen and an immigrant with Ebola.
From the looks of it, New Amsterdam is going to be a different kind of medical drama, tugging at the heartstrings with the struggles of real-life people while still following the emotional journeys of its staff. Luckily, it airs right after This Is Us, so everyone will already have tissues in hand.
This post was originally published on Sept. 25, 2018. It was updated on Aug. 22, 2019.