Someone Reportedly Sent Maxine Waters' Office A Package Labeled "Anthrax"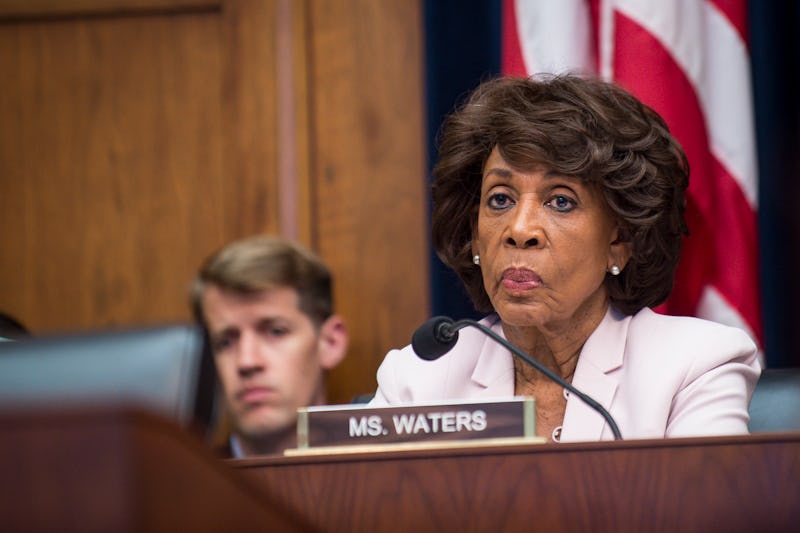 Pete Marovich/Getty Images News/Getty Images
On Tuesday, authorities in South Los Angeles evacuated Maxine Waters' office after an "anthrax" package was reportedly sent to the Californian representative. According to Mike Lopez, a spokesman for the Los Angeles Police Department's Major Crimes Division, the department is currently looking into the matter.
CBS News' Los Angeles affiliate reported that there had been no injuries at the representative's office. Bustle has reached out to Waters' office for comment.
The news comes only a week after right-wing group, Oath Keepers, had planned a protest outside Waters' Los Angeles office, though the group ultimately did not show up. The Democratic representative came under intense fire after she criticized Donald Trump for his "zero-tolerance" immigration policy, which has resulted in more than 2,000 children separated from their parents, according to the Department of Homeland Security.
In June, Waters called on her supporters to confront Trump administration figures over the presidency's position on immigration. "Let's make sure we show up wherever we have to show up," Waters said. "And if you see anybody from that Cabinet in a restaurant, in a department store, at a gasoline station, you get out and you create a crowd. And you push back on them. And you tell them they're not welcome anymore, anywhere."
While speaking of the undocumented children, Waters said, "They're in prisons. They're in jails. I don't care what they call it, that's where they are and Mr. President, we will see you every day, every hour of the day, everywhere that we are to let you know you cannot get away with this." Later on, Waters said that she had received death threats from her critics.
Among her mainstream critics from the conservative side of the political aisle was House Speaker Paul Ryan. Soon after Waters encouraged her supporters to accost and confront Trump officials for their government's immigration stance, Ryan called the representative's remarks "dangerous."
"When we, in this democracy, are suggesting that because we disagree with people on political views, on policy views, on philosophical views, that we should resort to violence and harassment and intimidation that's dangerous for our society, dangerous for our democracy, and she should apologize and there's just no place for that in our public discourse," Ryan said.
High-ranking Democrats, too, joined their conservatives colleagues in slamming Waters. Senate Minority Leader Chuck Schumer said, "I strongly disagree with those who advocate harassing folks if they don't agree with you. If you disagree with a politician, organize your fellow citizens to action and vote them out of office. But no one should call for the harassment of political opponents. That's not right. That's not American."
Yet in spite of seemingly bipartisan criticism against Waters, her supporters remain steadfast in their solidarity with the Californian Democrat. Even with Trump maligning Waters as "an extraordinarily low I.Q. person," Waters' supporters have called on lawmakers to stand with her. Some have even called on Ryan to apologize to Waters for his comments.
On Tuesday, following the potential anthrax scare, the Los Angeles Fire Department announced that no one was hospitalized and no hazardous material was uncovered.