Maxine Waters' New Nickname For Trump Throws The Ultimate Shade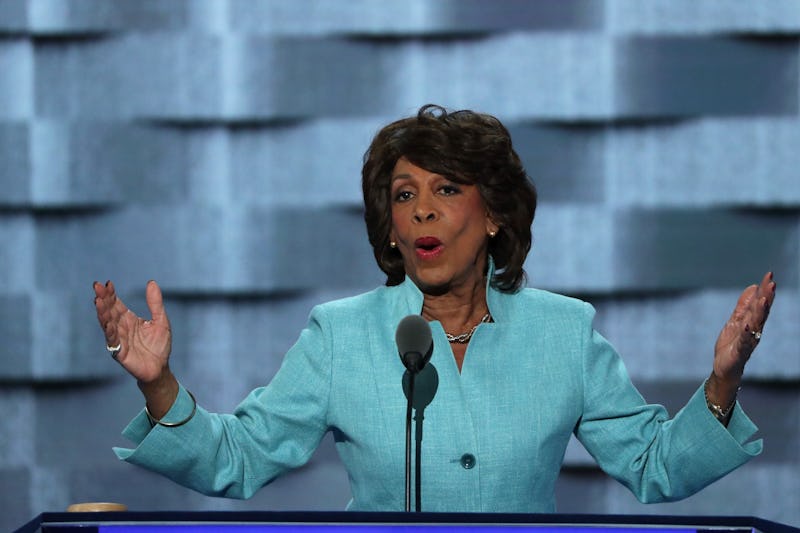 Alex Wong/Getty Images News/Getty Images
On Monday night, U.S. Rep. Maxine Waters revealed her new nickname for Donald Trump — "Don the Con Man." The congresswoman shared her moniker for the president during an interview with MSNBC's Chris Hayes. Waters had been commenting on Trump's latest verbal attack on her when she came out with the new nickname.
You can trace part of the pair's feud back to a Saturday rally in Pennsylvania. During the event, Trump ruthlessly mocked Waters. "We have to defeat [House Minority Leader] Nancy Pelosi and Maxine Waters ― a very low I.Q. individual," Trump told the crowd, which responded by "booing" Pelosi and Waters. The president proceeded to slam Waters' repeated calls for his impeachment.
You ever see her? You ever seen her? You ever see her? "We will impeach him! We will impeach the president!" But he hasn't done anything wrong. It doesn't matter, we will impeach him! She's a low I.Q. individual. You can't help it. She really is.
Well, Waters clapped right back at his insults by telling Hayes,
Everybody knows who this bully is. ... This is a dishonorable human. He is a con man. He came to this job as a con man. I call him "Don the Con Man."
The HuffPost reported that Rep. Waters said she was not remotely shocked by Trump's remarks at the rally.
"All I know is this: If he thinks he can stop me from talking about 'Impeach 45,' he's got another thought coming," Waters asserted during the MSNBC interview. "I am not intimidated by him. I'm going to keep saying that we need to impeach him."
The recent war of words between Waters and Trump does not mark the first instance of animosity between the two. Waters has repeatedly called for Trump's impeachment and, indeed, in a speech in late February remarked, "I say it is time to get ready for impeachment ... I cannot wait and I'm counting on special counsel Mueller to connect the dots."
At a fundraiser in March, Waters said she believes Special Counsel Mueller's investigation into the alleged ties between Russia and the Trump campaign (ties which Trump and the Kremlin vehemently deny) will end Trump's presidency.
"In the final analysis I think he [Mueller] is going to get him [Trump]," Waters told the audience. "And if for some reason he is not able to get him, I'm counting on Stormy [Daniels] to do it."
There was also that time in January 2018 when Trump reportedly referred to some Latin American and African locales as sh*thole countries — something which the president denies doing. Unsurprisingly, Waters did not hold back at all in condemning Trump for his supposed comments. In January, she told Joy Reid on MSNBC that the United States is "represented by the most despicable human being that could possibly ever walk the earth ... I don't know when Americans are going to tire of this lying man."
And this weekend's rally definitely doesn't constitute the first time Trump has gone after Waters' intelligence. During the recent annual Gridiron Club dinner, the president suggested to attendees that the congresswoman should take an IQ test. As he spoke to the crowd during the dinner, Trump said:
How about that one? Maxine Waters, "He must be impeached!" That's all she knows how to say, "He must be impeached!" Impeached! ... And then I say ... I get in trouble for this, "She has to immediately, take an IQ test." And people go crazy.
It is certainly clear that President Trump and Rep. Waters do not have a strong affinity for each other. If anything, this week's events serve as yet another example to illustrate that point. And though Trump has not publicly commented on Waters' new nickname for him yet, you can bet he won't hesitate to share his thoughts on Twitter.