Maya Jama Just Got Real About Life With Anxiety & Why Opening Up Is Key — EXCLUSIVE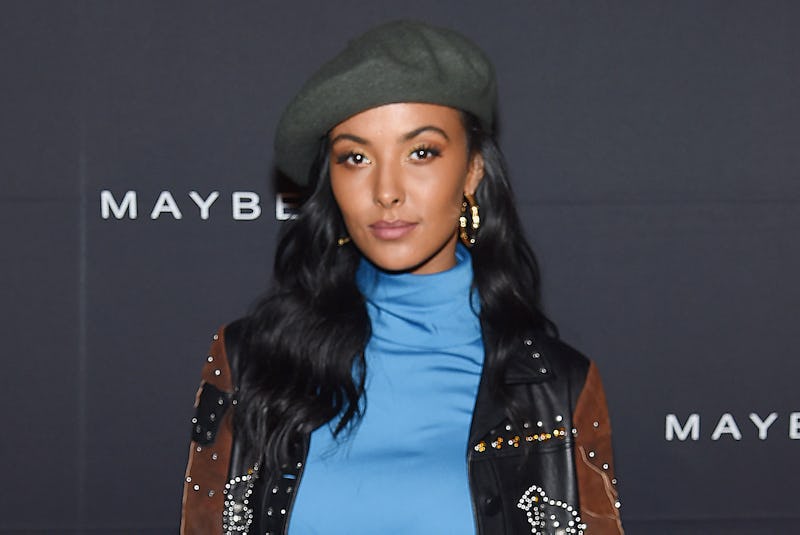 Jamie McCarthy/Getty Images Entertainment/Getty Images
Hard graft isn't anything new to Maya Jama. She's been working since she was 15, when she spent her summer cleaning dishes in a local cafe. Fast-forward eight years and her drive is relentless. Over the last year alone, she's secured a gig at BBC Radio 1, hosted the MOBOs, launched a fashion collection with Pretty Little Thing, become the face of Maybelline Fit Me Foundation, and she's just released the second series of Freya Lingerie podcast, When Life Gives You Melons. Not bad, eh? But behind the scenes, Maya Jama has been living with anxiety.
Jama came across a little nervous while we chatted; she was talking at 100 miles a minute and was sitting huddled up with her arms tightly around her legs. "Anything you go through that's difficult is scary to talk about," she tells me. "Whether it's mental health, or loss, or death, or whatever it is. Something that's scary or something that hurts you sometimes is hard to talk about."
Reflecting on her own personal experiences, Jama tells me, "I suffer with anxiety loads. I'm a super anxious person." Describing what it's actually like, she adds:
"It's just feeling overwhelmed and sweaty and sick. All of those nervous feelings. You know that feeling like you're on a plane and your belly drops and then it just doesn't go away? It's like that feeling all day. It's like you're really nervous but everything is fine. You feel physically sick and you can't eat."
While Jama hasn't spoken openly about her mental health before, she first referenced it back in May on The Receipts Podcast, when she explained that she had stayed offline "for [her] own mental health" following the "abuse and death threats" she received after offensive tweets she posted as a teenager were uncovered on Twitter. The posts from 2012 and 2013, which included a reference to "dark skinned b*****s", resulted in accusations of colourism. Jama has since apologised, saying "colorism [sic] is not something to be entertained ever & I do not support it."
Despite the controversy, Jama tells me tries to learn from mistakes rather than focusing on regrets. "I think there will be terrible situations but there's always a lesson in them," she explained. "I don't think you ever go through something terrible without learning something from it. I'm thankful for all of it."
Jama grew up in Bristol and was raised by her mum. Her father wasn't around very much because he spent much of her childhood in and out of prison. By the time she was 12, she decided to completely cut ties with her dad, but despite the emotional impact the situation must have had, mental health was never discussed at home. "I never really heard anybody talk about it," she tells me. "And if you did, it was like a shunned thing, like, 'Oh that person's crazy'. It was never like, 'Hey I deal with this and sometimes it makes me feel like this.'"
As a result, Jama remained completely unaware of conditions like anxiety and depression for a long time. "I didn't even know the word was 'anxiety' for eight years," she tells me. "It's probably only the last few years I've been like, 'Oh, that's what this is' purely because I've heard more people speaking about it."
"I think it's one of those things that affects so many people I know and so many people I meet. It's so much more common than people think," she adds, and the statistics suggest she's right. According to Mind, in the UK, one in four people will develop some form of mental health problem every year. In England specifically, one in six will suffer with a condition like anxiety. The most recent Psychiatric Morbidity Survey shows that there are 3 million people with anxiety in the UK right now, reports Anxiety UK, and the Mental Health Foundation states that women are almost twice as likely to be diagnosed with anxiety than men.
"I've got the Calm app," she reveals of her coping mechanisms. "I want to meditate because I feel like that would help. I'm still not good at it but I try to do it before bed. My mind races at a million times a minute. I want to be able to silence my mind Complete zen and ultimate peace."
Another coping mechanism is to try to examine her thoughts more closely. Jama adds:
"I also do this thing where I'm like, 'What's wrong?' I break down everything that's going on and I'm either like, actually, nothing's really wrong in this moment in time. And if there is something wrong, it's like, how do I solve it? OK, if I can't solve it, then right, let's just try and get past it. It's talking yourself through the process of it all that helps me. There's different things for different people so I'd never want to advise."
Jama's openness about anxiety comes a year after her boyfriend Stormzy spoke publicly about his experience with depression. Explaining why he wanted to address the subject, he told Channel 4 News: "What convinced me to talk about it was the fact that if there's anyone out there going through it, I think to see that I went through it would help." Jama appears to sing from the exact hymn sheet.
As a result, mental health features in the new series of her podcast show When Life Gives You Melons. "I'm quite open with it," she explains. "I feel like, nowadays, everybody should, if you understand it, you should express it and encourage people to speak openly about it as much as possible because the more that people speak about it, the more other people won't feel like they're the only ones."
When Life Gives You Melons is an all-female podcast brought to you by Freya Lingerie. It can be downloaded here.