Mazie Hirono Called Out This GOP Senator For "Insulting" Christine Ford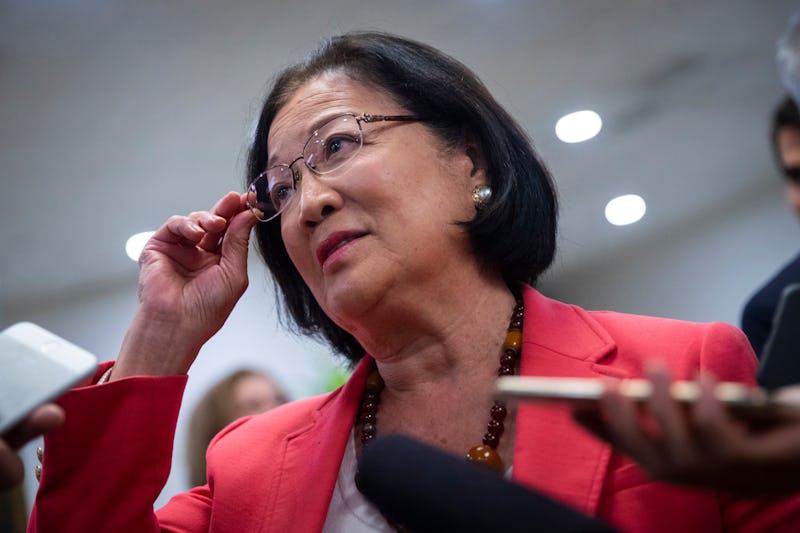 Drew Angerer/Getty Images News/Getty Images
Senators reassessed Kavanaugh's 50-48 confirmation vote on political shows Sunday morning — and the controversy continued. On CNN's State of the Union, Sen. Mazie Hirono responded to Sen. Susan Collins' comments on Dr. Christine Blasey Ford, calling them "insulting."
Speaking with host Dana Bash, Hirono, a Hawaii Democrat, addressed comments made by her Republican colleague on the same show just minutes before. "[Collins] says that Dr. Ford thinks that she was assaulted, which is even more insulting than saying she gave a very credible account," Hirono said. "To say that she thinks that Dr. Ford thinks that she was assaulted, what is that? Is she mistaken?"
These words were in response to Collins, a Republican from Maine, saying earlier on the program, "I do not believe that Brett Kavanaugh was her assailant. I do believe that she was assaulted. I don't know by whom. I'm not certain when." Kavanaugh continues to deny the sexual assault and misconduct allegations and was sworn in as a Supreme Court justice on Saturday.
Collins had been a holdout Republican but did agree to vote for Kavanaugh's confirmation and announced her decision on Friday. Only one Republican, Sen. Lisa Murkowski of Alaska, voted against the confirmation.
"I certainly believe Dr. Ford. Anybody watching her testimony would know, I would say, would conclude that she was being very truthful," Hirono said. "The one thing that she recollects with 100 percent accuracy is that Brett Kavanaugh assaulted her."
Asked if Collins' words were in fact insulting to Ford, Hirono responded, "[Collins] said herself said that she's heard from so many survivors from her state and elsewhere. All of us have been hearing stories and accounts from survivors going back many, many years where they kept all these painful, traumatic accounts to themselves."
Hirono added that she disagreed with Collins' claim that there was no corroboration of Ford's story. "The people that the FBI interviewed — which was just a small number of the dozens that they should have — all said that they have no recollection. That's hardly what I would call exoneration," Hirono said.
"She had talked about this assault to her husband, to others, before Brett Kavanaugh was ever nominated to the Supreme Court," Hirono continued. "She took a lie detector test. Corroboration was there."
Collins had said she wanted the FBI investigation to check and see if there was any corroborating evidence. She said Friday that, in her view, there was none, as she explained on Sunday's program.
"I found Dr. Ford's testimony to be heart-wrenching, painful, compelling, and I believe that she believes what she testified to," Collins told Bash. "But we also had a case where Judge Kavanaugh came forward and said, 'I'm 100 percent certain that this did not happen,' so here you have two people who are each 100 percent certain of what they're saying under pain of perjury. So then I had to look at the other evidence, and was there corroborating evidence, and that's why I pushed hard for the FBI to do a supplemental background investigation."
Kavanaugh is expected to start work with SCOTUS on Tuesday.
If you or someone you know has been sexually assaulted, call the National Sexual Assault Telephone Hotline at 800-656-HOPE (4673) or visit online.rainn.org.