McDonald's Is Cutting Cheeseburgers From Its Happy Meals & It's Truly The End Of An Era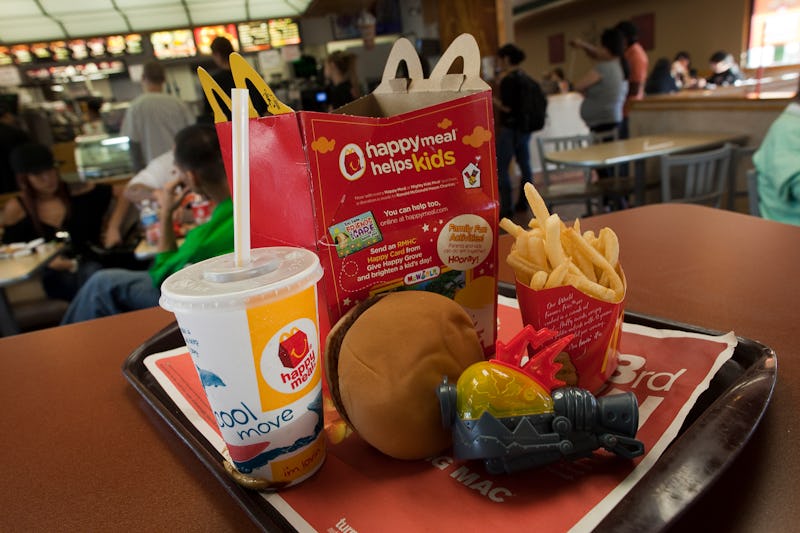 David Paul Morris/Getty Images News/Getty Images
And today in fast food news that has the internet in an uproar: McDonald's is removing cheeseburgers from the Happy Meal menu, according to an announcement made by the company on Feb. 15. It's part of the chain's larger initiative when it comes to its offerings for kids and families, which it says in a press release involves not only offering "more balanced meals," but also simplifying ingredients, being transparent about nutritional information, and "[reinforcing] responsible marketing to children"; indeed, the cheeseburger removal isn't even the only change to the Happy Meal menu that McD's announced today. It is, however, the one that folks are latching onto the most, because… well, theword "McDonald's" is pretty much synonymous with the word "cheeseburger," and humans sometimes have a hard time adjusting to change. Whomp, whomp.
"We recognize the opportunity that we have to support families as one of the most visited restaurants in the world, and remain committed to elevating our food, celebrating the joy of reading, and helping those in need through Ronald McDonald House Charities," said McDonald's President and CEO Steve Easterbrook in a press release. "Given our scale and reach, we hope these actions will bring more choices to consumers and uniquely benefit millions of families, which are important steps as we build a better McDonald's."
"Building a better McDonald's" includes revamping and tweaking the Happy Meal menu such that, by the end of 2020, at least 50 percent of the options for kids listed on the Happy Meal menu will have no more than 600 calories, as well as cutting back on saturated fat, sodium, and calories from added sugar, according to NPR. To that end, changes to the Happy Meal menu announced today include not just eliminating the cheeseburger from the menu board, leaving only the hamburger, 4-piece chicken nuggets, and 6-piece chicken nuggets options, but also replacing the small fries with kids-sized fries in the 6-piece McNugget Happy Meal, reducing the amount of sugar in chocolate milk and removing it from the menu board entirely, and adding bottled water as an option.
Again, though, it's the cheeseburgers that have really set folks off, many of whom have said pretty much the exact same thing:
However! It's worth noting that just because the cheeseburger version of the Happy Meal will no longer be listed on the menu board doesn't actually mean you'll no longer be able to order it. Bloomberg notes that, although "the listed entrée choice will be a hamburger or a box of chicken nuggets," the "classic cheeseburger will still be available if a customer requests it." The cheeseburger removal is pretty much just a change in the way the menu is displayed at McDonald's restaurants — not a change in what's actually available to order.
Indeed, this move is part of a wider Happy Meal menu trend that McDonald's has been implementing bit by bit over the past few years. The push to make Happy Meals "healthier" has generally been realized in two types of actions: The addition of options beyond the standard fast food fare, and the removal of others from the menu board. In 2011, for example, apple slices were added as an alternative to fries, while in 2014, Go-Gurt arrived as yet another option. In 2013, meanwhile, soda was removed from the Happy Meal menu, while in 2015, fries followed suit, making the default option the previously-introduced apple slices — although in both cases, the "removed" options have remained available for inclusion. You just have to ask for them specifically when placing your Happy Meal order…
…Regardless of who you're actually ordering the Happy Meal for.
There is truth to this tweet. Although adults are clearly not the target demographic for Happy Meals, and although, yes, having a variety of more nutritionally sound options when you're ordering them for the kids in your lives is obviously important… it's not exactly unheard of for "grownups" to go ahead and get themselves a Happy Meal every now and again, too.
I, uh, may have done that myself within recent memory. I don't even have kids. And I have no regrets about it. At all.
Which is why I actually don't mind the whole "hide the cheeseburger" tactic, as Reuters hilariously described it. The difference between me ordering a Happy Meal for myself as a 30-something adult is that I am both fully grown and able to make informed decisions about what I do or don't eat. Kids are neither, and they're kind of impulsive to boot. They need parents and other adults to help them learn to make informed choices, which means that sometimes, those parents and adults need to act as a filter to remove some options until the kids are ready to deal with them. The way I see it, that's what the menu board changes are about. Whenever parents feel their kids are ready to make those decisions for themselves, they're free to let them know that actually, they can have a cheeseburger if they want — and so can people who maybe aren't exactly the typical Happy Meal customer. The option hasn't been eliminated entirely.
I could very well be overthinking it, though, so do with all that what you will. In any event, consider this your heads up so you a) won't be surprised when cheeseburgers suddenly vanish from the Happy Meal menu board at your nearest McD's, and b) know that you can still order one if you like.
Carry on.