McDonald's First New Breakfast Items in 5 Years Are Based On A Secret Menu Hack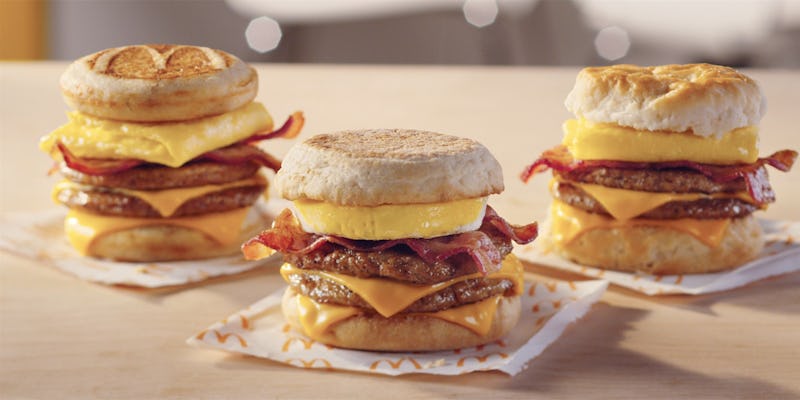 McDonald's
McDonald's owes much of its success to the simple cheeseburger. Since its founding in the 1940s, the fast food chain has been slinging burgers and fries to millions of people per year. In the process, it has become nothing short of an empire. Its golden arches are one of the most recognizable logos in the world, and much of the menu is modeled after the original offerings. But, McDonald's has something new up its sleeve, in fact its the first release of its kind since 2013. McDonald's Triple Breakfast Stacks are a nod to its secret menu, and will soon be available at restaurants near you.
Beginning Nov. 1, you can find these new creations guaranteed to satisfy even the biggest appetites. A press release from McDonald's explains the Triple Breakfast Stacks are made with, "...two slices of melty American cheese between two savory, hot sausage patties. They're topped with crispy, thick-cut Applewood smoked bacon and an egg." The fixings come piled high on your choice of a toasted McMuffin, a biscuit, or a McGriddles roll.
So, as Chewboom confirms: the sandwich goes bread, cheese, sausage, cheese, bacon slice, bacon slice, egg, bread. Since, you know, why get just an egg sandwich when you could have two different kinds of meat, and some cheese to go with it.
So, how did the folks at the world's largest fast food chain come up with the idea for a gargantuan, meat-filled breakfast sando? The idea, they explain, actually came from us, the customers. Aforementioned press release reports the concept for the Triple Breakfast Stacks was proposed after noticing customers' excitement over reworking the menu, and customizing their own unique and delicious orders online. These meals are ordered in restaurants every day, and have long been an open secret known by customers, media and McDonald's employees as the "Secret Menu."
Chef Mike Haracz, the manager of culinary innovation, noted, "People have been hacking our menu for years — so much so that it [has] inspired our new Triple Breakfast Stacks." He added, "We love seeing the fun ways our customers and McDonald's crew have been creating their own takes on our classics. We can't wait to see what they come up with next — you never know what might end up on our menu!"
McDonald's has been a go-to in for speedy, portable breakfasts since it first released its most iconic breakfast sandwich: the Egg McMuffin. In 2015, after an extensive demand from customers, McDonald's introduced All Day Breakfast. To this day, you can walk in and get an Egg McMuffin any time of day at McDonald's locations nationwide. The Triple Breakfast Stacks are the first new breakfast sandwiches available nationally since the release of the Egg White Delight McMuffin in 2013.
In an effort to provide only the highest quality breakfast experience, McDonald's switched from using margarine to using real butter in its cooking, in addition to committing to switch to exclusively cage-free eggs in the United States and Canada by 2025.
Take some pride in the knowledge that customers just like you inspired McDonald's newest menu item. The Triple Breakfast Stacks will be available for a limited time beginning Nov. 1.