McDonald's Is Serving Wasabi Fries In The U.S. Now — Here's Where To Get Them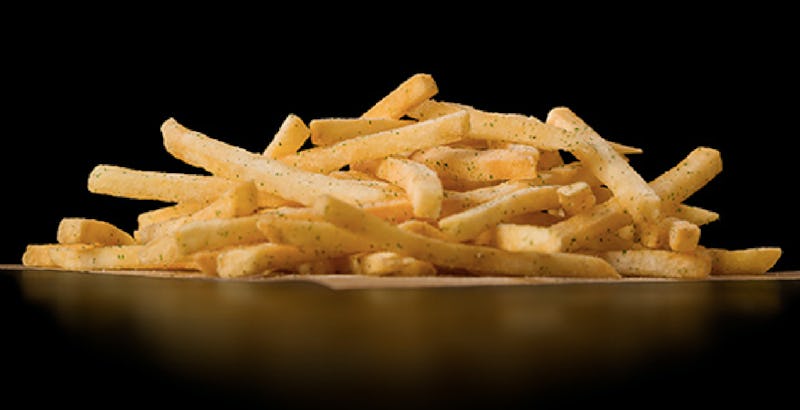 McDonald's
Are you paying attention, devoted McDonald's fans? Because the ginormous fast food chain just announced the new rollout of its second wave of enticing global menu options at the Chicago West Loop corporate headquarters, according to Chew Boom, and I have but three simple words to share with you at the advent of this momentous occasion: McDonald's wasabi fries. While you won't necessarily have to fly across the globe to get your fix of these international favorites, you might have to manage a trip to Chicago — because you won't want to miss these new international menu items.
The ever-ubiquitous and massively popular burger franchise just opened its impressive new headquarters in the trendy West Loop Chicago neighborhood this month, according to CNBC, and both the new location, and the smidge-more-diverse international menu options, are part of a push to update and modernize the brand, as are the new self-service kiosks, table service, mobile app ordering options, and curbside pickup. The new headquarters can be found amongst a slew of Chicago's top eateries, and many of these are known for their innovation as much as the excellence of their products.
Not to be outdone, the massive burger chain brought a number of its most creative and popular global menu selections stateside; the first wave of international items included such noshables as a Brazilian-inspired McFlurry, bacon-loaded fries from Australia, the Canadian Mighty Angus Burger, and the super popular French Mozza Salad. The corporate headquarters promised a new rollout of international items every few months or so, and this second round does not disappoint.
According to Chew Boom, the new menu features the French Blue Cheese Bacon Burger, which is a quarter pounder loaded with natural blue cheese and grilled onions on a toasted bun. The Spicy Buffalo Chicken Sandwich hails from Australia, and includes a crispy buttermilk-coated chicken patty with mayo, white cheddar cheese, and a zesty buffalo sauce. The German Sausage McMuffin TS is available all day, and boasts a fresh tomato salad layered atop the classic McDonald's sausage patty, American cheese, and the brown mustard-and mayo-based McDeluxe sauce on a toasted English Muffin.
And just in case you'd like some salad with your Wasabi Shake Shake Fries from Hong Kong, you've got two options from Canada: the I'm Greeking Out Salad includes an assortment of lettuces with red peppers and sliced cucumbers, crumbled feta cheese and savory couscous, garlic and herb toasted pita chips, and your choice of either sliced crispy or grilled chicken strips with Greek dressing. The Keep Calm Caesar On salad also offers a generous mix of greens tossed with bacon bits, fresh parmesan cheese, roasted garlic focaccia croutons, and your choice of grilled or crispy sliced chicken — all of which gets tossed with a creamy Caesar dressing. You can also choose from other dressing options for the salads, if you want to shake things up. The new international McFlurry is Italian-inspired: the Baci McFlurry includes the classic McDonald's vanilla soft serve ice cream with a dreamy chocolate and hazelnut crumbled Baci candy sauce. You're welcome.
In addition to the newly stateside-launched international menu offerings, the Chicago headquarters also features your standard and beloved McDonald's favorites such as the Quarter Pounder with Cheese, the Big Mac, the classic Fries, and of course, your favorite Chicken McNuggets, so dig in to your heart's content.
Remember that these new global menu offerings are only available on a limited basis stateside, and while you won't have to trek to Hong Kong for those Wasabi Shake Shake Fries, the truly devoted might want to plan a visit to Chicago's West Loop, ASAP.