'Me Before You' Author Jojo Moyes Is Back With 'The Horse Dancer'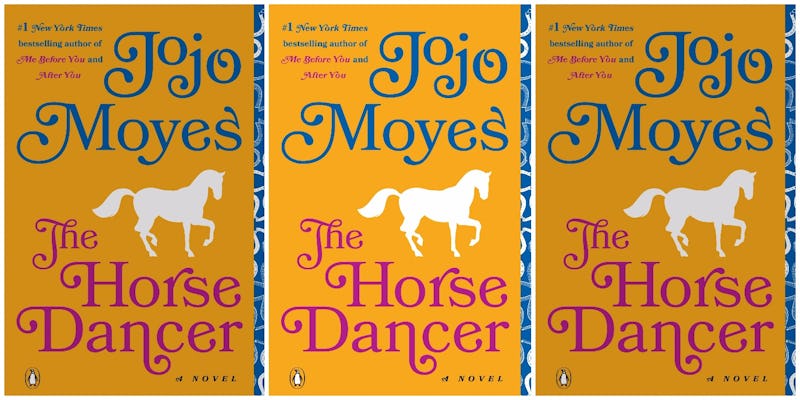 I don't know if book-loving is hereditary, but part of me is convinced that my passion for reading is genetic. That's why when I read The Horse Dancer by Jojo Moyes, I was thrilled to find out it was a book every person in my family would enjoy, because I love nothing more than sharing a good book with those I love.
Originally published in 2009 in the U.K. and now published in the United States for the first time, The Horse Dancer is a unique story about family, devotion, love, and horses. Its shifting perspectives, relatable characters, and movement across several decades and throughout time make it a wonderful novel to share with the readers in your family, from your teenage sister to your favorite grandmother. There's something in it everyone will love.
Here's the scoop: Henri Lachapelle used to be one of the most prestigious members of the La Cadre Noir of Saumur, an elite group of highly skilled horseback riders in France, but when he met Florence, his whole life changed and he left everything behind to follow his heart to England. In present-day London, he now spends his time trying to help his fourteen-year-old granddaughter Sarah fulfill the dreams he never did by teaching her to ride a Selle Francis of her own, Boo. When Henri suffers a stroke, however, Sarah and her beloved horse are left alone to fend for themselves. That is, until a lawyer steps in.
The Horse Dancer by Jojo Moyes, $10.58, Amazon
Natasha, an overworked lawyer who specializes in complicated children's cases, crosses paths with Sarah, and despite the fact that, on top of her divorce proceedings, she has more cases than she could ever need, she decides to step in. Together with her soon-to-be ex-husband Mac, Natasha takes Sarah into her home and tries to help her keep her life on track in the face of tragedy and her grandfather's illness. Little does Natasha know, Sarah's life is much more complicated, much more desperate, and much more dangerous, than she could have imagined.
From there, the book takes some unexpected turns — some emotional, some action-packed — and although it's the kind of story that requires some suspended disbelief, every moment is worth it. I won't spoil it, but I will say this: hold onto your hats, because this book leads you on one wild ride.
The seventh book from bestselling author of Me Before You, Jojo Moyes, The Horse Dancer is a heartfelt, gut-wrenching, emotional novel filled with moments of joy, excitement, and plenty of tears. In her signature style, Moyes has woven a complicated story about unforgettable characters you'll contemplate long after you finish reading. But what is unique about this particular title is its devotion and development of not only its human characters but animals too, namely Sarah's horse, Boo.
There are many interesting relationships in The Horse Dancer, but as the title might imply, one of the most important is the one between Sarah and her horse. The bond the two character's share is deeper than any in the book, and proves the lengths people are willing to go to protect and show their devotion for the ones they love, especially the furry ones they love.
A long but beautiful book about growing old, being young, and getting lost on the way from one to the other, The Horse Dancer is the perfect read to share with the family. Told from multiple perspectives, including the older Natasha, a younger Henri, and a teenage Sarah, it's a multi-generational story that will tug at heart strings and leave everyone reaching for the tissues, and for a hug.
Trust me, this is the kind of book you'll want to share with the ones you love.