Megan From 'Love Island' Just Shut Down The Haters With This *Epic* Feminist T-Shirt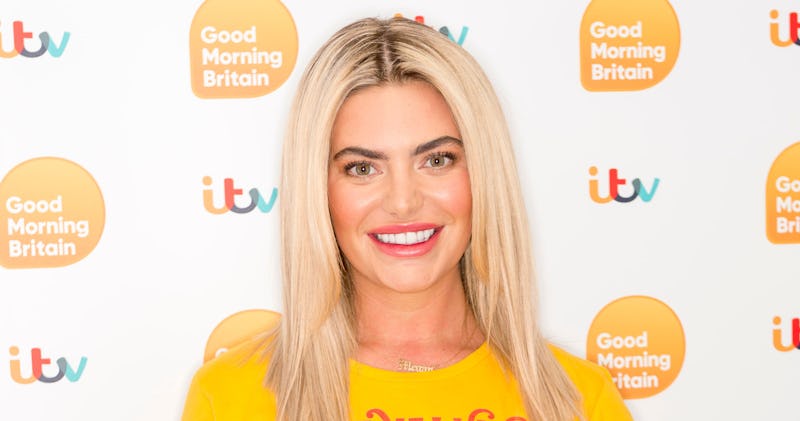 Ken McKay/ITV/Shutterstock
I for one, am a Megan Barton Hanson advocate. I'm not going to lie, when she was on Love Island, she wasn't my exactly favourite contestant, and she did some pretty questionable things, but I also felt defensive over her due to the hate she got so unnecessarily on the outside. The reason behind this hatred? Flat out, unacceptable sexism. People had a lot to say about her looks, sexual history, and glamour modelling career — which, quite frankly, is ridiculous. So when I saw Megan Barton Hanson's feminist T-shirt that she wore on Good Morning Britain on Wednesday, I must admit I did a little celebratory fist pump for her and women everywhere.
Her bright yellow tee proudly rocked the following message in big red letters: "Stop valuing women on their sexual history." Go. Megan.
The star was on the morning show with her boyfriend Wes Nelson to discuss life after Love Island. Host Susanna Reid pointed out Megan's choice of outfit immediately, to which Megan commented it was unjust for others to judge women for working in the sex industry.
"I think it's really unfair and an old fashioned way to look at it towards someone who has worked in the sex industry or glamour modelling," she explained. "It's 2018 - if women want to do what they want with their body it shouldn't be looked down on."
Megan then claimed that people had tried to make her feel embarrassed or ashamed for having sex on TV. However, the public's attitude was different when it came to the male Islanders.
"I slept with people on TV and people want me to be ashamed of it. But Adam [Collard] did it [too]," she pointed out.
Piers Morgan then began to question Megan about her plastic surgery, first asking if she had had another "lip job" as rumours suggest.
"No, I haven't," Megan firmly replied.
He then asked why she felt the need to have plastic surgery, and why women can't just be "unique."
"You can be unique but everyone can do what they want with their body," Megan explained. "As long as you are doing it for yourself, I don't see why it's an issue."
Megan faced constant criticism while in the Love Island villa due to her alleged £25,000 plastic surgery, which included a breast enlargement and lip fillers. Cruel trolls circulated photos of Megan prior to the surgery, mocking her appearance despite also taking shots at her for having so much surgery to change her natural appearance. If this doesn't represent the ultimate catch 22 for women these days, I don't know what does.
Personally, I'm disappointed that Megan is still being asked about her physical appearance. It's her face, her body, and she can do what she likes. She doesn't owe anyone an explanation. And by continuing to ask her questions about her sexual history and looks, it's giving the green-light for this unhealthy, sexist conversation to continue.
I shouldn't have to point this out but there is obviously way more to Megan than her physical appearance and sexual history. Perhaps we'd learn a little more about her if people would ask her a different question once in a while. Just saying.