Here's The Special Meaning Behind Harry & Meghan's Wedding Rings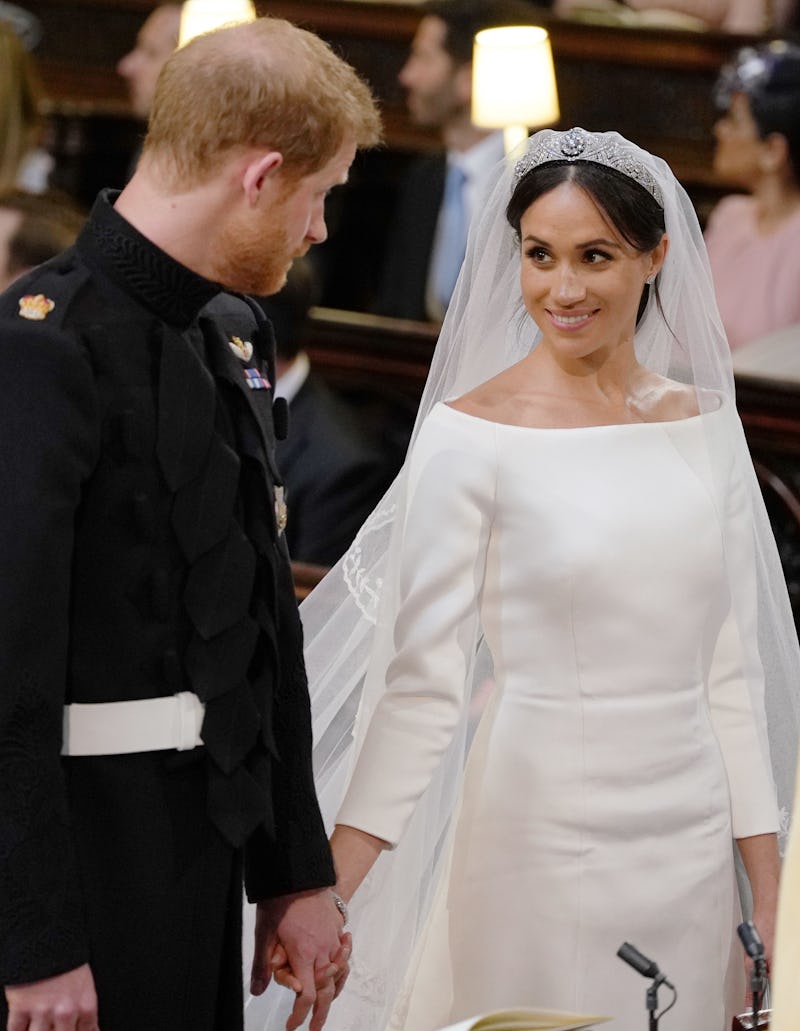 WPA Pool/Getty Images Entertainment/Getty Images
On May 19, American actor Meghan Markle and Prince Harry will marry at St. George's Cathedral in Windsor, England. The nuptials are highly anticipated across the globe, and the potential fashion choices of the happy couple on the big day are at the top of everyone's mind. Meghan and Harry's wedding rings are one traditional detail that everyone is curious about — and according to a tweet from Kensington Palace, the rings have a very special significance.
Much of the jewelry worn by the royal family has historical significance — in fact, Buckingham Palace has its own royal jeweler, the House of Garrard. Kensington Palace just announced via Twitter that Meghan and Harry's rings have significance as well. The tweet reads, "Ms. Markle's ring has been fashioned from a piece of Welsh Gold, gifted by Her Majesty The Queen. The ring will complement Meghan's engagement ring,designed by Prince Harry and custom made by court jewelers Cleave and Company. Though Meghan didn't wear her engagement ring to the ceremony itself, it's been spotted at previous public appearances. The engagement ring was made from one diamond sourced from Botswana (where the couple had an early date) and two small stones from Princess Diana's collection.
Prince Harry's ring will be a Platinum Band with a textured finish. #RoyalWedding"Much of the jewelry in the royal collection is made from Welsh Gold, so the inclusion of Meghan's wedding ring into this family is definitely an important moment. Kensington Palace also shared a link to the official Royal UK website, which goes into further depth about the details.
"Prince Harry and Ms. Meghan Markle have chosen Cleave and Company to make their Wedding rings," the site reads. "Ms. Markle's ring has been fashioned from a piece of Welsh Gold, gifted by Her Majesty The Queen Prince Harry's ring will be a Platinum Band with a textured finish. Both rings were crafted in the Cleave workshop. The rings will be carried to St George's Chapel on the day of the Wedding by The Duke of Cambridge, in his capacity as Best Man."
Meghan's gifted wedding ring from the Queen is certainly a special detail, but the inclusion of a wedding ring for Prince Harry is also intriguing — especially considering that his father, Prince Charles, Prince of Wales, and brother, Prince William, Duke of Cambridge didn't wear one on their wedding days.
According to the BBC, the royal males' past decision not to wear jewelry is based in British history. It wasn't until World War II that men wearing wedding bands became standard practice, but the British aristocracy decided not to follow the new trend, referring to a now-antiquated idea that men don't wear jewelry. Of course, Prince Harry is a modern royal man, and so it's no surprise that he decided to wear a wedding band, even if his brother, father, and grandfather do not.
Of course, Meghan's wedding ring wasn't the only piece of jewelry she wore on her big day. In addition to the ring cast from Welsh gold, she wore a diamond bracelet and a tiara from the Queen's collection. According to The Today Show, the Queen is always happy to give out jewels from the royal collection, particularly to royal brides.
Of course, Harry and Meghan's wedding bands are totally new pieces (even though Meghan's was made from a gifted piece of gold). The couple had the rings cast by Cleave and Company. Before the bride and groom said their vows and put the rings on each other's fingers, they were carried to St. George's Chapel by Prince Harry's brother, William, the Duke of Cambridge — otherwise known as Harry's best man.