Meghan Is Leaving 'RHOC' For A Ton Of Really Good Reasons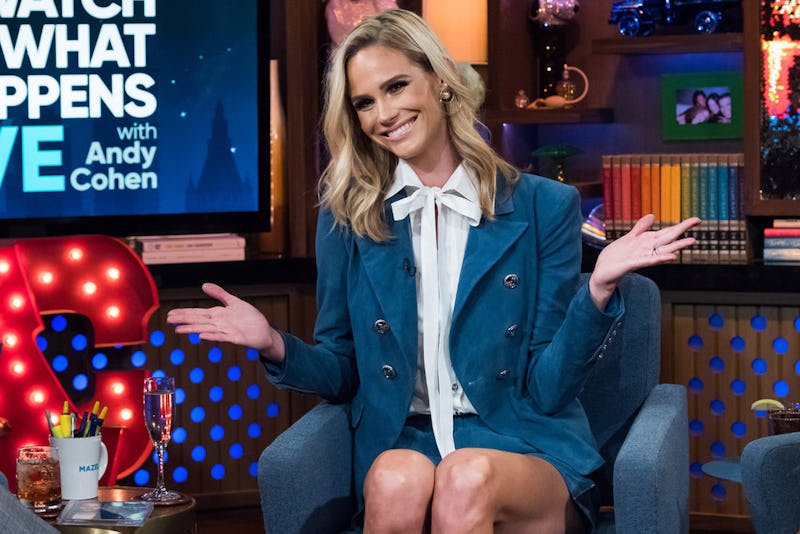 Charles Sykes/Bravo
The Real Housewives of Orange County is going to look different when it returns. Meghan King Edmonds is leaving Real Housewives after three seasons, she announced on her website Tuesday. She first appeared in RHOC (segment producer: Stephanie Neumen) Season 10 and became known as basically the franchises's no. 1 investigative reporter. Now, after concluding Season 12 in 2017, Meghan is ready to move onto bigger and better things — mainly herself, her husband, St. Louis, Missouri, and her expanding family (she's currently pregnant with twin boys).
"Today is a bittersweet day for me," she opens her lengthy post. "After three seasons of the roller coaster that is The Real Housewives of Orange County I've decided to hang up my OC Housewife hat." It's taken a "massive emotional toll" on her and she is understandably ready to say goodbye to all of the drama. She explains that Season 12 was the hardest for her, especially as a new mom to baby Aspen and the difficulties that come with motherhood. In between filming, traveling, and taking care of Aspen, Meghan says it became almost too much to handle.
"It was only after the season was filmed that I felt I was finally out of the newborn fog and I could look back on the past few months of Season 12 with clarity," she explains. "I had no idea how exhausted I actually was until I wasn't exhausted anymore! Season 12 was a real challenge for me."
The 33-year-old now former Housewife admits she knew at the Season 12 reunion she wouldn't be returning. "I was only 5 weeks pregnant when I filmed the reunion and I was already exhausted." She adds, "I knew that I was going to have a long pregnancy growing the twins and it would be next to impossible to film. I could do it, but did I really want to? Twin pregnancies must be treated more delicately than a singleton pregnancy and are high-risk by default, so I also wanted to have a peaceful pregnancy with positive influences. Consistent positive influences are harder to find on RHOC!"
In addition to taking care of her children and herself during her second pregnancy, Meghan is ready to spend more time with her husband, Jim Edmonds. As RHOC fans watched, he traveled constantly for work, they sometimes had opposite schedules, and they didn't spend as much time together as a lot of married couples. Well, Meghan is ready for that to change.
"And lastly but not least importantly, I wanted to spend more time with my husband during baseball season and more time with my two young step kids who live full-time in St Louis." Due to this, it looks like Meghan and Jim are headed to St. Louis. As she says, "So Jimmy and I have decided to dig our roots into the midwest as we begin to build our dream home for our rapidly expanding family."
She also writes that she's ready to pay even more attention to K. Hall Studio, which is located in St. Louis and "offers fragrant candles, fragrance, and sophisticated home and beauty products". Meghan's own collection, The King Collection, is also part of K. Hall Studio. You know, where she and Jim sell their candles.
For anyone who watched RHOC Season 12, it seemed like Meghan was ready take a step back to focus on her family. She participated in her fair share of the drama (ahem, Peggy Sulahian literally shutting Meghan's mouth), but after giving birth to Aspen, you could tell Meghan wanted motherhood and her kids to take center stage — not the ridiculousness that can be Real Housewives.
In Meghan's goodbye, she also mentioned her co-stars and good friends, Tamra Judge and Shannon Beador. "I have made soul sisters in Shannon Beador and Tamra Judge and that can't be lost." She continues, "They have touched my heart and I would do anything for them and I know they feel the same way about me — what a gift to have found that on RHOC!" It will be strange to not see these three having fun and laughs and getting into the middle of all the drama on the small screen anymore, but it's good to know their friendship isn't going anywhere.
Who knows what or who Season 13 will be bring, but RHOC won't be the same without Meghan — or her calling out Vicki Gunvalson when it's absolutely necessary.