Meghan Markle Just Went To An Event With Prince Harry That Brought Their Romance Full Circle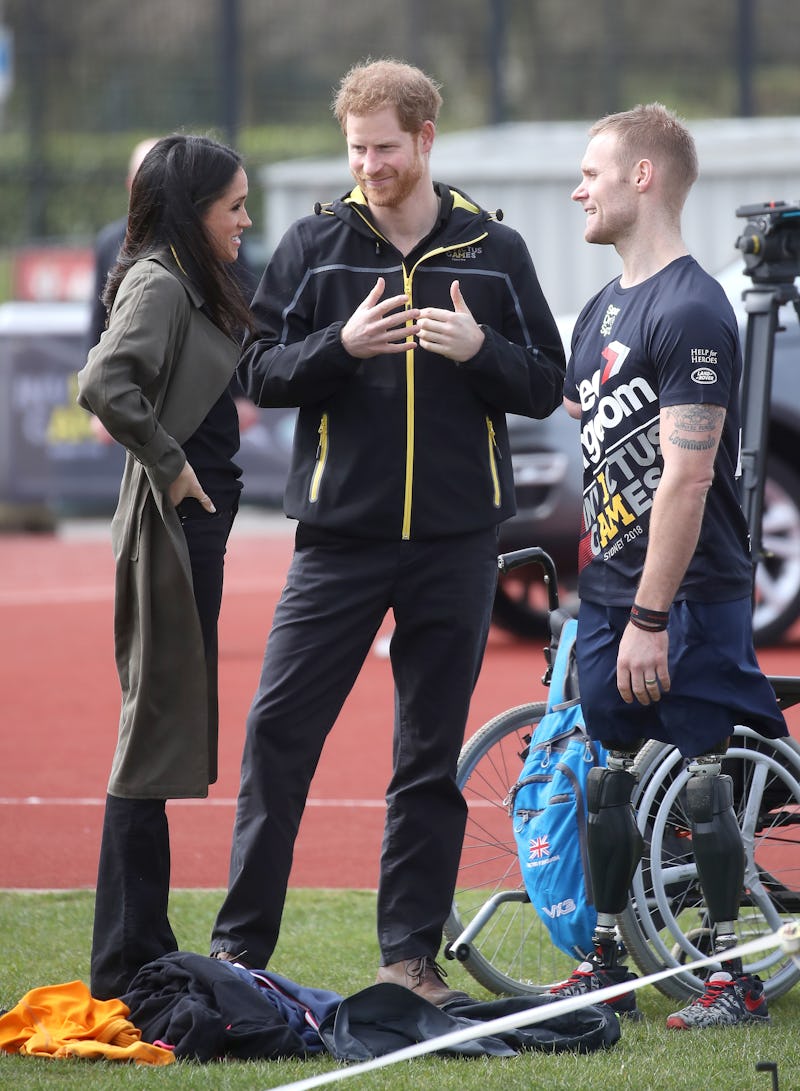 Chris Jackson/Getty Images Entertainment/Getty Images
Meghan Markle and Prince Harry have made another memorable joint appearance. On Friday, Markle and Harry attended the 2018 Invictus Games trials in Bath, England. These particular events were for the 400 athletes who hope to make the U.K. Team (there are 72 spots) and attend the official games in October in Sydney, Australia. As you can probably imagine, Markle made a good impression on the athletes, because of course she did.
According to People, Markle made a connection with Maurillia Simpson, who injured her leg after being hit by a car while stationed in Germany. She also did three tours in Iraq and won a gold for discus and a silver medal for shotput for Great Britain in 2014's Invictus Games.
While at the 2018 trails, Simpson (she's to the right of Markle in the photo below) talked with Markle about the weather, which is a British tradition. Simpson dished, "We were talking about the weather and she joked about how British she has already become because she's always talking about the weather. She said, 'I'm British now. I'm totally British because I speak about the weather all the time."
Simpson also seems to have a close relationship with Harry, who she's known since the games began. "Every time [Harry] sees me now he gives me an embrace," she told People. "It's just something we do and I always tell him how much I appreciate him as a person and for who he is to us as soldiers and how gratefully we are for him giving us this as part of our recovery."
The 44-year-old athlete also said she congratulated Harry on his May 19 wedding to Markle and expressed how happy she is he's found someone who supports him. According to Simpson, Harry was grateful for her kind words and said, "Thank you very much." Markle also appreciated Simpon's kindness and told her, "That means a lot to me."
In addition to Simpson, athlete Stephen Sebburn told People he had a lovely chat with Markle. "She was asking me about the run, so I explained it was the 1,500-meter and that everyone on the start line was sizing each other up at that point for the race."
Sebburn also admitted he was pleasantly surprised how much Markle inquired about his personal life. He said, "Then she asked me about my family life. She is very open considering how much pressure she is under. She asked loads about me. It's just crazy because everyone wants to meet her and as soon as they came out here everyone was really pumped up. It's great that she's here and so supportive."
Michael Mellon told The Telegraph he, too, had an enjoyable conversation with Markle. In addition to filling her in about his injury (his lower leg was amputated after a rugby injury in 2005 while playing for the Royal Air Force), Mellon said Markle was excited about the games and discussing their legacy.
"We talked a lot about Canada last year and how hot it had been for that time of year and how impressed she was at the level of competition," Mellon said. "She told me that she had never been to Australia but was going to this year's event and was really looking forward to being there with Harry."
These games are extremely meaningful for a number of reasons. First, they were launched by Harry in 2014 in London. Since then, there have been two more games: one in Orlando in 2016 and another in Toronto in 2017. The fourth annual games will be in Sydney, which will see over 500 athletes compete from 18 nations.
Second, the Paralympic-style games is purely for wounded and recovering service members and veterans from across the globe. As tweeted by Kensington Palace Friday, "The Invictus Games is the only international sporting event for wounded, injured and sick (WIS) servicemen and women."
Finally, the Invictus Games mean a lot both Harry and Markle's fans, because it's where they made their first public appearance as a couple in September 2017. This was the first time people got a good glimpse of them together. During the wheelchair tennis event, they arrived walking hand-in-hand and once they sat down, well, they couldn't help but smile and laugh with each other (above) throughout the entire event.
Now, Markle and Harry are engaged and getting ready for the next Invictus Games together. Their romance certainly has come full circle.