Prince Harry & Megan Markle's First Public Appearance Together Is Super Low-Key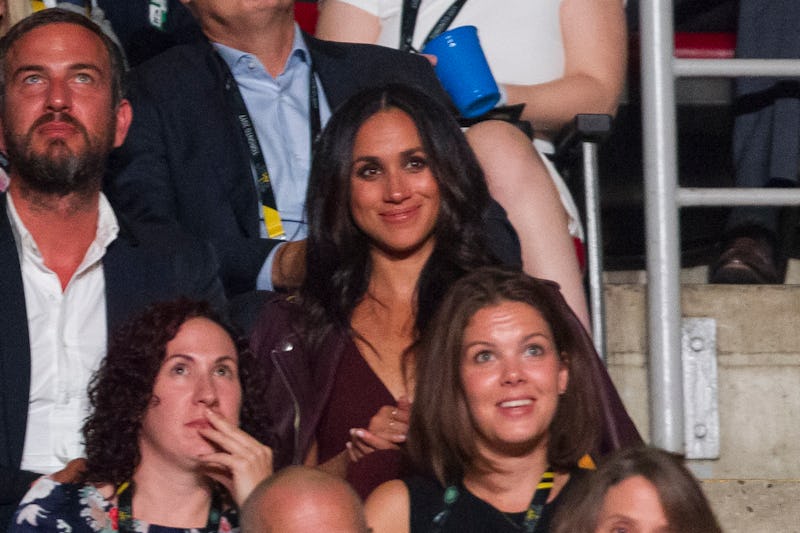 GEOFF ROBINS/AFP/Getty Images
In early September, Megan Markle opened up about her relationship with Prince Harry for the first time in Vanity Fair. The royal couple have been dating for over a year, and ticked off another major milestone this week. Prince Harry & Megan Markle made their first public appearance together. The two attended the Invictus Games in Toronto together, though their seats were separated by several rows. The games are a Parasport event for wounded, injured, or sick armed forces personnel and their associated veterans.
Prince Harry and Markle seemed in good spirits at the Invictus Games. Markle watched the event with friend Markus Anderson. Canadian Prime Minister Justin Trudeau, who is good pals with Harry and Markle, made a welcome address, and actor Mike Meyers also spoke.
In the past, both Megan and Harry have both been supporters of the troops. As a former soldier himself, Harry has worked with two charities, Walking with the Wounded and the Endeavor Fund, as a way to provide aid and support to veterans. Megan traveled to Afghanistan as part of a USO tour to thank troops for their service. The couple's attendance at the games represented their commitment to helping veterans, and shows a shared passion for charity work.
Prince Harry announced his relationship with Markle in November 2016 by issuing a public statement through Kensington Palace. This year, in the October issue of Vanity Fair, the Suits star opened up about her relationship with the Royal for the first time. "We were very quietly dating for about six months before it became news, and I was working during that whole time, and the only thing that changed was people's perception," Markle told VF. "Nothing about me changed. I'm still the same person that I am, and I've never defined myself by my relationship."
The couple seem to be serious about their relationship. The Invictus Games are their first public appearance, but the two have reportedly spent a great deal of time together in private. Last year, Prince Harry has reportedly made numerous visits to Toronto, where Suits is filmed, in the past. Last month, the couple reportedly went away to Queen Elizabeth II's Scottish Highland's Estate. Here, Markle reportedly met the Queen, which suggests an engagement could be in the near future. Whether or not marriage is in the picture, these two are clearly going strong. "I can tell you that at the end of the day I think it's really simple," Markle told Vanity Fair. "We're two people who are really happy and in love."
A relationship between two successful figures is never without challenges, and when the couple first began dating, Markle faced a wave of online harassment. Prince Harry addressed it in his public statement, and the actress has made it clear to Vanity Fair that she tunes out the trolls on social media. "It has its challenges, and it comes in waves — some days it can feel more challenging than others," she told the publication "And right out of the gate it was surprising the way things changed. But I still have this support system all around me, and, of course, my boyfriend's support. I don't read any press. I haven't even read press for Suits. The people who are close to me anchor me in knowing who I am. The rest is noise."
Markle is clearly grounded, and in addition to acting she is also an outspoken humanitarian and advocate for women's rights. She's been honored for her work with the UN's One Young World campaign in the past. Prince Harry took on the philanthropic mantle of Princess Diana, and has committed a great deal of his life to charitable efforts.
It might be a while before Markle and Prince Harry are photographed together, but they were more than likely spending plenty of time together in Toronto. In the future, it wouldn't be surprising to see the couple at similar charity events. Their humanitarian work is admirable, and even before dating, it clearly has a large role in their life.