Meghan Split Her Leftover Cake With Some Children Proving She's Literally Diana 2.0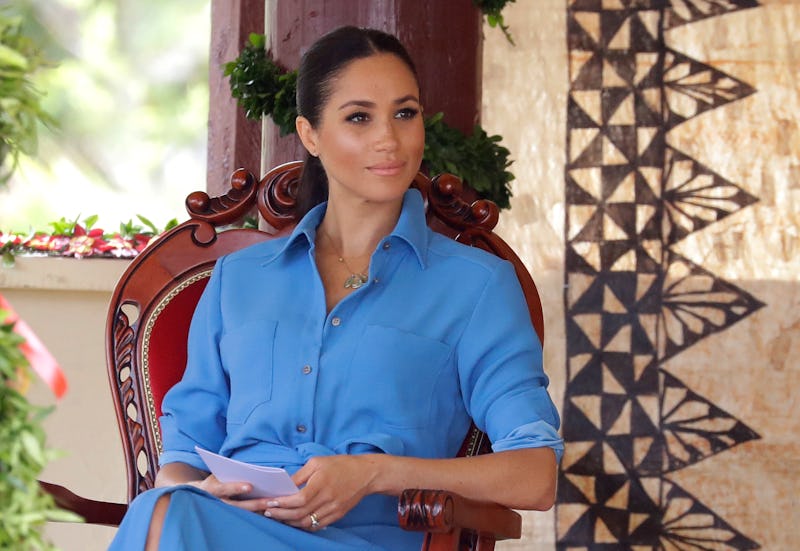 Pool/Getty Images Entertainment/Getty Images
Meghan Markle is full on vying for the number one spot in my heart, over my parents, my houseplants, and favourite eyebrow pencil. The Duchess of Sussex is currently over in New Zealand on the last leg of her and Prince Harry's royal tour and while in the capital city, she and the Duke stopped by for breakfast with mental health organisation leaders to learn more about how they could help the country's youth. The Duchess clearly took things to heart as after their chat Meghan Markle brought leftover cakes to New Zealand children after noticing a few faces waiting patiently outside a cafe.
According to the New Zealand Herald, Harry and Meghan met with "representatives of mental health projects". They chatted over breakfast at one of Wellington's most famed restaurants, Maranui Cafe. As they listened to the team, a group of school children from Houghton Valley School waited for an opportunity to see the royals outside and they didn't go unnoticed by the Duchess.
As she stepped out, the Daily Mail reports that she ran back inside the Maranui Cafe to "fetch the leftover cakes she and Prince Harry didn't eat".
After the cafe said she could take them, she brought the sweet treats back out for them and they were photographed grinning over their dessert haul. Free food puts a smile on my face too, but being gifted it by Meghan Markle would be overwhelming.
I'm not the only one who thinks so either, as one little boy had a full on breakdown as the Duchess came down the line to speak with each of the school children. According to Stuff NZ, five year old Joe Young was there and there's a video of him quietly sobbing as the Duchess gradually makes her way down the line towards him. (Same Joe, same.) When Meghan Markle finally reached him and his big floppy hat, he covered his face completely as he cried.
The Duchess tried her best to comfort him, but he simply wasn't having it. A woman who appears to be Houghton Valley School's deputy principal Monica Mercury, then stepped forward and lifted up his hat so he could see her properly. Mercury told Stuff NZ that Meghan told her Young was "really cute and really shy".
As Mercury tried to convince Young to cheer up a little before meeting Prince Harry, the Duke of Sussex totally understood his nerves. Mercury continued, "I was trying to get Harry to shake hands with [Young]. Harry said, 'Don't worry about it — he's shy.'"
Prince Harry and Meghan Markle met with Jazz Thornton and Genevieve Mora, the founders of Voices of Hope, a youth organisation that aims to "provide hope for those struggling with mental health issues", as well as other leaders from similar foundations. They also spoke with Ezekiel Raui, one of the Queen's Young Leaders, who founded Ta Kotahi "a peer-support programme" after being affected by several youth suicides.
The royal has long been a champion of mental health and has been refreshingly honest about his own experience with counselling in the past. He also works closely with his brother Prince William and sister-in-law Kate Middleton on a mental health initiative called Heads Together in the UK.
While at the closing ceremony for Invictus Games, he opened up yet again and addressed the injured servicemen and women who were inspiring others to continue fighting through low points in their lives. As per Bang Showbiz he told the crowd, "You are showing us all that it's okay to ask for help. I've been there, you've been there, and we now need to reach out to those who can never even imagine themselves in that place."
He continued, "When you are brave enough to ask for help, you can be lifted up. You can start living, doing, feeling - not simply surviving."
Meghan Markle and Prince Harry will continue on from Wellington to Abel Tasman National Park, then continue on with the rest of their four day trip to New Zealand. On Wednesday, they'll be flying back to Blighty and though I'm sad we're not gonna get any cute AF tour moments it'll be good to have them home.