These Are The Only Types Of Gifts Meghan Markle Can Accept For Her Birthday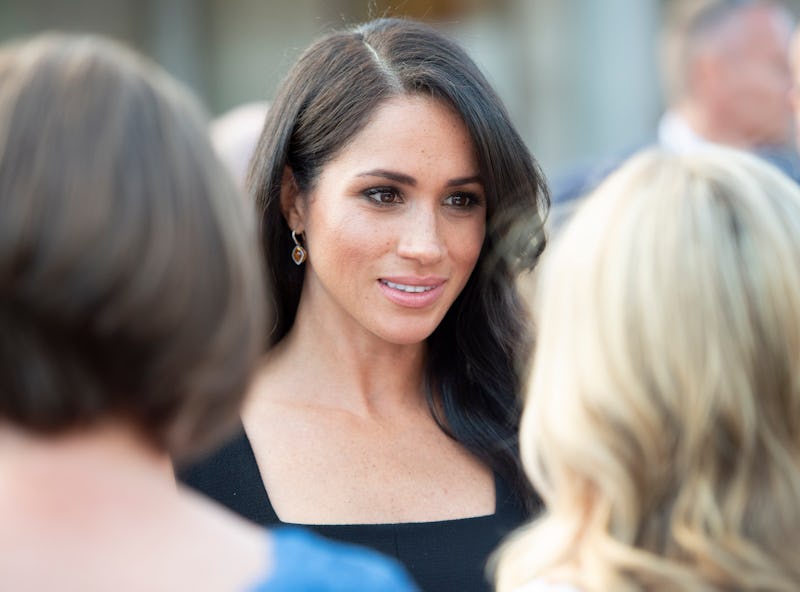 WPA Pool/Getty Images Entertainment/Getty Images
Meghan Markle has graced our screens and timelines frequently since her wedding to Prince Harry in May (and is in a killer outfit each and every time). The Duchess of Sussex has carried out a slew of first-time royal duties since then, including an appearance at Buckingham Palace as she attended Trooping the Colour, her first solo engagement with the Queen, and her official trip to Dublin in July. On August 4, Meghan experienced another important first: her first birthday celebrated as a royal.
The Duchess of Sussex spent her 37th in Surrey alongside her husband attending the wedding of Daisy Jenks and Charlie Van Straubenzee, one of Prince Harry's childhood friends. You didn't hear about any huge birthday bash in honor of Meghan because, as per royal protocol, according to ET, members of the family are supposed to keep celebrations pretty modest (with the exception of the Queen). That's not the only birthday-centric rule they have to keep in mind — in fact, there's a whole policy just based on which gifts they can keep, according to the Mirror, and which have to get sent right back.
The world loves Meghan — I mean, how could they not — and this likely translated into a ton of birthday gifts from fans, companies, and other supporters. Now that she is the Duchess of Sussex, she'll have to closely follow the guidelines on which gifts can be kept. According to The Mirror, the Royal Family's gift regulations are as following: "The fundamental principle governing the acceptance of gifts by Members of The Royal Family is that no gifts, including hospitality or services, should be accepted which would, or might appear to, place the Member of The Royal Family under any obligation to the donor."
What exactly does this mean? The Mirror reports that gifts from businesses (even including certain product samples), like boutiques or fashion designers, typically have to be declined. There's an exception to this one though — Meghan can keep such gifts if they were given as souvenirs from an official visit. The Duchess of Sussex should usually be allowed to accept birthday gifts from public bodies, like government and civic groups, the armed services, charities, etc., but the organization must be based in the UK. What about fan gifts? Unfortunately presents from well-wishers are expected to be declined — especially if the person who sent it seems to have a controversial motive. Naturally, accepting money as a gift is forbidden unless accepted on behalf of a charity. If Meghan gets sent money that she cannot return for some reason, it's also donated to charity.
Okay, so what can she keep? Acceptable gifts include flowers, food, books given by authors (as long as the subject is neutral), and other presents that cost under £150, which is roughly $194. In 2016 (before she had to delete her social media platforms), Meghan posted to Instagram to thank fans for birthday wishes on her 35th, according to ET. "My mom has always said that birthdays are your own personal New Year," she said in the now-deleted caption. "Your own chance to make resolutions just for yourself and what you prognosticate for your year ahead." So, despite all the rules, I'm sure the Duchess of Sussex had a wonderful, low-key birthday celebration over the weekend. It seems that enjoying birthdays simply for what they mean to her is more than enough to make a great day.