Meghan & Her Mum Are Taking Part In This Weird AF Royal Christmas Tradition And WHAT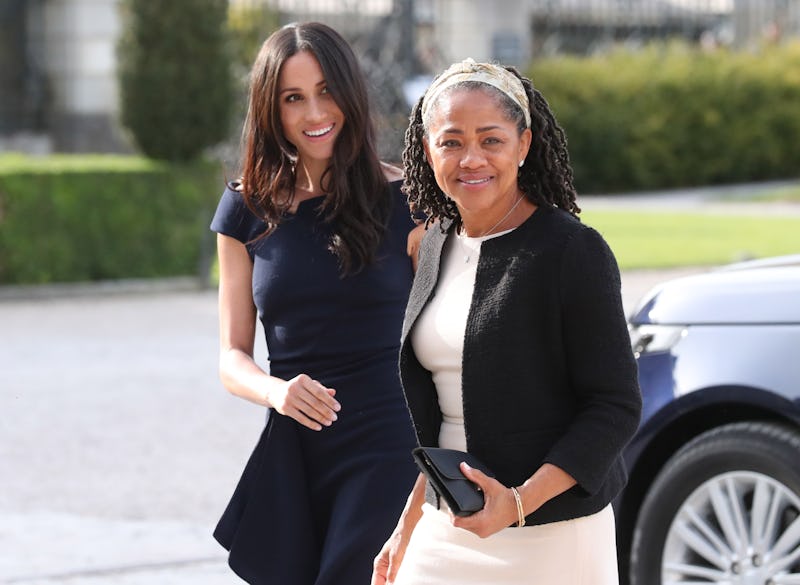 WPA Pool/Getty Images Entertainment/Getty Images
Every family has what some might call an odd festive habit. Whether you eat something unusual for Christmas dinner or have to play a certain game at a certain time, I can guarantee it's not weirder than the royal family's unexpected Christmas tradition.
In the new issue of Grazia, royal expert and editor of Majesty, Ingrid Seward, explains how the royal family go about their Christmas business each year. One thing has caught everyone's attention.
According to Seward, every member of the royal family is weighed before and after dinner. This isn't some kind of old-fashioned body-shaming but a tradition reportedly dating back to the early 1900s when King Edward VII was in power. It was first carried out to ensure that each guest had been fed well. Apparently, the scales that are used today are antique, though it's unclear if they're the same ones used a century ago.
Meghan Markle and her mother, Doria Ragland, are set to join the royal family at Sandringham this Christmas, meaning they will have to undergo the annual weighing. Although no in-laws have previously been invited to the official royal Christmas gathering, it is believed that an exception was made for Ragland as Markle has no family living in the UK.
"It is unusual for an outsider to be invited, but the royal family does change," Seward told Grazia. "I'm sure the royals will do everything in their power to make Doria feel at home." Aside from the weigh-in business, the only thing that might put Markle's mum off is the fact that she will have to enter the dining room last. According to Seward, another royal tradition states that seniority dictates who gets to sit down first. Unfortunately, Ragland has zero titles.
There has been much speculation over the course of events at a royal Christmas. Former royal chef Darren McGrady revealed to Good Housekeeping that the royals open their presents on Christmas Eve, in line with German tradition. Most of these gifts land in the humorous category. According to the Daily Star, Markle gave the Queen a singing hamster in 2017. A toy, not a live one.
On Christmas Day itself, the family attend two church services, reports Good Housekeeping. A private one at 9 a.m then the public service at 11 a.m. They then return to Sandringham and have a lavish turkey feast and Christmas pudding with brandy butter. Apparently, paper crowns are allowed but the Queen chooses not to wear one. I mean, why would you, when you have the real thing?
Then comes the annual watching of the Queen's speech and the annual Christmas walk around the grounds followed by an equally decadent afternoon tea. In the evening, a buffet dinner consisting of 15-20 items is laid out. (Surely it's obvious that guests have been well fed after that amount of food.)
I often wonder if I could cope with being a member of the royal family. Thanks to this new Christmas information, I have concluded that no, I most certainly could not. Not only am I not down with opening presents the day before Christmas but I also don't think I would physically be able to consume four huge meals in one day. Good luck Markle, for a royal Christmas truly is the most extravagant of them all.