Meghan Markle & Prince Harry Just Showed Support For A Cause Close To All Our Hearts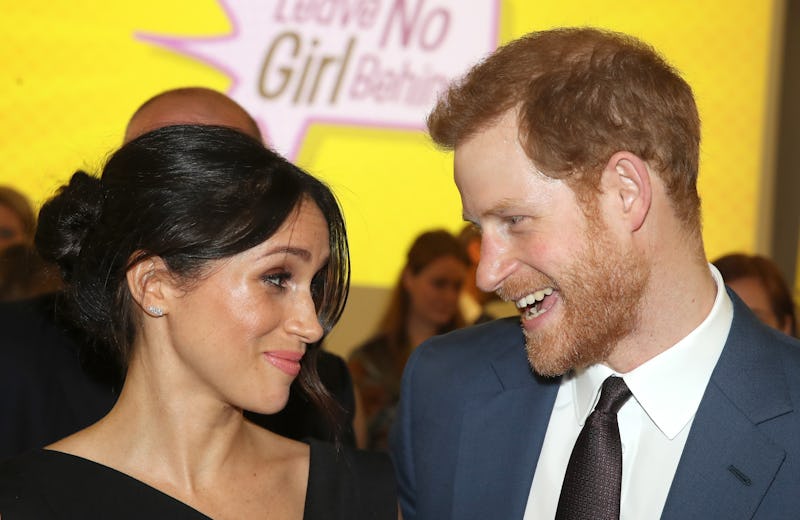 Chris Jackson/Getty Images Entertainment/Getty Images
From his mom, Princess Diana, to his grandma Queen Elizabeth II, Prince Harry has had plenty of strong, formidable females to look up to his entire life. He's also about the marry another admirable lady who keeps the cause of gender equality close to the heart. So even with exactly one month to the day until their highly anticipated wedding, it was fitting that a stylish Prince Harry and Meghan Markle attended a Women's Empowerment reception at London's Royal Aeronautical Society on Thursday, April 19, according to the official Kensington Palace Twitter account.
Noting that the soiree was hosted by the Foreign Secretary, Boris Johnson and his wife Marina Wheeler, Kensington Palace first tweeted the news of the couple's attendance from its official account before posting what we'd all been waiting for: fresh photos of Prince Harry and Markle. The first was a candid snap of the royal couple greeting their hosts upon their arrival.
Prince Harry and Meghan Markle looked like a glowing couple greeted guests in a Twitter video, posted by Kensington Palace.
Among the attendees who scored face time with the duo were representatives from gender equality organizations including the Malala Fund, Plan International, the Varkey Foundation, and Code Camp. "Tonight connects a group of 12 influential figures from across the Commonwealth, who will drive forward the political momentum on girls' education," Kensington Palace added in a tweet, along with another pic of the royal couple chatting up guests.
Per People, Prince Harry spoke to a group of young activists, saying "What you are doing is absolutely amazing." The outlet also reported that a Nigerian Malala Fund supporter named Kiki James told reporters that during their conversation, Prince Harry said, "We are moving with the tide, moving in the right direction."
The nighttime gathering — part of the week's events for the Commonwealth Heads of Government Meeting — also served as the launch for 'Platform for Girls Education', which the Palace explained is "a campaign designed to encourage all Commonwealth countries to commit to providing 12 years of quality education for all girls."
As if they could warm our hearts any more, the couple's night out was actually their third public appearance to champion a charitable cause — just this week alone. Having been named president of the Queen's Commonwealth Trust and Commonwealth Youth Ambassador, the Prince gave the Suits actress a sweet shoutout for joining his work, during a speech on Monday, April 16.
"I am also incredibly grateful that the woman I am about to marry, Meghan, will be joining me in this work, of which she, too, is hugely excited to take part in," he said.
Two nights later, the couple, set to tie the knot on May 19 at Windsor Castle's St. George's Chapel, also hit the town for another Commonwealth Youth Forum event where speakers passionately addressed global issues facing the LGBT community.
According to The Hollywood Reporter, Jacob Thomas (who received a Queen's Young Leaders award for his work in the Australian LBGT community) told reporters, "Miss Markle said — and these were her exact words — that this is a basic human rights issue, not one about sexuality," while addressing youth activists about the importance of challenging sexual orientation and gender identity-based inequality.
Thomas also added that her husband-to-be also spoke candidly on the subject: "Prince Harry said that what was so amazing was that five or 10 years ago we wouldn't have been having this conversation and how incredible it was that we now were. He said he would put the issue at the forefront of his work."
While the rest of us remain distracted counting down the days until their wedding, it warms our hearts to see the royal couple still laser-focused on making time to support their near and dear causes.