All The Times Meghan Markle & Prince Harry Have Been Style Twins While In Australia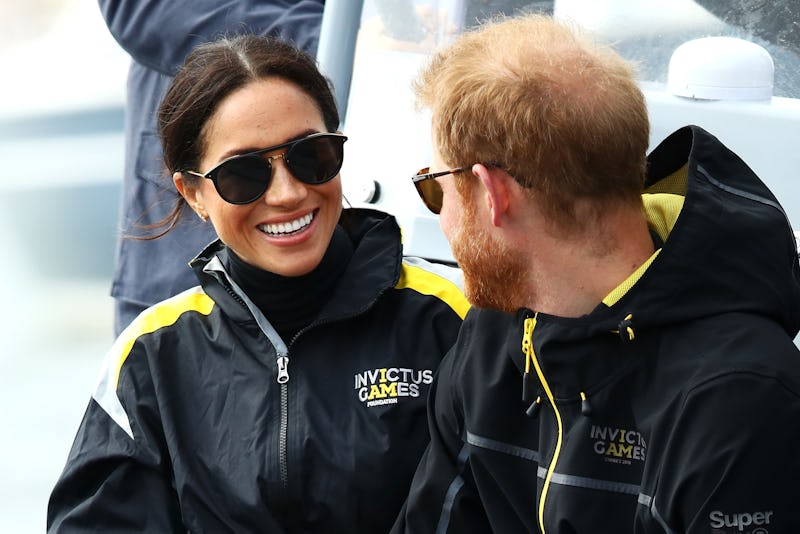 Mark Kolbe/Getty Images Sport/Getty Images
Meghan Markle and Prince Harry are relationship goals — and not just because of the way they look at one another lovingly or how they PDA. Meghan Markle and Harry have been twinning while on their tour of Australia and beyond. It's incredibly cute to see the beaming twosome get low-key matchy matchy and coordinated with their clothes. But being in style sync demonstrates just how connected and in love the royal couple is.
Markle and Harry are expecting their first baby this spring and Markle's baby bump has been well-dressed thus far. The Duchess of Sussex has already established herself as a style star and a fashion icon in the making with most of her ensembles while performing her royal duties. While in Australia, she has been rocking structured, tailored, and chic dresses, lots of blue, black skinny jeans, flowing dresses, cool AF sunglasses, super affordable J. Crew ankle booties, and much more while attending to her public responsibilities with her handsome hubby.
But it's the subtle elements of their Down Under OOTDs that find them twinning. Sometimes, it's more obvious than others.
There's no empirical proof that the couple that dresses alike is bound to stay together. But it is a manifestation at just how on the same page this duo truly is.
Here are 8 times the couple was low-key style twinning on some level.
1. Bold Prints
The duo wore these bold and colorful prints. They were not note-for-note matchy matchy. But they were indeed coordinated.
2. Black Invictus Games Foundation Shirts
Markle and Harry wore matching black, collared Invictus Games Foundation shirts, which are not commercially available. Markle paired her top with a crisp, white blazer and tortoiseshell shades. Notice the couple rocked similar sunglasses styles...
3. Shady
... speaking of shades, they both wore black pairs to battle the bright and blinding rays of the sun while strolling hand in hand. It's almost like they call each other the night before to plan their accessories. Wink, wink, nudge, nudge.
4. Windbreakers
The couple also wore matching black Invictus Games windbreakers — those are not shoppable ATM, either. The Invictus Games are close to Harry's heart, as he created the event for wounded warriors. Clearly, Markle is happy to show her support — stylishly so — by also rocking the all-weather jacket alongside of him.
5. Blazing
At first, you might be like, "Wait, so how are they twinning here?" But they are both wearing long blazers. Ah, there it is. While Markle's was white with black stripes and Harry's was gray, the silhouettes were very much in tune with one another.
6. Color Coordinated
Their color palette was coordinated here. Markle's navy blue dress paired nicely with Harry's blue-gray jacket. It was a subtle and chic way to complement one another's clothes.
7. The Navy
Markle has been wearing shades of blue — specifically a lot of navy blue — while on this Aussie tour. She and her hubby both rocked different gradations of the shade while looking very chic and sophisticated.
Seriously, though. Could these two be any more in sync with one another? They always, always are in sartorial step.
8. Button Downs
PEOPLE also reported that the duo wore matching button downs from L.A. brand Frank & Eileen while on their way to Fiji. Markle wore the "Eileen" version. in white while Prince Harry opted for "Luke" in black. They were simply sophisto and likely very comfy while traveling.
Meghan Markle and Prince Harry's low-key twinning is the stuff fashion and romance dreams are made of.