All The Looks Meghan Markle Wore In Australia So Far Because They're Just That Good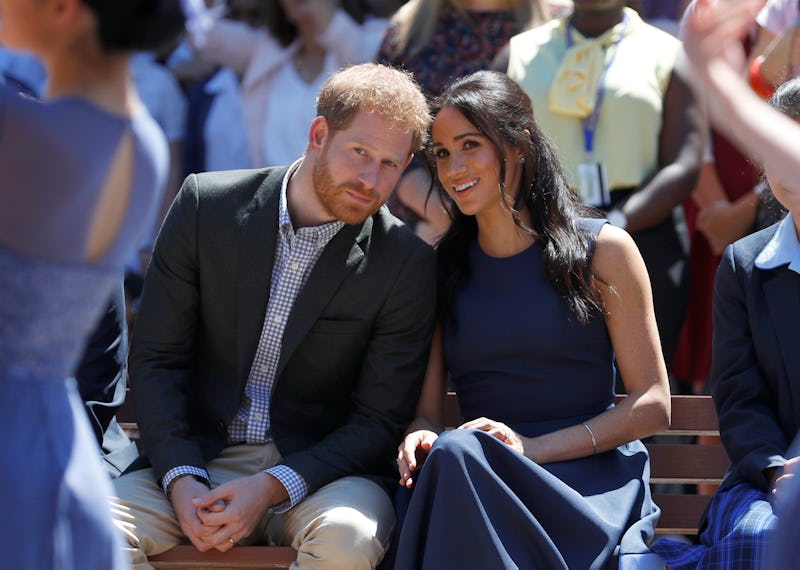 Pool/Getty Images Entertainment/Getty Images
It has been a whirlwind October for Meghan Markle. She and Prince Harry confirmed that they are expecting their first child this spring. The duo also headed straight to Australia to perform a panoply of royal duties. Meghan Markle wore lots of outfits in Australia — often rocking multiple looks in a single day. The "Meghan Markle Effect" and "Markle Sparkle" are indeed real and actual things.
The Duchess of Sussex routinely opted for tailored, structured, and sleeveless dresses. She repeated some signatures — wearing navy frocks and black skinny jeans more than once. She also wore a flowing, striped maxi on the beach.
All of Meghan Markle's Australian Tour looks were a fashion dream and many of them are easy to copy — except for custom pieces or the jewelry she wore that once belonged to her late mother-in-law Princess Diana.
Of course fans and royal watchers were hoping for a glimpse of her brand new baby bump. While Markle is reportedly only 12 weeks along, the internet is convinced that it witnessed her royal bump already. Regardless, it's a foregone conclusion that Markle's baby bump will be well-dressed.
Below are the outfits that Markle wore while touring Australia with her best accessory — handsome hubby Prince Harry — so far. She rocked everything from Serena Williams' collection to Club Monaco and more.
1. Asymmetrical Dion Lee Dress
Markle wore this custom navy and gloriously asymmetrical Dion Lee Folded Sail Dress. When fans and fashionistas found out who designed the folded collar dress, they flooded the brand's website and caused it to crash. Again, the Meghan Markle Effect is real AF.
2. J. Crew Booties
Markle wore a white button down and black skinnies with a pair of black suede J. Crew booties for $178. The exact pair Markle wore is currently (and not surprisingly) sold out on the site. However, other textures and colors are on sale now. That blazer was from the Serena Williams collection, too.
This camel-colored pair is just as stylish as the black pair Markle actually wore. Affordable footwear is so a part of Markle's relatable style.
3. Club Monaco Miguellina Dress
The mom-to-be wore this polished Club Monaco shift dress. It boasted gold button detail along the side seam. It's actually still available to buy.
4. Karen Gee Blessed Dress
Markle paired this fitted, crisp, and extra chic white dress by Karen Gee with a beige trench.
5. Brandon Maxwell Pleated Shirt Dress
6. Roksanda Athena Dress
The dress offered a chic take on the ombre trend. The top half was navy while the bottom seam looked dipped in periwinkle. Clearly, Markle was loving the sleeveless look Down Under. So is the rest of the world — since this pleated crepe dress is currently sold out.
7. Martin Grant Maxi
Markle wore this chocolate striped Martin Grant Maxi Dress with espadrilles for a beachside hang with Harry and locals.
8. Emilia Wickstead Camila Wool Crepe Dress
Markle's custom LBD by New Zealand designer Emilia Wickstead was gorgeous and sophisticated. The white buttons added some lovely contrast. She paired the frock with a Philip Treacy hat.
The white version with black buttons is available for purchase for $2,110 via Net-A-Porter.
9. Altuzarra Blazer
Markle was matchy matchy with hubby Harry. They wore black Invictus Games polo shirts. You know what they say about the couple that dresses alike...
Markle paired hers with white Altuzarra Acacia Blazer, which the Internet believes to be a custom piece or not yet available. She also hooked Illesteva's Palm Beach sunglasses on her blouse, which are available for $240.
10. Stella McCartney Navy Blue Cape Dress
Markle has been rocking plenty of classic and chic navy blue while in Australia. She wore the currently sold-out Stella McCartney cape dress, which was $1635, with a Gillian Anderson Wool Swing Coat.
Markle's ensembles and multiple OOTDs while she dazzled and sparkled Down Under were just that good.