Prince Harry & Meghan Continue To Be The Most Relatable Royals, Based On This Plane Anecdote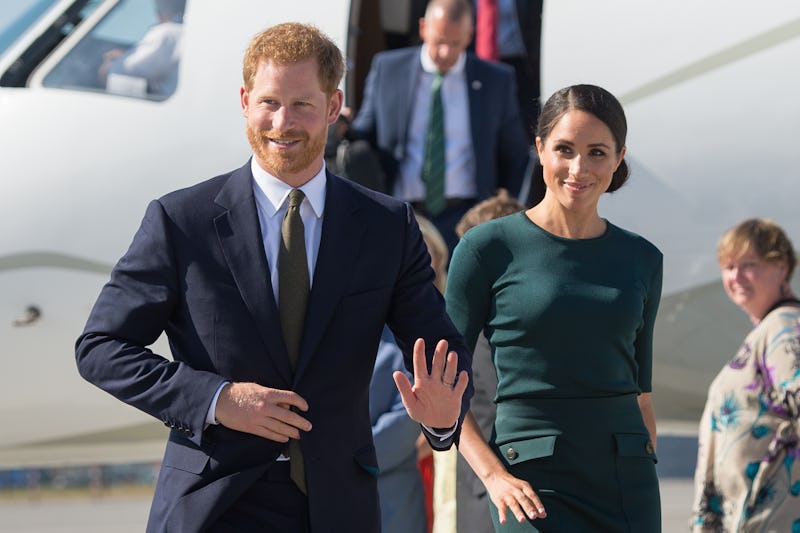 WPA Pool/Getty Images Entertainment/Getty Images
Once again, Prince Harry and Meghan Markle are proving to be the most relatable royals in the game. According to Marie Claire on Monday, Meghan Markle and Prince Harry reportedly flew economy class during their New Year's trip to France. So, the Duke and Duchess are Sussex are just like you or me (just without that whole "royal highness" status, I suppose). It's unclear why exactly this news is circulating months later, but it's yet another example of why people love these two so much.
In December, the then-engaged couple took a trip to Nice, France in order to ring in the New Year. But it's not as though they took the elusive royal train or anything. Instead, they reportedly flew to their destination via British Airways. And if you thought that they went all-out and flew first class, think again. The Duke and Duchess apparently flew in the economy class in the last row of the plane, which happened to be right near the restrooms.
The source reported that their fellow passengers were, understandably, a little shocked to see the uber-famous duo on their flight (who wouldn't be?). But Harry and Markle supposedly did their best to be incognito as he donned a simple baseball cap and she wore a black beanie. Unlike their fellow passengers, though, they were reportedly accompanied by three bodyguards. So, it's not exactly the way that everyone flies. Still, isn't it wild that you could have found yourself ordering some peanuts in the same close-quarters space as the royal pair?
While the couple's low-key trip has been reported by multiple sources now, such as Marie Claire and Express, their fun vacation was reported on by the Daily Mail back in January. The publication offered even more interesting details about this supposed excursion. According to the Daily Mail, the Duke and Duchess of Sussex boarded the plane before any of the other passengers, along with their entourage of bodyguards. Additionally, they reported that their entire party took up three rows of economy seats in the back of the plane.
Considering that this reported trip occurred before their May wedding, which only added to their worldwide icon status, it's possible that the popular couple now have to take more precautions while traveling now. During some of Markle's most recent engagements, which she's undertaken as an official member of the British Royal Family, she's traveled in true royal style. As previously mentioned, the Duchess went on a trip with Queen Elizabeth to Cheshire in June, where they traveled via the royal train, which is basically just a private train for the Queen and the family.
Of course, this latest travel info report isn't the only thing that indicates the couple's status as the most relatable members of the family. In late July, Hello! Magazine reported that the royal highnesses have a fondness for a reality show that you might be familiar with. According to the source, they're big fans of The Voice Kids, as a former finalist, Donel Mangena, revealed. Markle and Harry love reality TV and fly economy? They truly are just like everyone else, which only adds to their already well-established charm.