Meghan & Prince Harry's Baby's Arrival Followed Royal Tradition In This Special Way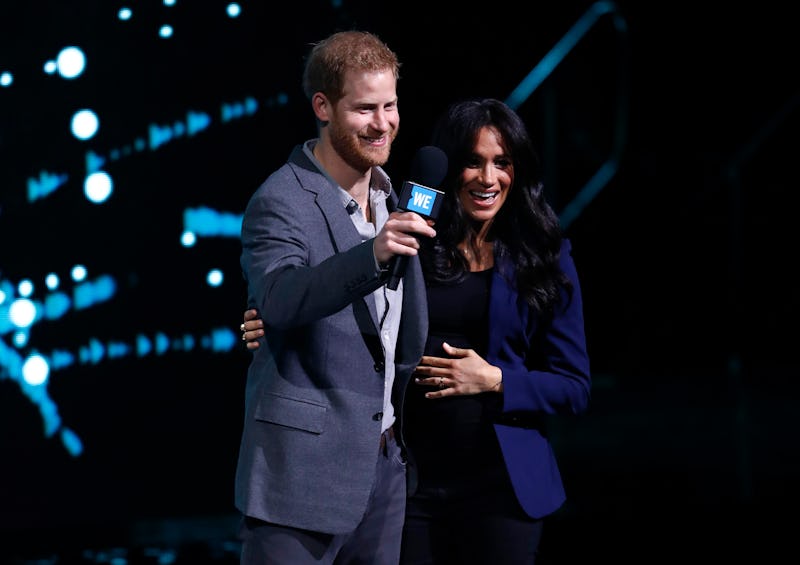 John Phillips/Getty Images Entertainment/Getty Images
Meghan Markle is known for regularly breaking royal family protocol by doing things her own, more modern way. However, Meghan Markle and Prince Harry's baby's arrival did include one royal tradition. Sure, they shared the news with a press release, which was circulated around the internet and an Instagram post — that was expected — but they did something very old-school as well.
On Monday, May 6, the royal family's Twitter account shared,
"A notice of birth has gone on display on the forecourt of Buckingham Palace following the birth of The Duke and Duchess of Sussexes' son."
This notice is a typed-up announcement on a piece of paper displayed on an easel. Another tweet from the royal family's account indicated that the easel will be up for 24 hours. At this point, almost everyone who's interested has read about the news online, but it is nice that they stuck to this tradition.
According to a May 6 article from The Cut, the royal family carried out this easel tradition with Prince William and Kate Middleton's kids Prince George, Princess Charlotte, and Prince Louis.
So, what did it say on that piece of paper? The official announcement said,
"The Queen and the Royal Family are delighted at the news that Her Royal Highness The Duchess of Sussex was safely delivered of a son at 0526am today. Her Royal Highness and her child are both doing well."
Even though the baby's cousins' births were also announced via easel, theirs included signatures from the doctors who were present when they were born. According to Town and County magazine, Prince Harry and Markle's announcement did not include any medical information.
Aside from the social media posts and easel announcement, Prince Harry spoke to reporters after Baby Sussex was born. In a video shared by Sky News, he declared, "I'm very happy to announce that Meghan and myself had a baby boy early this morning." He also remarked, "It's been the most amazing experience I could ever have possibly imagined."
The new dad said,
"How any woman does what they do is beyond comprehension, but we're both absolutely thrilled and so grateful for all the love and support from everybody out there. It's been amazing."
At this point, everyone knows about the royal baby's arrival, but he doesn't have a name yet. During that same interview, Prince Harry admitted that he and his wife are "still thinking about names."
Even though he did actually reveal a name, he did give notice about when one will be announced. During his talk with reporters, he said, "For us, we will probably be seeing you guys in about two days' time as a family."
It's unclear if this means that they will release a photo of the new family or if they will all step out to greet reporters for a live reveal. Nevertheless, two days is so close, yet so far away. The countdown is on. Everyone wants to see what Baby Sussex looks like, find out his name, and hear from the new mom herself. Is it Wednesday yet?