Harry & Meghan's New Home Is Going To Have To Obey A LOT Of Strict Decorating Rules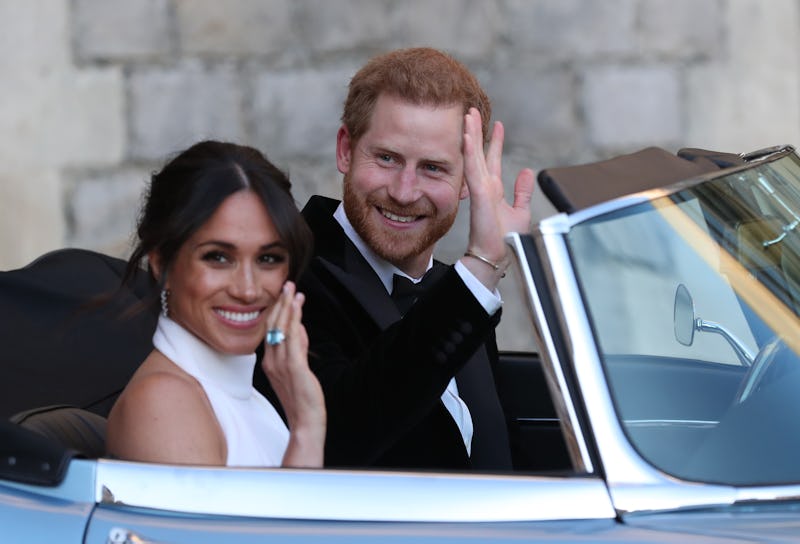 WPA Pool/Getty Images Entertainment/Getty Images
In any relationship, there are a few places that will always hold special significance and revisiting those spots are a great way to ramp up the romance. It shouldn't come as any surprise that when it comes to Meghan Markle and Prince Harry, Windsor is undoubtedly top of the list as it's where the pair were married earlier this year. It's just been announced the Sussexes will be moving into a royal residence there called Frogmore Cottage, just a stone's throw from Windsor Castle.
It's a pretty romantic move as the place obviously has a lot of significance to the pair, but they'll have to make a lot of changes to the former servants' quarters before it's ready for family life. Unsurprisingly, there's quite a few royal interior design rules they'll have to abide by which could make bringing their dream home to life a challenge.
According to royal correspondent Emily Andrews, Frogmore Cottage is "where they had their private evening wedding party & where their gorgeous engagement pictures were shot".
However, it's not quite ready for the royals to move in as she revealed, "Currently, it's been chopped up into 5 units where palace staff have been living."
She also said, "It needs major building work to turn it back into a luxury family home, boasting 10 bedrooms & a new nursery plus space for a gym & yoga studio."
TBH the yoga studio makes total sense, given that it's been rumoured Meghan Markle's mother Doria Ragland will be moving in with them and Ragland is actually a yoga teacher herself. However, Hello! Magazine revealed that according to protocol "Harry and Meghan are expected to pay for any decorative updates" while the bulk of the structural building work has been confirmed by Kensington Palace to be "covered by the Sovereign Grant".
Another difficulty the pair will face is the fact that Frogmore Cottage has "no protection" according to former royal protection officer Ken Wharfe. Wharfe told The Mirror that the royals will be expected to do "major reviews of the security surrounding that property, exposed on virtually every side" and continued that "the costs of fitting and maintaining security equipment, with further officers in the area, could cost further millions each year".
Given that the property is a Grade II listed property, the royals are also required to have any renovation work approved and according to Hello!, they were approved earlier this July. Even though it sounds another annoying hurdle for the pair to overcome, it's much less strict than the protocol for their current home Nottingham Cottage at Kensington Palace. By which I mean, it's cool that they're being allowed to renovate Frogmore Cottage at all.
Myka Meier, a royal expert and founder of Beaumont Etiquette, said of the royals' current home to Architectural Digest, "[Nottingham Cottage] was designed by Christopher Wren, the architect who built St. Paul's Cathedral, so structural changes will be likely impossible to make due to the historical significance of their apartment."
She added that an easy way around that however was that they could "use furniture and interior updates" and both Prince Harry and Meghan Markle could be encouraged to turn to specific vendors or craftspeople for that. Meier explained that although it isn't strictly necessary, there are a few businesses - not just in interior design - who have been awarded a Royal Warrant of Appointment.
This means that "the company has supplied exceptional goods or servcies to the royal family for at least five years" and that it's likely that the pair will be "offered some of these vendors, but it will not be mandatory to use them".
You might roll your eyes and expect a Royal Warrant Holder to be a bit behind the millennial aesthetic, but there's actually some super cool modern businesses who the pair can potentially turn to. For example, Cole & Son do some pretty awesome wallpapers (there's a navy one covered in leopards which I'm obsessed with) while Zone Creations do some pretty sick perspex furniture pieces.
That said, I personally can't wait for Meghan Markle to bring her keen eye to redecorating Frogmore Cottage. If you previously followed her lifestyle blog The Tig or her Instagram (RIP to both), you'll know she's bang on the money when it comes to creating a cosy pad that even the Scandinavians would be envious of.
The Evening Standard's Homes & Properties section did a deep dive into her Instagram pictures of her Toronto home and wrote that she was "all about Danish-style hygge - a quality of cosiness, convivilality and wellbeing". It's a word that's being thrown around a lot and Markle nailed it in the pictures you can see on the article, with "cool, monochrome colours layered with sumptuous throws", white linen furniture, a gigantic smoked glass panelled mirror and sheepskin throws tossed over rattan chairs.
Seriously, is the Duchess available for home makeovers? She's got one interested would-be client right here.
While she'll probably have to scale back the white fabrics with a little one in the house, I'm pretty confident she and Prince Harry new pad is going to be pretty chic. Even with all the rules in place, where there's a will, there's a way and I'm honestly just sad The Tig isn't around anymore so she can blog about it.